Publication -

Consultation paper
Together we can, together we will: consultation
Consultation by National Consultation of Rural Advisers (NCRA) to help inform recommendations for Scottish Government on future policy direction for the rural economy.
---
Vision
"We want policy to be driven by people – regulations and governance to be people-led, bottom-up." (Rural Thinks, Kilmarnock)
It is important to have an understanding of what we mean by the term 'Vision'. We understand this to mean:
The people, businesses and communities of rural Scotland will work with the Scottish Government and urban Scotland to create a Strategy for our rural economy that develops natural and human capital, competitiveness, robust infrastructure and social inclusion.
The importance of an ambitious narrative for the future of rural Scotland was unanimously voiced by all in the Rural Thinks process. The current narrative of rural Scotland has been heavily influenced by negative images – slow growth, reducing service provision, loss of life-line services, falling school rolls and depopulation. This has led to a prevailing view that rural Scotland is unsustainable without significant support.
However, we know that in terms of economic growth between 2007 and 2015, Scotland has experienced the strongest growth in mainly rural areas. Here, the value of goods and services has increased by 24% compared to larger urban cities, with growth in Island and remote rural areas at 19% and urban with substantially rural areas at 14% [7] .
Promoting a positive image
"Building leadership capacity within rural sector, to build bridges between rural and urban communities" (Rural Thinks, Stirling)
Public opinion influences policy making. During our 'Rural Thinks' workshops it was apparent that we recognise the responsibility we have to present a more accurate and aspirational image. If we want to create opportunity in rural Scotland we need to promote a positive image that rural areas have plentiful opportunities to live, work and settle.
It would be impossible to deny the challenges presented by issues of demographics and the scale of the challenge but the dominant narrative ignores so much:
The value our natural assets provide to Scotland in the form of brand identity and reputation.
The value of our primary industry sectors in relation to Scotland's key economic growth sectors – they are the foundation and the ingredient base.
The value of the attributes that define our people, and how this translates into economic contribution.
The role that rural and urban centres play in supporting and nurturing each other and the wider Scottish economy.
The role we play in protecting and enhancing Scotland's natural assets and heritage.
Inclusivity
Our vision for the rural economy is also informed by our desire for inclusive economic growth. However, we know that there are fault lines currently holding us back from achieving this vision.
For example, the gender pay gap. Women living in remote rural Scotland have the lowest annual income of any group, and the largest median gender pay gap at £5,076 when comparing annual median wages. This means that in remote rural Scotland women earn 17% less on an annual average than men. We know there is much work to be done to ensure women have access to meaningful economic opportunities that fit with the pace of modern life.
We also know, and are committed, to eradicating the issues which hold people with disabilities and poor health and wellbeing back from participating in our economy. A lack of transport, healthcare and support infrastructure are preventing people in our rural communities from enjoying active and full lives.
Going forward
"We want to mainstream rural, we don't want it to be an add-on. We want it to be part of the full conversation." (Rural Thinks, Melrose)
In creating our vision for rural Scotland we have a clear and concrete goal – to create a defined and ambitious Rural Economic Strategy.
In defining this vision for rural Scotland, we want foremost to acknowledge the need for coherence and collaboration.
The current economic development landscape is cluttered with various organisations and bodies who individually strive for local/sectoral/regional goals. Rural Scotland is diverse and whilst it is vital to acknowledge the range of challenges and opportunities that exist, it is equally important that we provide the opportunity for cumulative learning, sharing of best practice and strategic aims.
Recommendations for Vision
1. The development of relevant Scottish Government mainstream policies should consider the effect upon a new Rural Economic Strategy and its consequent policies
How should policy makers in Government make sure that the economic needs of rural Scotland are taken into account?
Should there be an ability to call to account the Scottish Government and its Agencies to ensure collaboration and actions to meet the objectives of a new Rural Economic Strategy?
2. Create quality job opportunities (that are well paid, flexible, and purposeful) to promote skills and opportunities, but also deal with inequalities in the rural labour market (such as the gender pay gap)
What employment opportunities do we need to meet the current and future needs of our changing rural economy? Where should these be? (either by location and/or sector)
How do we tackle the inequalities we face in rural Scotland? i.e. challenges faced due to age, gender, socio-economic, educational and ethnic background
3. Build on existing work to gather evidence and data to measure the true value of the rural economy and monitor its growth
Going beyond the economic contribution of rural businesses, what positive examples of social ( i.e. community cohesion), cultural ( i.e. protection of heritage and traditions) and environmental ( i.e. carbon reducing) impacts of rural businesses can you think of?
What specific outcomes of rural businesses should be the measured and why?
Case study 1 Vision – The Workshop Aberfeldy - overcoming barriers to employment
Project Manager: Paul Parmenter
Location: Aberfeldy, Highland Perthshire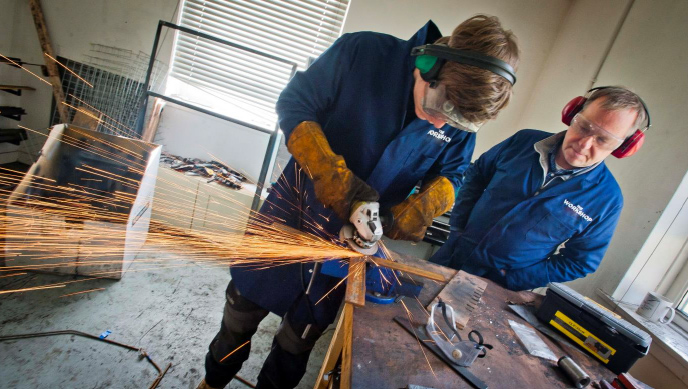 The following case study represents an example of a rural enterprise that has a clear vision – providing employment and training opportunities to people that are currently excluded from the labour market.
The Workshop Aberfeldy has not only recognised the need for supportive training, but has also overcome challenges such as planning regulations. It has made a much wider impact on the rural economy beyond purely economic contributions.
The Workshop Aberfeldy is a social enterprise supporting people into employment. It is open to all age ranges, offering training and work experience in a manufacturing business. It provides more than technical skills however, offering soft skills such as time management etc. The Workshop fills a gap – a lack of other facilities locally where people can gain training and experience in a flexible environment.
The team provides flexible placements that range from graphic design to customer services. Since launched in 2014, the enterprise has supported over 60 individuals who have proceeded on to employment or further training.
Challenges:
1. Finding suitable premises due to a lack of commercial properties that were available to rent.
2. Tight planning regulations (such as around storage and signage).
3. Procuring funding and onerous grant administration.
What the Workshop tells us about rural policy for the future:
More business support is required for start-ups.
More physical space is needed to allow for start-ups to grow.
Simplified collaboration with the public sector could reduce bureaucracy and encourage smaller organisations to work with Government and local Government.
How the Workshop impacted positively upon the wider rural economy:
Helped place young people in permanent positions and further education, providing work experience for pupils from local schools.
Created 3.6 FTE jobs (manager, business manager, business development officer, graphic designer, technician, strategy and fundraising manager).
Employed two individuals with additional support needs and offered fixed term employment for some trainees.
Supported local businesses and groups; facilitating local community and group projects.