Publication -

Speech/statement
Coronavirus (COVID-19) update: First Minister's statement - 9 February 2021
Published

9 February 2021

Delivered by

First Minister Nicola Sturgeon

Location

St Andrew's House, Edinburgh
Statement given by the First Minister Nicola Sturgeon at a media briefing in St Andrew's House, Edinburgh on Tuesday 9 February 2021.
This document is part of a collection
---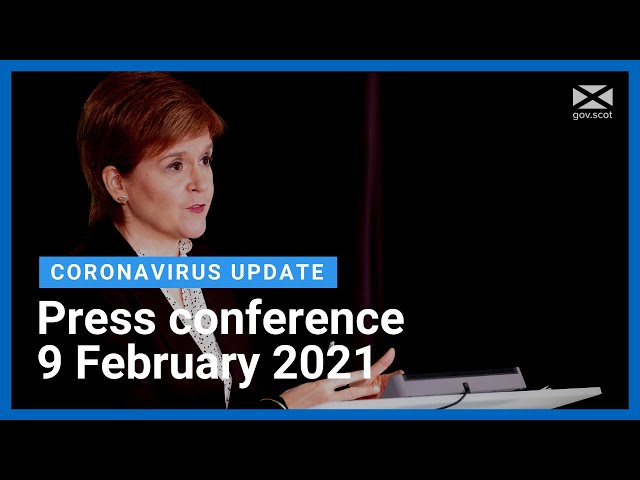 Firstly I will run you through today's statistics.
There were 822 positive cases reported yesterday which is 7.2% of the total number of tests and means that the overall number of confirmed cases is now 187,542.
277 of the new cases were in Greater Glasgow and Clyde, 159 in Lanarkshire and 93 in Forth Valley. The rest are spread across 10 other health board areas.
1,618 people are currently in hospital – that's 54 less than yesterday. 112 people are in intensive care, that's 4 more than yesterday and I am very sorry to report that 58 additional deaths have been registered over the past 24 hours, of patients who first tested positive in the previous 28 days.
And that takes the total number of deaths under the daily measurement to 6,501.
Every single life lost over the course of this pandemic has been a source of grief and heartbreak and again I want to send my condolences to every family who has lost a loved one and who is grieving as a result of that.
Now later this afternoon Michael Matheson, the Transport Secretary, will give a statement to parliament about international travel restrictions and in particular the managed quarantine arrangements that we intend to put in place for those travelling direct to Scotland. As you know that is an important part of our overall approach, particularly in the weeks ahead as we suppress the virus here within our own borders, to mitigate against the risk of importing it from other parts of the world and that is all the more important given that the virus we know is mutating and we are seeing new variants occur.
Now I am not going to pre-empt the detail of Michael's statement right now. He will set out that in parliament later, but I will update you on couple off other issues.
Firstly, as we always do now on a daily basis, I want to give some more details on the progress of the vaccination programme.
As of 8.30 this morning, 928,122 people in Scotland have received the first dose of the vaccine.
That is, forgive my colloquialism here, that's a pretty whopping increase of 61,299 since yesterday, which is by some distance the highest daily figure that we have recorded in Scotland so far.
As I have previously mentioned, we have now vaccinated virtually all residents in older adult care homes - the figure now stands at 99.7% which is so important given the toll that this virus took and is still taking on our care homes.
At least 96% of over 80-year-olds who are living in the community have also now received the first dose of the vaccine. Again a really important high uptake to protect the oldest people in our society who we know are most vulnerable.
I can also report that 75%, three quarters of those in the 75 to 79-year-old age group, again those living in the community, have received the first dose and so have 37% of 70 to 75-year-olds.
So all of these figures confirm, I hope give you reassurance, that the vaccination programme continues to make very good progress.
We remain on course to vaccinate all 70 to 79-year-olds and all people with a serious clinical vulnerability by the middle of February. We will also have vaccinated with the first dose many people in the 65 to 69-year-old age group by that date as well.
Now let me just briefly touch on something that we will say more about probably over the course of next week. When we get to mid-February and when we have reached that milestone of having vaccinated everybody over 70 and those with a clinical, serious clinical vulnerability, we will at that point have to start thinking about second doses and conserving supplies for second doses.
We also expect over the second part of February our supplies coming into Scotland to slightly dip for a period, and that will be a UK-wide issue, so we will have to think about the balance of doses that we have available that go to second doses verses the additional people that we want to give first doses to.
Now let me stress we still plan to and are on track to have vaccinated everybody in the JCVI priority list, to remind you that is everybody over age 50 and those with underlying health conditions by the start of May, but the precise phasing of that we will set out over the course of the next couple of weeks when we have done the modelling around the supplies that we expect to have available and what balance of those will have to go to first doses versus second doses.
But for now and this will continue I hope not withstanding what I have just said, the vaccination programme is going really well.
More immediately of course we have severe weather conditions in large parts of the country today with very heavy snow particularly in eastern and central Scotland.
Vaccinations are proceeding as planned today and I know from early reports that many people are getting vaccinated today notwithstanding the weather. As of a very short while ago we had no reports of vaccination centres being closed and I am very grateful to everyone involved in the programme.
I also know, however, that some people might not feel able to make their appointment today, due to the severity of the weather conditions and it is possible, just to flag this up, that that might have an impact on the figures we report tomorrow.
However, the message is please try to make your appointment today if you can. But if the weather makes that impossible, you will of course be given an opportunity to re-book. You are not going to lose your vaccination opportunity.
So if you received a letter about your vaccination, that will include details of how to rebook.
Otherwise, information for the different health boards is available on the NHS Inform website. And alternatively, if you need to, you can call the vaccination helpline. I gave that number yesterday, but I will give it again right now. 0800 030 8013. That's 0800 030 8013.
Essentially, it is in everybody's interests that you get your first dose of the vaccine as quickly as possible so if the weather has made that too difficult for you today then please do take the opportunity to re-book.
Now before I move off of vaccination there is just one other issue that I want to highlight and it's similar actually to some of the issues we faced last year in relation to fake phone calls about Covid tests. Unfortunately, and it is a really sad reflection of aspects of society these days, but it seems sometimes as though almost any new service we have provides an opportunity for new scams.
And I'm afraid that we are becoming aware of some scam emails and messages which are being sent out about vaccine appointments.
So I want to emphasise the fact that the Covid vaccine is free to everybody in Scotland.
That means, and let me stress this point, NHS Scotland will never ever ask you to share your bank details, or to pay for vaccination.
So on no account should you ever share your bank details with someone, in order, as they will tell you, to confirm a vaccination appointment.
In addition, NHS Scotland is not using email to contact people. So if you receive an email about your vaccination appointment it will be a fake so please don't interact with it.
NHS Scotland is contacting eligible people by phone or letter, to arrange vaccinations. The majority of appointments, now are being arranged by letter. And NHS Scotland will never turn up unannounced at your door to arrange a vaccination.
If you go on to the Trading Standards Scotland website, you can find more information about current scams.
And on that site, you will also find more detailed advice about how to report any fake messages that you receive.
And finally if you are unsure about a message that you have received in relation to vaccines, you can call the helpline number that I read out a moment ago and just to remind you that is 0800 030 8013. And if you want to report a bogus caller, you can contact the police on 101.
Fundamentally though, and this is the most important information to share with you, remember that vaccines are free – there is no need to provide financial information to anyone. So nobody who is genuine should be asking you for financial information.
And vaccinations will not be arranged by e-mail. So if you remember these two points, don't share your bank details and don't respond to emails about vaccinations, then hopefully we can ensure collectively that these despicable scammers are not in any way successful.
Now the other issue I want to talk about briefly today is support that the government is providing for childminders over the course of this phase of the pandemic.
As we know childminders are a very important part of the childcare sector, and the service they provide is valued by many families right across the country.
But the pandemic and the restrictions that we have had to put in place have caused serious difficulties for childminders – just as they have done for other parts of the childcare sector.
We know that many childminders are fearing right now for the future sustainability of their businesses, but we also know that as we start to emerge from lockdown - hopefully in the weeks ahead - we are going to need qualified childminders, and the support and care they provide for young people.
So because of all that, the Scottish Government previously allocated a £1 million fund to help, however I can say that we are now increasing that to £3.2 million.
And that will ensure that all childminders who are registered with the Care Inspectorate can receive a flat rate payment of £750.
I hope that this support can make a difference to a very important sector and I hope it means that childminders can continue to help children and families as we try to recover from the pandemic.
Those are the two issues I wanted to highlight today, before I finish though and in conclusion let me just emphasise again the importance of the current lockdown restrictions.
I hope you can see that the lockdown is having an impact – case numbers are now falling week on week, the number in hospital and intensive care is also starting to stabilise and indeed reduce. The figure I reported for hospital cases today is still above the peak that we saw in the Spring last year, but it is getting back closer to that peak so things are going in the right direction and as we successfully, through these really difficult steps we are all taking, slow down the virus we are also, again as you can see from the numbers today, significantly speeding up the vaccination programme.
So all of that is good news and my thanks to all of you for helping make it happen. But for all of that progress we know the health service remains under severe pressure, case numbers while they are falling remain too high – they are still higher now than they were in the week before Christmas - and the new variant which we know is highly infectious – now makes up more than three quarters of all new cases in Scotland.
So all of that means we cannot, we must not rest on our laurels, we have got to make sure we continue to stick with these restrictions because it is far too early at the moment to think about easing them.
The most important rule of course remains the stay at home except for essential purposes. These include caring, essential shopping, exercise, work that genuinely cannot be done at home.
Outdoors you should only meet with one other person from one other household.
Work from home if you can – and please to employers remember you have a duty to facilitate your staff working from home wherever possible and when you are out and about please remember the FACTS guidance.
wear face coverings;
avoid places that are busy;
clean your hands and surfaces;
use two metre distancing
and self-isolate and get tested if you have any symptoms of Covid
In relation to the last point, of course we have recently expanded the range of people who can claim the self-isolation support grant of £500 because we know that is difficult for many people to do.
But above all else my over-riding message remains please stay at home to protect the NHS and save lives.
We are going in the right direction both on slowing the virus and speeding up vaccines, but we must stick with it if we are to ensure that that progress is not put into reverse.