Publication -

Speech/statement
Coronavirus (COVID-19) update: First Minister's statement – 8 January 2021
From

Delivered by

First Minister Nicola Sturgeon

Location

St Andrew's House, Edinburgh
Statement given by the First Minister Nicola Sturgeon at a media briefing in St Andrew's House, Edinburgh on Friday 8 January 2021.
This document is part of a collection
---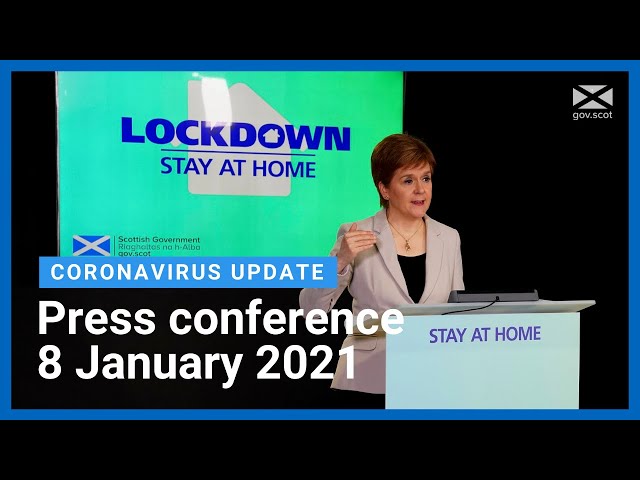 Thank you for joining us and apologies for the slightly late start, we've been having technical difficulties which may reoccur over the course of today's briefing so if that is the case, my apologies in advance.
I will begin with today's statistics.
The total number of positive cases reported yesterday was 2,309.
That is 8.1% of the total number of tests, and it means that the number of confirmed cases now stands at 146,024.
692 of today's new cases were in Greater Glasgow and Clyde, 390 in Lanarkshire, 220 in Lothian, and 192 in Grampian.
The remaining cases were spread across the 10 other health board areas.
I can also confirm that 1,530 people are currently in hospital – which is an increase of 63 from yesterday.
This now does exceed the peak of April when we had 1,520 Covid patients in hospital at any one time.
That underlines the severity of the pressure that our hospitals are currently facing.
102 people are in intensive care, that is 2 more than yesterday.
And very sadly, 93 additional deaths have been registered in the last 24 hours, of patients who first tested positive over the previous 28 days.
That takes the total number of deaths, under the daily measurement, to 4,872.
Every one of those deaths is much, much more than a statistic. Every single one is a unique and irreplaceable individual.
And yet again, I want to convey my condolences and my thoughts to everyone across the country who is grieving the loss of a loved one at this time.
I'm joined today by the Chief Constable, and by the National Clinical Director. The Chief will say a few words, shortly, about Police Scotland's approach to the new restrictions, and also a word about the safety of vulnerable people.
Before that though, there are some issues I want to update you on.
The first of those concerns international travel.
The risks of international travel are of course particularly acute at the moment – as new strains of the virus emerge, and as case numbers globally continue to increase, indeed that's why it is now illegal for anyone to travel to or from Scotland – unless it's for an essential purpose and I want to reiterate that point, right now you should not be travelling within Scotland and you should not be travelling out-with Scotland or into Scotland for anything other than an essential reason.
Even with such a reason, anyone who is travelling to Scotland must still comply with quarantine requirements, if they are coming from a country that is subject to those requirements.
Last night, the Scottish Government – along with the UK Government – announced a further measure, aimed at reducing the risk of importation of the virus.
People travelling to Scotland from overseas will be required to present a negative Covid test result, before they embark upon their journey.
We are currently working with other parts of the UK to confirm the exact start date for this new requirement – but is likely to be from the end of next week – and we will set out that and further details as soon as possible.
The tests will require to be highly reliable –in terms of their specificity and sensitivity – and so in practice they are likely to be PCR tests. They will be required of anyone travelling to Scotland from outside of the Common Travel Area. And they will need to be taken, no more than 72 hours before people start travelling to Scotland.
It is important to stress that the tests will not replace existing quarantine requirements, they are in addition to those quarantine requirements. So anyone travelling to Scotland, from a place which is not on our exemption list, will still have to isolate for ten days after they arrive.
There will be a limited number of exemptions to this new testing requirement – for example, for younger children and for freight hauliers. A full list of these exemptions will be set out when we set out the further details of how the scheme will operate.
In addition, we also announced last night a number of changes to the list of countries that are subject to the quarantine requirements. This includes extending the extra restrictions on travel from South Africa to a number of other countries in the region.
Those restrictions will remain in place as we await findings of further analysis from UK and South African scientists on the impact of the new variant that has been identified there. And again, the full details of the countries affected – and also of the new restrictions – can be found on our website.
However the most important point I want to emphasise is the one I made at the start – these restrictions on quarantine and testing really shouldn't apply to very many people because nobody should be travelling to or from Scotland right now, unless there is a genuinely essential purpose for that, and I cannot stress that key point enough.
My second update for today is about the return of our colleges and universities.
When I set out the new lockdown restrictions on Monday, I said that we would be reviewing – as a matter of urgency – the arrangements for the start of term.
I can confirm that that staggered return to term-time accommodation and studies for students – which had been planned for since the end of last term – will now be extended.
For the vast majority of university students, learning and teaching will be online only – until at least the end of February. And that means, if you are a student, you should stay at home, rather than travelling back to your campus or term-time accommodation.
There will be exceptions to that – in the very small number of cases where remote study is not possible – for example, for a student nurse, or a doctor on a practical placement. And of course any students who have remained on campus will be fully supported.
However, the vast majority of university students should stay at home – rather than travelling back to university - and should be learning online over the next period.
And as most of Scotland is now of course in level 4 restrictions, the vast majority of college students will also continue to learn online.
Specific advice about the arrangements for online learning – and the restart of in-person teaching – will be provided by your college or university.
More general guidance will be published on the Scottish Government's website over the next few days. And we will of course continue to keep these arrangements under review.
I know how deeply disappointing this news will be for students across the country. And I can't tell you how sorry I am for this continued disruption to your learning and to the whole experience of university and college life. It's not yesterday, but I remember vividly the importance of these university years so I feel bitterly disappointed on your behalf that they are being so disrupted. But let me assure you, these decisions are not ones that we take lightly. They are in the interest of keeping you safe and keeping the country as a whole as safe as possible. So thank you for your understanding and cooperation.
The third point I want to make is one that I know the Chief will also touch on in his remarks – and that's about the impact of the pandemic, on victims of domestic abuse.
We know that – during a period of lockdown – there's a very real risk that those who are already experiencing domestic abuse, will feel especially isolated and vulnerable.
So I want to take this opportunity to emphasise a few really important points.
Firstly, the lockdown restrictions do not prevent you from leaving your home, if you are escaping domestic abuse or if you are taking other measures to protect yourself.
Secondly, Police Scotland will respond to every report of domestic abuse – and they are continuing, as I'm sure you will hear from the Chief Constable, to treat this issue as a priority.
Finally, please remember that there is other help available.
Over the past year, Scottish Government has provided additional funding for support organizations' such as Scottish Women's Aid and Rape Crisis Scotland.
And as a first point of contact, you can call the domestic abuse and forced marriage helpline, and I'm going to give that number in a moment.
The helpline remains fully operational, 24 hours a day, seven days a week. So if you need help, you can e-mail or web-chat through their website, or you can call 0800 027 1234. That's 0800 027 1234.
Fundamentally, it is unacceptable that for some people, home is not the place of safety it should be. And so for anyone who is experiencing domestic abuse, I want to you to know that services are still open - and I would urge you to seek help.
Before I conclude, let me just remind you that a number of restrictions that were announced earlier in the week, have come into force today.
Sadly and hugely regrettable, places of worship are now closed – except for the purposes of broadcasting a service, or conducting a funeral or wedding – although these too are subject to restrictions.
And a number of non-essential services are also now closed. These include snow sport centres, showrooms of larger retailers, and clinics offering cosmetic and aesthetic procedures.
As I indicated yesterday, we are reviewing whether any further restrictions are necessary to maximise the effect of this lockdown.
But, to be clear, the country is now in lockdown.
Every single one of us must play our part in slowing down the spread of this virus - reducing the number of people who get infected - while the vaccination programme starts to have an impact.
And the best way of doing that, is to stick to the new lockdown rules.
Please stay at home.
Only leave your home for essential purposes – such as caring responsibilities, essential shopping, and exercise.
Outdoors, you can only meet with one other person from one other household at a time in groups of no more than 2.
Work from home if you possibly can. That's now the law.
And a message again to employers - if your staff were working from home in the lockdown last spring, they should be working from home now and please make sure that they are enabled to do so.
And finally, if you are out and about, remember FACTS.
wear face coverings if you are for example out doing essential shopping;
avoid anywhere that is busy;
clean hands and surfaces regularly;
use two metre distancing if you are talking outdoors to someone from another household
and self-isolate and get tested if you have symptoms.
On any occasion when we are outside our homes, these measures are still effective to break the chains of transmission of this virus.
But fundamentally the best means right now of protecting ourselves and those we love, is not to go out unless we have an essential reason to do that.
Staying at home is how we stay safe and protect our loved ones and our communities, and give the country time to get the vaccination programme motoring in the way that we intend it to do.
So please - stay at home, protect the NHS and save lives. That is the fundamental message I am asking everybody to heed, and help us spread to everyone across the country. Thank you to everyone again for listening and for your cooperation and sacrifice. I will now hand over to the Chief Constable before he, I and Jason take questions as normal.