Publication -

Speech/statement
Coronavirus (COVID-19) update: First Minister's statement - 8 February 2021
Published

8 February 2021

From

Delivered by

First Minister Nicola Sturgeon

Location

St Andrew's House, Edinburgh
Statement given by the First Minister Nicola Sturgeon at a media briefing in St Andrew's House, Edinburgh on Monday 8 February 2021.
This document is part of a collection
---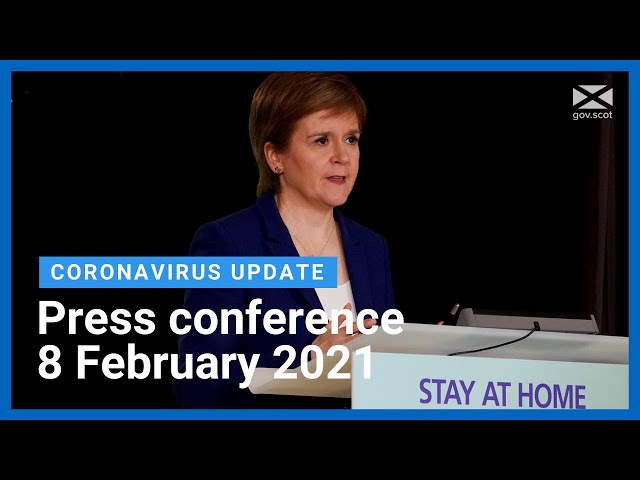 Good afternoon - thanks for joining us again today.
I will start as I usually do, with a run through of the up to date statistics.
The total number of positive cases reported yesterday was 928, which is 6.6% of the total number of tests, and means the total overall, number of confirmed cases is now 186,720.
283 of the new cases were in Greater Glasgow and Clyde, 169 in Lanarkshire, and 121 in Lothian, and the remaining cases were across another 9 health board areas.
1,672 people are currently in hospital – which is 38 fewer than yesterday.
I'll give you just a little bit of context to that figure, it has fallen by more than 280 over the past week, which is very positive, although it is still significantly above the peak we saw last spring.
I can also report that 108 people are in intensive care, which is the same number as yesterday.
5 additional deaths, I'm sorry to say, have been registered in the past 24 hours, of patients who tested positive for the first time over the last 28 days.
However you will recall that the figures we report on a Monday are often low, because registration offices are largely closed over the weekend.
Since the last media update on Friday, we have recorded 60 new deaths, which means that the total number under this daily measurement, is now 6443.
Yet again I want to send my deepest condolences, to everyone who has lost a loved one.
I am joined today by the Chief Nursing Officer, she will help me answer questions in a few moments.
But first of all, I want to update you on a couple of issues.
Firstly let me give a progress report on the vaccination programme.
As of 8.30 this morning, 866,823 people in Scotland have received their first dose of vaccine. That is an increase of 27,557 since yesterday - which is 3 times the number vaccinated last Sunday.
In total over the course of the weekend, approximately 80,000 people received the first dose, that's well over double the figure for last weekend, and of course it includes a record total of more than 52,000 vaccinated on Saturday.
In the past 7 days, more than 290,000 people have received their first dose, which is approximately 130,000 more than were vaccinated in the previous week.
And over the course of this week, we expect to hit the milestone of one million vaccines administered.
Within the headline figure, I can report that we have now vaccinated 99.6% of residents in older care homes - which I have to say is a scale of uptake that none of us really believed would be possible, and it is really important because that is giving protection to the group that we know is most at risk of becoming ill and dying of the virus.
Now you will remember of course, that we prioritized older care home residents, and also frontline health and care staff, for vaccination - and so quite a few of them received their first dose during December.
That means over the coming weeks, we will be starting to administer second doses to those groups of people.
In addition, I can report today that more than 95% of over 80 year olds living in the community have now had the first dose - again that is an uptake rate way beyond anything that we dared hope for just a few weeks ago.
And almost 67% of 75 to 79 year olds living in the community - and 29% of 70 to 75 year olds - have also received their first dose and we are on course to administer first doses to everyone in those age groups, and to all people with significant clinical vulnerabilities, by the target date of mid-February.
We are also now accelerating vaccination for people aged 65 to 69.
This is all very positive news, the vaccination programme undoubtedly picked up pace considerably over the course of last week as we always said that it would. And to see such large numbers, particularly in the groups most clinically vulnerable, now being vaccinated is extremely encouraging.
I want to, as I have done before though, just add a couple of caveats to that.
In particular, let me remind anyone who has received the first dose of vaccine, that you must remember that it doesn't start to have a protective effect until around two or three weeks after you have received it.
And even then, we don't yet know that the vaccine will stop you from getting Covid, or transmitting it to someone else – although there is growing evidence that vaccination does have some impact on transmission.
But given that remaining uncertainty, it continues to be the case that everyone - including those who get the first dose of the vaccine – still need to be careful and to stick to the lockdown restrictions.
Nevertheless, the pace of vaccination is very welcome good news, it will be one of the things that start to make a difference in the weeks to come, and I know from the many messages I've been getting that it is providing comfort and relief – not just to those who are being vaccinated, but to their friends, family, neighbours, and loved ones as well.
So I am hugely grateful to everyone who is involved in the planning, distribution and delivery of the programme – and, of course, I am particularly grateful to everyone who has come forward to be vaccinated in these early priority groups.
As I have said already the level of uptake is way beyond anything that we could have dared hoped for just a few weeks ago and that's a real tribute to the enthusiasm and the willingness of people across the country to be part of our collective efforts to beat this virus.
The second point I want to update on today is testing.
On Friday, when he stood in for me here, the Deputy First Minister spoke about the expansion of targeted community testing in local authorities across the country.
Today I want to briefly highlight a programme which will make testing more easily available in the NHS Highland Health Board area – which in terms of land mass, is the largest of our health board regions.
In recent weeks, NHS Highland has been piloting a programme in Thurso and Lochgilphead.
Fire stations in those communities have been used as bases where people can get tested.
That saves local residents from either having to wait for a home testing kit to arrive; or having to wait until there is a mobile testing centre in their area; or, alternatively, from having to drive quite a distance to a permanent testing centre.
Due to the success of these initial pilots, the decision has been taken now to expand that service. I can say from tomorrow, fire stations in Dunoon and Campbeltown will be used as testing centres - and in the coming weeks, a further 17 sites will open in rural locations across the NHS Highland area.
That means that a total of 21 rural fire stations will be used as testing centres.
Of course these sites will be used in tandem with the larger testing centres for bigger communities across the Highlands - such as the regional drive-through site in Inverness; the walk-through sites in Wick, Inverness and Oban; and mobile testing units in more populous areas, or areas which face a particular outbreak.
These larger sites – of course can carry out several hundred tests a day – and are hugely important, but they often aren't needed or aren't accessible enough for smaller rural communities.
For example the two fire stations in Thurso and Lockgilphead, averaged less than 10 tests a day each, when they were piloting the new service.
So in these circumstances, the fire station testing centres are a really valuable but also a proportionate way of making testing more easily available and accessible to our rural populations.
They do not deliver large volumes - but they will really help in ensuring that people can get easier access to testing when they need it.
So I very much welcome the expansion of this pilot, and want to take the opportunity to thank NHS Highland, and of course the Scottish Fire and Rescue Service, for making it possible.
Those were the two points I want to highlight today.
The progress we are making on vaccination is extremely welcome, and the continued expansion of testing is another way to help us keep the virus under control.
But, for the moment – while case numbers although they are declining, still remain high - lockdown restrictions continue to be essential. And it is really important that all of us continue to abide with these restrictions.
The most important rule right now for all of us remains clear - stay at home unless you need to be out of your home for essential purposes, for example caring responsibilities, essential shopping, essential exercise or work that genuinely can't be done at home.
If you are meeting with other people outdoors, you should in fact only meet with one other person from one other household outdoors and that should be two people from no more than two households.
Please work from home if you can – employers please allow your staff to work from home if that is possible.
And when you are out please remember the FACTS advice.
wear face coverings;
avoid places that are busy;
clean your hands and surfaces;
use two metres distancing if you are talking to someone from another household
and self-isolate and book a test if you have symptoms.
All of these are working, we can see that in the numbers and if we go back to the race analogy, while the vaccination programme is speeding up it's really vital for all of us to be behaving in a way that slows the virus down, so ultimately in this race we can beat the virus.
So things are going well, they remain incredibly difficult and very precarious but we do have that hope now of better times ahead.
Please for now stick with it - stay at home, protect the NHS - help us to save lives.
Thank you very much for listening.