Publication -

Speech/statement
Coronavirus (COVID-19) update: First Minister's statement – 6 April 2021
Published

6 April 2021

From

Delivered by

First Minister Nicola Sturgeon

Location

St Andrew's House, Edinburgh
Statement given by the First Minister Nicola Sturgeon at St Andrew's House, Edinburgh on Tuesday 6 April 2021.
This document is part of a collection
---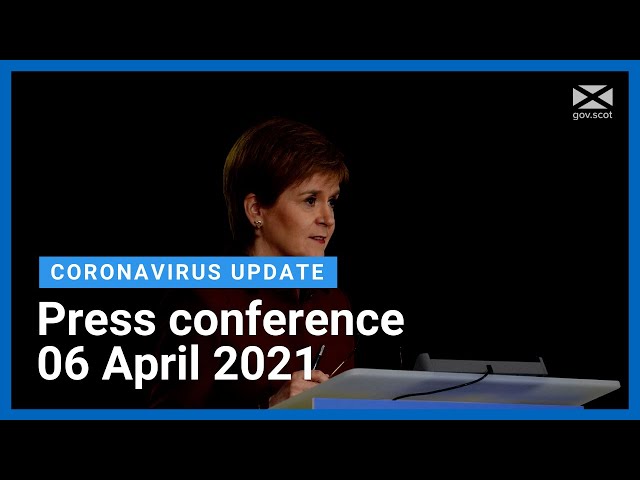 Good afternoon and thank you for joining us again today.
I am joined by our new Chief Nursing Officer, Amanda Croft, today and by a more familiar face the National Clinical Director, Jason Leitch, both of them will help me answer questions shortly.
Firstly though I will recap briefly on the changes that have come into force over the past few days.
More substantially, I will give an update on the Scottish Government's expectations for secondary school re-opening after the Easter holidays.
But before any of that I will give the usual update on statistics.
I can report that the total number of positive cases yesterday was 259 which is 2% of the total number of tests carried out and means that the overall number of confirmed cases is now 220,493.
Of the new cases reported yesterday 93 were in Greater Glasgow and Clyde, 44 in Lothian and 32 in Lanarkshire.
And the remaining cases were spread across 6 other health board areas.
196 people are currently in hospital – that is 19 fewer than before the Easter weekend, which is when we last reported this figure.
And 21 people are currently receiving intensive care, and that is the same number as before the Easter weekend.
I am also pleased and relieved to report that no deaths were reported yesterday. But I should point out that, as you know, yesterday being Easter Monday was a public holiday and many registration offices were therefore closed. So it may be that no deaths being reported today is an underestimate which we will see reflected in statistics later in the week.
The total number of deaths registered, under the daily definition we use, is now 7,614.
And that number, of course, reminds us of the impact that the virus has had on many, many families across the country and the grief that it is continuing to cause. So again my thoughts and condolences are with everyone who has been bereaved.
Let me also provide an update on the latest vaccination figures.
As of 7.30 this morning, 2,577,816 people have received their first dose of the vaccine.
That's an increase of 12,536 since yesterday.
In addition, to that 7,406 people received their second dose of vaccine yesterday, and that brings the total number of second doses that have been administered now to 463,780.
So virtually all over 60 year olds have now received at least the first dose of the vaccine.
And so too have:
92% of 55 to 59 year olds;
and 72% of 50 to 54 year olds.
So far, as you are aware, we have been using both the Pfizer vaccine and the Oxford AstraZeneca vaccine.
I can confirm though that the first batch of the Moderna vaccine arrived in Scotland safely yesterday. A total of 17 million doses of this vaccine have been ordered for the UK – and of that total, Scotland will receive well over a million doses.
It is important to stress though that Moderna vaccines will arrive over a period of months, not all at once, and the doses we expect to receive are already factored into our forward projections - so the arrival of this first batch doesn't mean that we able to accelerate the vaccination programme. The speed of vaccination is already taking account of the expected Moderna supplies.
Nevertheless, the fact that we now have three vaccines in use is clearly very welcome, and it does give us additional security of supply, which is important.
The figures I just reported demonstrate again the progress that we are making.
In terms of vaccination, I want to stress that we are still on course to have offered a first dose of vaccine by the middle of this month to everybody in the population who is over 50 year olds; everybody who is an unpaid carer; and to all adults who have particular underlying health conditions. And that is a really important milestone because these groups taken together , these are the initial JCVI priorty groups, and taken together these groups account for well over half of the adult population in Scotland but also 99% of Covid-related deaths. So you can see that reaching that milestone is very significant and is one of the things that will give us confidence, we hope, to further ease restrictions later on this month.
We are also seeing encouraging news in relation to case numbers. After a period recently where the decline in cases had levelled off and plateaued, we had a couple of weeks where we even thought we were seeing a slight increase in cases again, over the past seven days it is much easier to see the continued decline in new cases, which is good news.
In total, cases have now fallen by more than 80% since early January when of course they were at a particularly high level. The number of deaths has fallen even more sharply than that. And as you can see from the numbers I reported earlier, the number of people in hospital and intensive care is also reducing.
So all of this is a really positive picture and it gives us a lot of optimism for the period that lies ahead. That said, and as you would expect, I need to stress this point, COVID is down in Scotland – you can see that from the figures – but as we can still see here and see even more starkly in other parts of the world, COVID is not out.
It is a virus that is very much still with us. Here in Scotland we are still seeing hundreds of people every day testing positive for it, and almost all of the new cases that we are seeing reported now in Scotland are of the new variant that emerged just before Christmas. And as we know that variant is more infectious than the variants we were dealing with earlier last year.
That is indeed one reason why so many countries in Europe are currently having to tackle big increases in new cases. We are seeing some countries, France for example, applying new lockdowns, so that's what could still happen here if we let down our guard too far or too quickly. And it's that that we have got to together collectively be determined that we are not going to allow to happen here.
And to sustain our progress it is really important that we ease restrictions cautiously and carefully.
That is why the changes that came into force over the weekend – although significant and will make a difference to many people – were nevertheless cautious changes.
On Friday the previous stay at home rule was replaced with guidance to stay local, expect for certain purposes.
And, as you will know, a number of other changes came into force yesterday. Contact sports are now allowed for 12 to 17-year-olds.
All shops can now operate click and collect services again.
Car showrooms and forecourts can reopen. So can homeware stores, garden centres, hairdressers and barbers.
I hope people enjoy making the most of these additional services. But I would ask everybody to please continue to use your common sense to protect yourselves and others.
So for retail services, that means if you need an appointment for a service, make sure that you do book in advance.
Don't go to places that are busy, even garden centres. If they look busy come away, go back at a time when they might be quieter.
And please follow any advice or instructions that are being given by staff because they are working under pressure, but they are doing their very best to try to keep everybody safe.
More generally, as the weather improves – I say that with a bit of a wry smile given the weather we are experiencing right now - but as hopefully the weather will improve in the weeks to come many of us will be able to meet up a bit more with friends out of doors and I think it's really important that we do get the ability to take advantage of that. But again it is really important that we take sensible precautions.
Don't for now meet in groups of more than four people, for adults that four people should not have any more than two households within it.
Most people I know are following all of these rules really rigidly, and I am hugely grateful for that, but I am stressing this point particulary about outdoor gatherings because we did see some scenes at the weekend – particularly on the Meadows here in Edinburgh – that were of considerable concern.
Police officers should not have to get involved in dispersing large groups of people.
I know the restrictions remain really tough. And I know why people want to meet up in larger groups, I think we all have a desperate desire to see more of our friends and family.
But the fact remains the best way for all of us to be able to do that in the hopefully near future now, is to keep these case numbers as low as possible while the vaccination programme continues to gather pace. And the best way to do that for all of us is to try to take the sensible precautions and abide by all of the advice that is in place.
Now, if we do continue to keep the virus under control, as I hope we will, we expect to be able to make further more significant changes on 26 April.
I hope to confirm these changes – which would include a full reopening of retail and the first phase, a quite significant first phase, of the reopening of hospitality– I hope to be able to confirm that on 20 April.
I can also confirm today that – to support the further easing of restrictions – we intend to further expand the availability of routine testing.
We do intend to move to a situation where lateral flow tests, which are the tests that give quicker results will be available twice a week on a universally accessible basis.
We will set out more detail hopefully later this week on how tests can be accessed and from what date.
This testing will be in addition to and it will supplement the existing testing routes that are in place in priority areas, we set those out in our updated Testing Strategy last month - and this more universal approach to asymptomatic testing will allow us to assess the impact that that might have on further supressing transmission.
So all of these things are positive and it is certainly the case right now that we are on the right track and a good track in Scotland but if we are going to stay on it we need everybody to continue to play their part.
Especially since we are still determined to prioritise getting young people back to school.
So let me turn now to that.
I can confirm that having assessed the data with the input of our clinical advisors, that when the Easter holidays end, virtually all pupils will return to school full-time. So secondary schools after Easter will go back to in-person full-time learning.
But the one exception to this is children who are on the shielding list. We are continuing to recommend that they stay at home until 26 April. That's in line with advice already received from the Chief Medical Officer.
All other pupils, though, will return to school once the new term starts.
This, I know, will be a huge relief to many children and young people – and of course to many parents and carers and as I said a moment ago by the end of April we want to see children on the shielding list also get back to school in person as well.
I know though that the return to school, particularly for older pupils, will cause concern and anxiety to pupils, to parents and of course to teachers and others who work in schools.
So let me give an assurance that we will continue to give paramount consideration to safety.
The return to school will involve, as it did last August, the removal, where necessary, of strict 2m physical distancing between pupils in secondary school - but we are asking schools to consider how they strengthen other mitigations.
For example we have committed almost £400m of funding to help with education recovery - and I know that many councils have been using some of this funding to monitor and improve ventilation in schools.
In addition, twice-weekly lateral flow testing is already available for all school staff in primary, secondary and special schools – and also for all secondary school pupils and I would encourage as many staff and pupils as possible to make use of that testing.
Through these measures and others, the Government, schools and local authorities will do everything possible to ensure that the return to school is as safe as possible, and of course every day that passes now more and more adults, and that will include more and more teachers and more and more people who work in schools will be receiving the vaccine as well.
We will, of course, continue to study and assess the data, in order to quickly identify and limit any outbreaks that do arise, and make sure we are also learning from them.
Detailed guidance for schools was published a fortnight ago, and I know that staff have been working hard since then to prepare for this return.
For now, let me thank everyone who is working to make this return to school possible. For many teachers and school staff, I know, this has been the hardest year of your professional lives. I am very grateful for the way in which you have adapted to such difficult circumstances.
And I am also very grateful to parents and carers, and to young people themselves. The way everybody has responded to the challenges of homeschooling and remote learning has been exceptional – and I want to say a heart-felt thank you to everyone.
Now, let me draw my remarks to a conclusion before we take questions from journalists.
I mentioned earlier on that the next scheduled briefing that I will give here given that we are in a pre election period will be Tuesday 20 April. If there are any unforeseen developments there may be a briefing before that, but the next scheduled one will be 20 April.
At that point I hope – that if the virus is still under control – that I will confirm the further reopening that is due to take place on 26 April. And at that point I hope also to give more detail of what we think will be possible in the middle of May and afterwards to try to continue where we can accelerate that journey back to much greater normality.
But the point I want to conclude on, is as always, the point of how important it is if we are to achieve all of this, is for all of us to continue to act in a way that keeps the virus under control.
So please, continue to stay local except for the certain purposes that are set out.
Continue to work from home where you can.
Don't meet other households in your own home, don't go into other people's homes for now.
And when you are outside remember, for now, the maximum group size for adults is four people, from two households.
And always remember FACTS.
face coverings;
avoid busy places;
clean your hands;
use two metre distancing
and self-isolate and get tested if you have symptoms.
If we continue to do all of these things I am very optimistic that we will continue to see progress and that that will then enable us to get more and more aspects of our life back to something that feels much more normal which I know is what everybody, including me, is very desperate to see.
So thank you for bearing with me as I have gone through that update I am now going to move straight to questions.