Publication -

Speech/statement
Coronavirus (COVID-19) update: First Minister's statement - 4 June 2021
From

Delivered by

First Minister Nicola Sturgeon

Location

St Andrew's House, Edinburgh
Statement given by the First Minister Nicola Sturgeon at St Andrew's House, Edinburgh on Friday 4 June 2021.
This document is part of a collection
---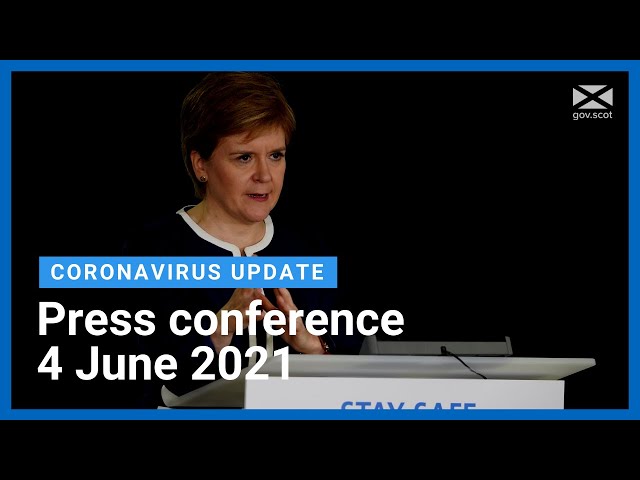 Good afternoon. Thanks for joining us today.
As you can see, Jason is here with me and he will help me answer questions later.
Before then though, if I can just give an update on the overall Covid situation, starting obviously as usual with today's statistics.
Yesterday, there were 992 positive cases reported.
304 of these are in the Greater Glasgow and Clyde area, 213 in Lothian, and 144 in Tayside.
The total number of cases represents 3.9% of all of the tests carried out, and the overall number of confirmed cases is now 238,893.
There are currently 116 people in hospital, with Covid – and that is 6 more than yesterday.
And 8 people are receiving intensive care, which is the same as yesterday.
Sadly, I need to report that 2 deaths were reported over the past 24 hours which means that the total number of deaths registered, under the daily definition, is now 7,676.
And as always, I really do want to convey my condolences to everyone who has lost someone.
Let me also briefly update on the vaccination programme.
As of this morning, and I'll slow down a bit here for the benefit of our signer, 3,326,005 people have received a first dose of the vaccine.
That's an increase of 20,193 since yesterday.
In addition to that, 32,952 people got a second dose yesterday. And that brings the total number of second doses to 2,170,570.
So as you can see, the vaccination programme continues to progress extremely well, and again I want to say thank you to everyone across the country who is delivering that.
However - as I set out earlier in the week – and as you can very clearly see from today's figures, we are at a very critical juncture right now, in what we still hope, very much still hope and believe is a transition to a less restrictive way of dealing with Covid. But the position we are in now on that transition is a fragile one and that will inform my comments today and the tone of the comment I want to make today.
On the downside, as we can see, cases are rising again – and they have more than tripled in the last month. Today the more than 900 cases that have been reported is the highest number of new cases since the 17th February.
The R number is now estimated to be above 1. Indeed, many experts believe that not just Scotland, but the UK is now at the start of a third wave of Covid.
Underlying this - and indeed driving this - is the new Delta variant, which now makes up the majority of all new cases in Scotland.
This variant is thought to be quite significantly more transmissible than even the Kent variant that we were dealing with at the turn of the year. And there is as you may have seen reported last night and this morning, there is early data suggesting that - all else being equal - it may increase the risk of hospitalisation.
Now, hopefully vaccines are reducing overall the risk of hospitalisation but even if it is a lower risk, the early data suggest that this new Delta variant has a higher risk than the variants that went before it. But it's important to say, that is something that's still under investigation and what has been reported in the last 24 hours is early data.
Now all of that obviously gives us cause for concern and right throughout this I've never tried to shy away from saying to you when we're in a period, that should make all of us sit up and remember that this virus isn't done with us yet.
However, that said there is an upside now as well, and it's an upside that we didn't have at the start of the first wave or even at the start of the second wave - and that is, of course, the vaccines.
We do need to analyse the data on an ongoing analysis - so again, a bit like the data on hospitalisations I've just spoken about, it is too early to be definitive - but the strong indications that we have so far is that vaccines are weakening the link between rises cases and cases of hospitalisations, intensive care and people dying.
Now that is really encouraging and it is that which is giving us hope that we can move beyond the very restrictive approach to dealing with Covid that has been necessary over the past year, or in fact more than a year now.
But, although that link appears to be weakening, it hasn't yet been completely broken. Hospital admissions are rising. The number of people in hospital with Covid has again as you can see from today's figures, risen above 100 over the past week, and the number of people in intensive care, although it's stable on today's figures, has shown upward tick in recent days as well.
So, that might not be increasing as fast as would have been the case earlier in the year before vaccines but there is still an increase there that again we need to pay attention to.
So, as I said a moment ago, our situation right now - while still hopeful because of the vaccines and nothing has changed on that front – is nevertheless fragile. And while there is still a significant proportion of the population that has not yet had both doses of the vaccine and of course we are working as fast as we can to get people double vaccinated as quickly as possible, but while there's still a proportion of the population that is not fully vaccinated, we need to exercise continued care.
And that is why the decisions I set out on Tuesday about the level of protection that will apply, from tomorrow, to different parts of the country were so cautious - and indeed for much of mainland Scotland, they represented a pause in our easing of restrictions.
I know that is frustrating, it's certainly never easy to take these decision or to set them out to the public, but at this particular moment it is necessary and my judgement to be cautious whilst we continue to vaccinate more and more people.
So, I just want to recap on the levels of protection as we go in to this weekend.
There are still some parts of mainland Scotland where case numbers are very low - or where rising case numbers are associated with defined clusters that are being managed – although today, we have at least one case reported in every health board area, but nevertheless there are parts of particularly rural and island Scotland were case numbers remain very low. So those parts of mainland Scotland where that is the case, they will move down to level 1 tomorrow as planned.
And these are:
Highland, Argyll & Bute, Aberdeen City and Aberdeenshire, Moray, Angus, Perth & Kinross, Falkirk, Fife, Inverclyde, East and West Lothian, West Dunbartonshire, Dumfries & Galloway and the Borders.
If you live in one of these areas, please check on the Scottish Government website what that means. In summary, it means that more people can meet outdoors - up to 12 instead of 8. And slightly more can meet in indoor public places - up to 8 from 3 households, rather than 6 just now.
Remember though that 6 from 3 households remains the limit inside your own home or inside somebody else's home.
In level 1, the limit for some events increases too.
However, and this is where the tone of what I'm saying to people today has to take account of the figures that we are reporting, for those of you living in level 1 areas please remember that there is still a need to exercise great care – and this is especially the case if you, or someone you are interacting with, hasn't yet had both doses of vaccine.
Although limited indoor meetings are possible, please meet outdoors as much as you can. And please follow all the public health advice.
Turning now to the rest of the country briefly -
Glasgow - which of course had the toughest restrictions in place for longest – is going to level 2 tomorrow.
That is possible because the collective sacrifice of people in the city - and the massive public health effort that is still ongoing - had stabilised the situation.
And being able to visit family and friends or have a drink in a bar will be a great relief to people in the city. It's 8 or 9 months since visiting family or friends indoors has been possible and as someone who lives in Glasgow, I know how difficult that has been.
But, please still be careful. Case numbers as you can see are still high. So again stay outside as much as you can, hopefully the weather over the next few days will stay nice but stay outside as much as you can, especially if you are not yet double vaccinated.
If you are meeting indoors, stick to the limits, which again in your home, or in cafes and bars, is a maximum of 6 from 3 households, and take all necessary precautions - clean your hands and surfaces regularly and keep your windows open because that helps with ventilation.
For Glasgow, the move to level 2, I know will feel like a relief but we can't throw caution to the wind. For other parts of the country staying in level 2, I know feels like a setback - even though it is a pause in our easing of restrictions.
But the situation we face now does demand caution.
So to recap, the areas staying in level 2 - in addition to Glasgow - are Edinburgh and Midlothian, Dundee, East Dunbartonshire, Renfrewshire and East Renfrewshire, the three Ayrshires, North, South and East, North and South Lanarkshire, and Clackmannanshire and Stirling.
Please again continue to follow all of the rules that apply to level 2 – if you live in these areas and you can check the detail on our website.
Now there is one further change that I want to highlight today, which takes effect from Tuesday and that relates to travel overseas, and again as you'll have seen in the news, Portugal has been transferred from the green list for international travel to the amber list.
So anyone who returns to Scotland from Portugal from Tuesday onwards, will be required to self-isolate at home for 10 days, and to take two PCR tests during this period.
In addition, several countries have been added to the red list – full details of those can be found on our website.
Fundamentally, though and I want to stress this point, the Scottish Government's basic guidance on international travel remains unchanged. If you don't have to travel at the moment, if your journey is not essential, then please don't. Travel does, unfortunately, create an additional risk that we bring new variants of the virus into the country.
In summary, just to draw my remarks to a close, because of the impact that this new variant has now, we have not been able to move as quickly as we wanted back to normality and that is frustrating for all of us but it is, I think, the right cautious approach to take right at this juncture.
On the other hand, thanks to the vaccines, I do believe we are still moving in the right direction, although it's difficult always feel that and I do believe that this summer we do have the prospect of living with much less restrictions that we've become used to over the past year. Indeed, we're already living with fewer restrictions than we have been in months going past.
But the road back to normality - in the face of this virus – unfortunately, was never going to be completely smooth.
So, yet again, my message today, has to be - please stick with it and please continue to take care, exercise caution and remember that this virus and the new variant of this virus is still very much out there, so getting back to normal need all of us.
So let me end really, with stressing the three key things which I'm asking everybody to do to try to help with that collective effort.
The single most important thing is to get vaccinated, when you get the invitation to come forward for your jag.
And make sure you attend for both doses. It is only with a second dose that you get significant protection against the virus.
If you can't make the appointment you are offered – and often there will be good reasons for that – please rearrange it.
If you haven't received an appointment letter yet, and you think that you should have done, please go to onto the NHS Inform website to arrange a new appointment.
If you are aged between 18 and 29, you can now register online to make sure your details are all up to date. So please do that too.
More information on how to do all of that can be found on the vaccinations section of the NHS inform website.
But please – make sure you get vaccinated.
This is what will take us back to normality and it is in all of our interest to get these jags just as soon as we can – whatever age we are, vaccination reduces our chances of getting seriously ill from Covid.
And of course getting vaccinated helps to keep our family, friends and neighbours safe as well.
So it really is part of the civic duty, that as citizens we owe to each other as well as to ourselves.
The second thing we can do to try to stop the virus spreading is to get tested regularly.
We are continuing to increase the number of walk-in centres in communities across the country. The 50th walk-in centre has opened today at Crossmyloof - which is actually in my constituency in the south side of Glasgow.
Like other walk-in centres, it's open to anyone – if you have symptoms, you can get a PCR test there, and if you don't have symptoms, you can collect lateral flow tests from these centres.
In addition, you can order lateral flow tests through the NHS inform website. If you order them one day, then a pack will be mailed to you and they arrive very quickly, often the very next day.
And they give you a quick result. I took my latest lateral flow test before I left for work this morning. It was negative, I hasten to add. It's simple to do but it is really, really important. They will tell us if we might have Covid, even if we don't have symptoms and that obviously helps to break the chains of transmission,
If you test positive through the lateral flow test, it is important that you book in and get a confirmatory PCR test. Support obviously is available there for you, if you need to self-isolate.
The third and final thing I'm asking everybody to do on a continued basis is to follow all the public health advice –physical distancing, hand-washing, cleaning surfaces and wearing face coverings, all of that I know is getting more and more tedious with every week which passes but it remains more and more important to help keep ourselves and others safe.
So I know that's been more of a challenging update than you would have wanted to hear today. We are in a difficult and fragile position right now but not the same as would have been the case earlier in the year because we now have this vaccination programme that is powering on, motoring ahead and is offering us the route back to normality. But while we still have some people not yet fully vaccinated it is vital for all of us that we continue to exercise that caution.