Publication -

Speech/statement
Coronavirus (COVID-19) update: First Minister's statement – 20 July 2021
From

Delivered by

First Minister Nicola Sturgeon

Location

Scottish Parliament, Edinburgh
Statement given by the First Minister Nicola Sturgeon at a media briefing in St Andrew's House, Edinburgh.
This document is part of a collection
---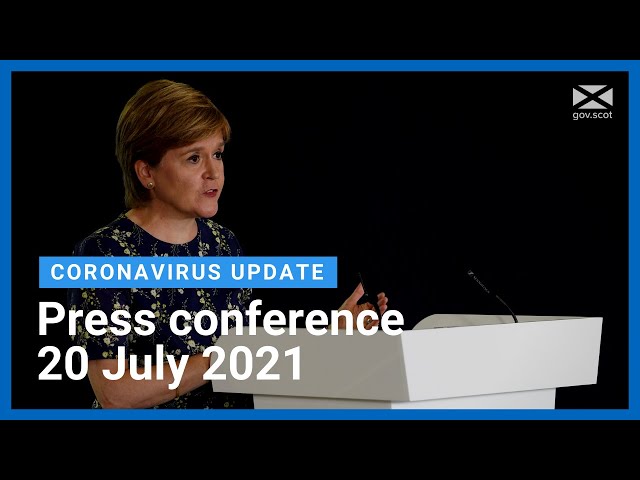 Good afternoon everyone.
As you can see I am joined today by Dr Nicola Steedman, the Deputy Chief Medical Officer and she will answer questions with me shortly.
Firstly, though, an update on the current state of the pandemic, starting with a summary of today's statistics.
1,604 positive cases were reported yesterday - 9.2% of all of tests carried out. That takes the total number of confirmed cases now to 332,455.
There are 529 people now receiving hospital treatment – which is 7 fewer than yesterday and 47 people are in intensive care, that is 2 more than yesterday.
Sadly, a further 13 deaths were reported in the past 24 hours, which means that the total number of deaths registered, under the daily definition, is now 7,813.
As always, my condolences are with everyone who has suffered bereavement.
Now, although case numbers remain high - and I'll cover the implications of that shortly - they are very much right now on a downward path.
To illustrate that point - in the 7 days up to 2 July, there were an average of 3,305 new cases being reported each day but, in the 7 days to 16 July, that had fallen to an average of 2,112 new cases a day.
So that amounts to a decline in the past two weeks of more than 1/3 - and that is very encouraging. Because of that, we were able to go ahead yesterday with the move to level 0.
But as I said a moment ago, case numbers - though they are definitely falling - do remain higher than we should be comfortable with.
Covid as we know is highly infectious - indeed, Delta is significantly more transmissible than previous variants of the virus.
And although vaccination is weakening the link between Covid cases and serious illness, the virus is still potentially dangerous.
And, of course, long Covid is affecting many, including those in younger age groups.
All of this means that vigilance and care remain really important. Restrictions were eased yesterday as part of a gradual process – but restrictions were not abandoned yesterday.
Important measures and mitigations do remain in place - and we continue to ask people across the country and I do so again today to treat the threat that Covid poses seriously at this stage.
I'll emphasise that point in more detail towards the end of my remarks, but before then I'll touch briefly on some other issues.
The first of those is vaccination.
As of this morning, 3,984,433 people had received their first dose of vaccine.
That's an increase of 2,483 since yesterday. As you can see were are getting to the end of first doses.
In addition to that, 16,340 people had a second dose yesterday and that means the total number of second doses is now 2,995,086.
All adults have now been offered first dose appointments - indeed that has happened earlier than we had initially anticipated.
And as of now, around 90% of all adults in the population have actually taken up the opportunity and had the first jag administered.
Also, more than 2/3 of all adults have had the second dose as well – and that proportion will continue to rise on a daily basis, as the programme of second doses continues.
Remember the clinical advice is that – in order to maximise the protection and the longevity of the protection of the vaccine - we should leave 8 weeks between first and second doses.
I think it's important to say that the level of uptake achieved so far is quite remarkable by the standard of any previous vaccination programme. And it actually exceeds what we dared hoped for when this programme started back at the turn of the year. That said, we want to see uptake levels increase further, we want to get as close to 100% uptake as it is possible to do.
To put it bluntly, each and every single person who gets jagged helps us take a step back to normality. And of course the converse of that is true, for as long as there remains a proportion of eligible people who have not had the vaccine that leaves us with a vulnerability against the virus.
So we must keep at it.
Although around 90% of all adults have taken up the offer of the first dose, so far amongst 30 - 39 year olds that is only 81% and in the 18 - 29 year old age group it is 70%.
So I want to stress again today and we will keep stressing this that if you are 18 or over, and if you haven't yet had a first dose, then you can still get it. In fact, we really, really want you to get the first dose of vaccine.
You can access that by registering online, through NHS inform but remember you don't have to register – you're also able to simply turn up at one of the drop-in vaccination centres that are now operational across all mainland health board areas.
Covid is, and this is something we should always be thankful for, is less of a threat to younger people than to older people – but that doesn't mean it poses no threat at all to young people.
Some young people do need hospital care when they get the virus, some young people will even end up in intensive care and of course, as we know, young people can get long Covid which we still don't fully understand the implications of.
Vaccination will help protect you from those risks– but it will also help you protect other people.
So please – get vaccinated as soon as you possibly can. If you know somebody in a younger age group in your own family that hasn't had the vaccine yet, please encourage them to do so. There's lots of information on the NHS Inform website, not just about how to get the vaccine but about the vaccine itself. It is a safe vaccine so please get it or encourage those you know who haven't done so already to get it.
It's the single most important thing any of us can do right now to give protection to ourselves but also protect others and of course to help all of us collectively get back to more normality.
Obviously, we want to extend the protection of the vaccine as far as we can.
To that end, the advice yesterday from the Joint Committee on Vaccination and Immunisation on the vaccination of 12 to 17 year olds is important and I want to spend just a couple of minutes talking about that.
At this stage - given that it considers the risk of 12 to 17 year olds falling seriously ill from Covid to be very low - the JCVI is not recommending that we vaccinate all young people in that 12 to 17 year olds age group.
Now, the Scottish Government has always followed the advice of the JCVI - for good reason. You'll have heard me talk about that before in different contexts including recently that eight week interval between first and second doses.
But I am acutely aware that some other countries are vaccinating younger teenagers and I certainly consider it to be extremely important that this is not ruled out here.
So to that end, the Chief Medical Officer is writing to the JCVI asking that the benefit of vaccinating all 12-17 year olds is kept under close and ongoing review – and that it takes account of all available data from countries already doing this. I think that it is really important if there is a benefit to be got from vaccinating younger teenagers then it's really important that we make sure younger people don't lose out on that.
In the meantime though and most immediately, we intend to get on with implementing what the JCVI is recommending – and it is recommending that vaccine should be offered to specific groups of 12 to 17 year olds.
Vaccination is already available to 16 and 17 year olds at higher risk of falling seriously ill and they will continue to be eligible.
But in addition, the JCVI is advising that 12 to 15 year olds should be eligible for vaccination if they have Down's Syndrome; severe neuro-disabilities; or underlying conditions that mean their immune systems are suppressed.
In addition, it advises vaccination for 12 to 15 year olds with severe learning disabilities; with profound and multiple learning disabilities; or who are on the learning disability register.
Finally, vaccination is recommended for 12 to 17 year olds who are household contacts of people with suppressed immune systems. And in that latter case that is less about the protection of the young person and more about the protection of somebody they may live with.
We will shortly provide details of our operational plans to vaccinate these groups of young people as quickly as possible.
And of course in light of what I said earlier about this advice being kept under review, we will make sure that we are prepared to go further as soon as that is recommended. If indeed that is recommended.
The final point on vaccination I want to stress is that if you are currently 17 years old but if you are due to turn 18 on or before 31 October this year, you are now eligible for vaccination as part of this year's programme.
You can self-register again through the portal on NHS Inform or go to a drop in centre.
So, I want to just emphasise this point today, if you or indeed if you know somebody in this category, if you are due to turn 18 before the end of October, register for an appointment or go to a drop-in centre, and get your vaccination as soon as possible.
Finally, today, I want to return briefly to the need for all of us to continue to treat this virus seriously and follow all of the rules and advice still in place.
We did take a further very welcome step back to normality yesterday with the next step in what is a careful and gradual easing of restrictions.
Full details of what that means are on the Government's website.
These rules are more relaxed, considerably more relaxed than the ones we've all had to live with in the first part of the year.
But – as I mentioned at the start – case levels are still high and Covid is still dangerous.
So I want to comment more today on the things - in addition of course to that vital imperative of vaccination - that it is important for us still to do so that we are individually and collectively reducing the risk.
Because of vaccination, we are undoubtedly in a much better position than we were last year, or even at the start of this year. But we can't abandon caution altogether or at least we will be foolish if we do that. We all still have a role to play, in helping to protect ourselves and each other.
Firstly, although the limits have increased slightly as of yesterday, the limit on the number of friends and family who can meet together - 8 people from 4 households indoors and 15 from 15 households outdoors - is still really important because that limits the number of households the virus might spread to as the result of one social occasion.
Face coverings also remain important - and a really good way for all of us to help protect each other - and of course they continue to be a legal requirement in certain settings here in Scotland and indeed that requirement to wear face coverings in some settings is likely to remain in force for some time to come.
Also, please test yourself regularly, particularly if you are planning to visit somebody, or go to an event or perhaps if you're planning to spend a few days on holiday in a different part of the country.
Free lateral flow tests can be obtained through NHS inform. You can get them sent to you by post but you can also collect them from testing centres and local pharmacies.
Remember If you test positive through one of these devices - or indeed if you have symptoms of the virus – then you should self-isolate, and book a PCR test as quickly as possible.
And, lastly, because it remains really important, please keep following all the basic hygiene measures.
Meet other people outdoors as much as possible and particularly while the weather is as good as it is right now. It's a really good opportunity to stay outdoors and minimise the risk of transmission that bit more.
As I said a moment ago, stick to the limits on group sizes, and if you are meeting indoors, open windows and keep rooms well ventilated.
And please remember physical distancing, hand-washing, face coverings as I've just said - all of these measures are as important now as they have been throughout.
And if all of us do these things, then I hope we will see cases continue to fall in the days and weeks to come and if that happens then that creates the conditions we hope for a further easing of the remaining restrictions over the next few weeks.
My thanks again to everybody for all of your cooperation and all of the sacrifices you continue to make. It doesn't get any easier but it remains really important so my thanks to everyone.