Publication -

Speech/statement
Coronavirus (COVID-19) update: First Minister's speech Friday 2 July 2021
From

Delivered by

First Minister Nicola Sturgeon

Location

St Andrew's House, Edinburgh
Statement given by the First Minister Nicola Sturgeon at a media briefing in St Andrew's House, Edinburgh.
This document is part of a collection
---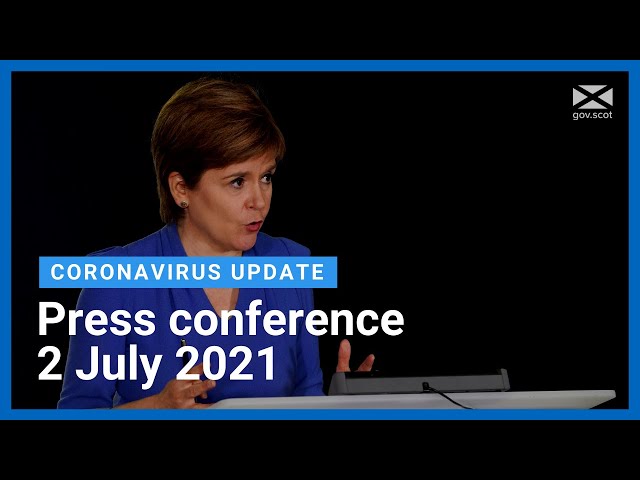 Good afternoon. Thanks for joining Jason and I.
There are a few issues I want to cover today – including some important information about vaccinations.
But I will start with a summary of today's statistics.
The total number of positive cases reported yesterday was 3,823.
That is 10.8% of all of the tests carried out.
The total number of confirmed cases now stands at 289,279.
There are 285 people currently in hospital – which is 10 more than yesterday.
And 19 people are in intensive care, which is 3 more than yesterday.
Unfortunately 4 deaths were reported in the past 24 hours, and that takes the total number of deaths under our daily definition, is now 7,726.
As always, my condolences are with everyone who has been bereaved.
Let me also briefly update on the vaccination programme.
As of this morning, 3,831,770 people have received a first dose of the vaccine.
That's an increase of 15,519 since yesterday.
In addition, 14,622 people got a second dose yesterday. That brings the total number of second doses to 2,737,347. Now today's vaccine numbers actually take us across quite a significant milestone. More than 60% of those eligible for the vaccine have now had both doses, but as of today, more than 50% of the entire population is now fully vaccinated. That is an important milestone and one that will be increasing our levels of protection against this virus.
I have a couple of points that I want to cover before I reflect on the overall course of the pandemic, and stress some of our key public health messages, which are of particular importance given the high number of cases that are being reported right now.
The first is to confirm that further funding for Covid matters is being made available to health boards today.
Almost £380 million is being allocated to help with additional costs this year – including for the vaccination programme, the test and protect system, and personal and protective equipment.
This is on top of the £1.7 billion for Covid which was allocated last year to Health Boards and Health and Social Care Partnerships.
Further funding will of course be made available as necessary over the course of the year.
Although we hope we are in the process of emerging from the pandemic, we can see from the situation at the moment, that Covid will continue to place pressures on our health and care services – so we will continue to ensure that they have all the funding that they need to respond to those pressures.
The second point I want to cover relates to vaccination.
Getting vaccinated is probably the single most important thing any of us can do right now.
That's why I strongly welcome a joint statement that has been issued this morning by business organisations and the Scottish Government. It urges people to get vaccinated - and also urges employers to encourage and support employees to get vaccinated.
The statement recognizes that a successful vaccination programme is crucial obviously for our public health, but if it protects our public health then it will always also be good for the economy. So anything employers can do to support people to get vaccinated, will be beneficial for them, as well as for their workers.
That said, the Government has the primary responsibility for ensuring that the vaccination programme is effective - and we are working with health boards to make sure it is as accessible as possible.
I am therefore pleased to confirm today that from Monday, all mainland health boards will offer drop-in vaccination centres for all adults.
These centres will be able to provide first doses to anyone over the age of 18 who has not had a first dose yet. They will also be open for second doses to anyone who had their first dose 8 or more weeks ago, and has not yet had their second dose.
So if you haven't had a first dose yet - or if you are now due for a second dose - from Monday, you'll be able to visit a drop-in centre in order to get one. And let me stress, you can do this even if you have had a letter giving you an appointment, or if you have missed an appointment. If you'd rather turn up next week to drop in, you can do that even if you've had an appointment scheduled for a week or two from now.
Two health boards – Greater Glasgow and Clyde, and Lothian – will also be providing mobile vaccination units as drop-in centres in some areas, and that is about helping, effectively, to take vaccine to people where we perhaps think there has been particular challenges with uptake.
Information about the drop-in vaccination centres in your health board area, will be available online, so I would encourage you to check this out over the weekend. You can also find out more through the NHS Inform website, or by following your health board area on social media.
Appointments of course will still be scheduled, so if it does suit you better to wait for a scheduled appointment, and you find that more convenient, that is fine.
Everyone in Scotland who is over 18 should now have received an appointment date for a first jag. If you haven't, then you can turn up at a drop-in clinic – but you can also self-register on the NHS Inform site and get an appointment scheduled.
You can also use the NHS Inform website to rearrange the time or location of your appointment if you need to.
Basically, what we are trying to do is make it as easy and as accessible for as many as possible, so you can turn up from next week to a drop-in centre, you can keep your scheduled appointment, you can rearrange your scheduled appointment. Any of these ways is going to be possible because we want as many people getting these jags as possible.
The importance our vaccination programme is especially evident now.
We are continuing to deal with a surge in new cases, heavily driven by the dominance of the Delta variant of the virus.
Vaccination is the reason that surge in cases has not led to the re-imposition of a strict lockdown – as it would have done at any earlier stage in the pandemic.
But now, the vaccines are doing much of the work that lockdown measures previously had to do.
We've discussed quite a lot recently the fact that vaccination is weakening the link between new cases, and serious health harms.
For example the proportion of people who get Covid, who now require hospital treatment, fell from around 13% in January, to 3% at the start of June. We continue to monitor that very closely.
All of that is positive.
But - and this is quite a significant but that I'm very deliberately injecting at this stage - all of us do still need to play a part, over and above getting vaccinated to make sure we get through this next period as safely as possible.
The rise in cases is a reminder that we still need to be cautious.
This variant of the virus is spreading quickly, and it is still potentially dangerous.
No vaccine is 100% effective. But these ones are very effective – after two doses. So even if you still get the virus, your chances of becoming very ill with it are much reduced.
That should give assurance to people - especially those who are older or living with other health conditions. I know many of you in particular will be worried right now as you see cases continuing to spike.
I want to assure you that we are not complacent about this. Our priority is to extend vaccine coverage as quickly as possible. That is our best line of protection.
But we are also encouraging renewed caution on behalf of the population while we do so.
Because our biggest vulnerability just now is that there are still, notwithstanding the success of the programme, a lot of people who do not yet have the protection of both doses.
That is why we are making it easier for people to get vaccinated. We are vaccinating as quickly as supplies - and also the clinical advice on timing of second doses - allows us to do.
While we do this, our collective priority must be to do all we can to slow the virus down. That really matters.
The fact is if cases continue to rise as they have been doing, then - despite the effectiveness of the vaccine - we will see pressure build on the NHS. And of course a lot of people being unwell.
Even if only 3% of cases need hospital care now - compared to 13% at the start of the year - on the case numbers we are seeing just now, that will still be a lot of people ending up in hospital.
We should also remember, many people who get Covid but don't end up in hospital – including many younger people - could still suffer health harms such as long Covid.
I know everyone is tired of hearing this, but I must say again as we do see, we hope, the end point to restrictions in sight, for now we must be careful, especially for these next few weeks while we continue to get the protection from vaccination extended as far as possible.
There are three key things in particular that we all need to do just now.
Firstly – as I have said, vaccination is what will get us out of this.
So make sure that you get vaccinated when you are invited to do so, or turn up next week to a drop-in clinic and get vaccinated then. Just to remind everybody, that applies to all adults who haven't had a first dose yet. Even if you've missed an appointment, don't worry about that, you can turn up and get your first dose now. And if you've had your first dose 8 weeks or more ago, you can turn up to get your second dose at one of these drop-in centres.
Vaccination is how we protect ourselves and it is how we get out of this, so please make sure you're playing your part by getting both jags as soon as it is possible for you to do so.
Second, please use the opportunities to get tested regularly - this is especially important if you are planning to visit somewhere or visit somebody. Take a lateral flow test before you go just to give that added bit of reassurance.
Free lateral flow tests are available through the NHS inform website.
You can have them sent to you in the post. You can also now collect them from local and regional test sites, or from community pharmacies.
And of course if you test positive through one of these lateral flow devices - or if you have symptoms of the virus - please make sure that you self-isolate, and book a PCR test as quickly as possible. That's vitally important.
And finally, continue to follow the key rules where you live and all the basic but really important public health advice – for example on physical distancing, hand-washing and face coverings.
Stay outdoors as much as you can if you're meeting other people.
And if you are meeting people indoors, which in limited numbers is now allowed, please stick to the limits on group sizes, and open the windows. Make sure you're washing your hands and surfaces, and keeping the room as ventilated as possible.
That still applies, of course, if you are watching the football or the tennis.
If you're planning to watch the quarter finals of the Euros this weekend, please remember the indoor gathering limits and remember all of the advice that helps keep that environment as risk free as it's possible to do.
So these are the things that we need to continue to observe right now.
Get vaccinated, get tested and follow the guidance, and where applicable follow the rules.
We are all utterly sick of this. I do believe, just as I have said up until now, that we are seeing the end in sight. But whether we get to that end point, though vaccination, safely or whether we get to it with lots of pressure on our NHS, lots more people getting this virus, comes down to how all of us behave and how successful we are in slowing down the virus while the vaccines get ahead and ultimately win the race for us.
So thank you very much for your continued patience, thank you for your continued observance of all of this, and please for these next few weeks let's all stick with it to get us through this.