Publication -

Speech/statement
Coronavirus (COVID-19) update: First Minister's speech 8 September 2020
Published

8 September 2020

Delivered by

First Minister Nicola Sturgeon

Location

St Andrew's House, Edinburgh
Statement given by the First Minister Nicola Sturgeon at a media briefing in St Andrew's House, Edinburgh on Tuesday 8 September.
This document is part of a collection
---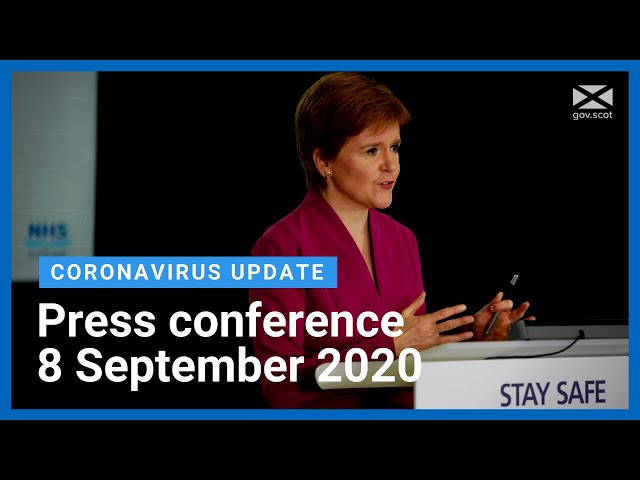 Good afternoon, and thanks for joining us again today.
As usual I will take us through the daily COVID statistics starting with today's positive cases. I can report that an additional 176 cases were confirmed yesterday.
That represents 2.3% of people newly tested yesterday and takes the total number of cases now to 21,719.
As usual the full health board breakdown will be published on the website later on, but I can give you the provisional information I have which is that 91 cases are in Greater Glasgow & Clyde, 32 in Lanarkshire, 16 in Lothian and 8 in Ayrshire and Arran.
The remaining 29 cases are spread across the other seven mainland health boards.
And it is worth me stressing today that we have positive cases reported today in every mainland health board area.
I can also confirm that 267 patients are currently in hospital with
COVID, that is 11 more than yesterday and six people are in intensive care, which is one more than yesterday.
I am also very sad to report that in the past 24 hours, three deaths have been registered of patients who first tested positive over the previous 28 days.
The total number of deaths, under this measurement, is now 2,499.
Today is the first occasion on which three deaths have been reported in our daily figures since 30 June.
This reminds us of the impact that the virus has had, and continues to have. But most of all of course, that figure speaks of three individual tragedies.
I want to send my condolences to those who are grieving as a result of the deaths reported today, and to everyone who has lost a loved one during this pandemic.
My remarks today are going to focus very much on the announcement that the Scottish Government made last night about the Greater Glasgow and Clyde health board area and then say something about the more general situation.
The Scottish Government's Resilience Committee met late yesterday afternoon to discuss the restrictions which were put in place a week ago today in Glasgow, East Renfrewshire and West Dunbartonshire.
We considered a report from the Incident Management Team, and consulted the representatives of the local authorities affected.
Having assessed the latest information about new cases, and assessed advice from our senior clinical advisors, the Scottish Government decided yesterday that existing restrictions must remain in place for these three local authority areas.
We also concluded - on the evidence presented - that the restrictions should also be extended to cover two other local authority areas in the Greater Glasgow and Clyde health board region and those two additional council areas where Renfrewshire and West Dunbartonshire, both of these areas recorded a high number of new cases in the past week.
So that means that for anyone who lives in these five local authority areas, just as a reminder that is Renfrewshire, West Dunbartonshire, Glasgow City, East Dunbartonshire and East Renfrewshire, that the following restrictions will apply for at least the next week.
Can I just recap, I think I may at one point have mixed up East Dunbartonshire and West Dunbartonshire, the restrictions were in place last week for West Dunbartonshire and they are now in addition in place for East Dunbartonshire. So, East Dunbartonshire, West Dunbartonshire, Renfrewshire, East Renfrewshire and Glasgow City, just in case I didn't mention all of these areas correctly. So let me recap what the restrictions that are in place in these areas are.
First, if you live in these council areas, you should not host people from other households in your own home, and you should not visit someone else's home – no matter where it is. And to use my own example, I live in Glasgow City, I should not have people in my home and nor should I visit my parents who live in Ayrshire even though Ayrshire is not one of the affected council areas.
Secondly, if anyone in a household is identified as a close contact of someone who has tested positive for COVID - then we are advising everyone in that household should self-isolate for 14 days.
That is different to the normal rules - where only the person who is a contact has to isolate - but our advice is that this extension is essential at this stage to help us break the chains of transmission.
And finally, visiting in care homes across Greater Glasgow and Clyde is restricted to outdoor visits only unfortunately, except for essential visits. Hospital visiting is for essential purposes only.
More details – including information about exceptions to the rules on household meetings, for carers and extended households - are available on the Scottish Government website.
I know that these rules are really unwelcome. As I already said, I live in Glasgow, and know how frustrating they are and I, just like all of you watching, do not want them to be in place for any longer than is necessary.
But overall I believe that they represent a proportionate – and hopefully effective - but also absolutely necessary response to a worrying increase in COVID across these areas.
The restrictions will be reviewed again next week. They will stay in place for as long as they are needed – but not for any longer than that.
Yesterday's meeting also discussed the situation in other parts of Scotland – such as Inverclyde, and North and South Lanarkshire. At the moment, the number of new cases in these areas does not warrant additional restrictions – however this will be kept under close review.
We also discussed the hospitality sector.
The evidence we have at this stage suggests that house gatherings – which by their nature are hard to regulate for things like physical distancing – have made the biggest contribution to the spread of COVID across Greater Glasgow and Clyde.
They are also a setting in which older and more vulnerable people are often most at risk of infection because older and more vulnerable people are perhaps more likely to socialise at home rather than visit pubs and restaurants.
As a result, our restrictions focus on meetings in people's houses.
However some transmission we know is taking place in pubs and restaurants, and so we will also keep that under close review.
We will discuss with the five local authorities concerned, what further steps we can take to ensure that pubs, bars and restaurants are operating in line with all the necessary rules.
In doing that, we will learn lessons from the work that environmental health officers did in Aberdeen before pubs and bars there were able to re-open.
One point I would stress here, though, is that there has always been – and there remains - a responsibility for customers.
The rules on indoor meetings still apply in pubs.
So when you go out there should be now more than eight people from a maximum of three households in a group in a pub or restaurant; and different households should physically distance.
If you arrive in a bar which is a bit too crowded, and where physical distancing is difficult, then my strong advice would be not to stay there. Try to find a venue that is less busy.
And when you do go out, it is far better to stay in one pub than to visit several.
If you spend time in three or four different bars, you are significantly increasing the number of people who could transmit COVID to you.
And if you have COVID, but don't yet have symptoms, you are significantly increasing the number of people you could infect.
In addition, if you think about how Test and Protect system works, one person visiting several pubs in a night or a week, creates a far bigger challenge to them than someone who just stays in one venue.
So please, try to ensure that you stay in the same place if at all possible. It makes a difference to your safety and also to the safety of those around you.
This is an area which is hard to regulate, and we do not want if we can avoid it, have to create rules or laws.
But there is, very clearly, a responsibility for individuals here.
The hospitality sector has reopened, and we want people to support the sector and of course to be able to safely enjoy themselves.
But we are still living in a global pandemic and that pandemic is now accelerating again across the country and of course and it is still accelerating across the world. So you should not be socialising in the same way as you were last year or the earlier part of this year before the pandemic struck
I also want to take the opportunity to remind you again that the international situation remains very volatile too – we see the number of cases raising in many countries across Europe and further afield so my advice is that you should still be cautious at this time about non-essential foreign travel.
The final point I want to make is that the situation I have outlined today is a sharp reminder for all of us– not just people in Greater Glasgow and Clyde but for all of us – that COVID unfortunately is spreading again.

That was always likely to happen when we substantially lifted lockdown.
That means we have to think carefully about whether it is safe or possible to open up further at this stage.
It is only fair that I signal now that – while final decisions have not been taken - when we do our latest three weekly review on Thursday, we may well not be able to go ahead with any further easing of restrictions at this time.
Obviously we want to do everything possible to avoid the situation where more restrictions that have been lifted have to be re-imposed.
And the key to avoiding that rests with all of us. The decisions we all make as individuals, still affect the safety and well-being of our communities.
So please do everything you can to avoid creating a bridge for the virus to cross over from one person to another or one household to another, if you do that there is less chance of you getting the virus and less chance of you transmitting the virus and less chance of course of you being contacted by Test and Protect and asked to self-isolate as a contact of someone who has tested positive
And before I finish briefly let me again, like I did yesterday, take head on an argument that we hear more frequently just now – and that argument is that because the virus is, at the moment, infecting more young people than old people, and because we are not yet seeing a sharp rise in serious illness or deaths, then we don't need to worry about this.
That is, in my view, potentially a really dangerous delusion.
Firstly, the risk of a young person getting seriously ill or dying is thankfully lower - but it is not zero. And I would ask people of all ages to remember that.
Second, we are seeing warning signs here already. I have reported three deaths today – that's the first time I've had to do that in more than two months, so we should listen to the warning signals that already here.
And thirdly, we don't live in entirely generationally segregated ways. If transmission becomes established in the younger population, it will eventually reach the older, more vulnerable population.
So to younger people, please think about your loved ones as well as yourselves, which I know everybody does.
And to older people, be even more vigilant about hygiene and distancing if you are spending time with young relatives who may have been in pubs or restaurants.
And to all of us, let's treat the current situation with the seriousness it most certainly merits.
Abide by the rules and remember that the simplest way in which all of us can deny the virus the opportunity to spread, is by following the FACTS advice. These are the five golden rules that all of us must follow to protect ourselves, our families, our communities, protect the NHS and ultimately let's not lose sight of this, save lives. So let me just end with a reminder of these five rules.
• Face coverings should be worn in enclosed spaces
• Avoid crowded places, whether they are indoor or outdoor.
• Clean your hands and clean hard as well.
• keep to Two metre distancing where ever you can. I know that that can be difficult, but it remains a really vital protection against this virus spreading.
• and remember to Self-isolate, and book a test, if you have symptoms of COVID.
It's not easy for any of us to do all of this, but doing all of this helps us individually to contribute to a situation where collectively we have the best chance of keeping this virus under control, so my thanks to all of you for joining us again today.