Publication -

Speech/statement
Coronavirus (COVID-19) update: First Minister's speech 30 June 2020
Published

30 June 2020

From

Delivered by

St Andrew's House, Edinburgh

Location

First Minister Nicola Sturgeon
Statement given by the First Minister Nicola Sturgeon at the media briefing in St Andrew's House, Edinburgh on Tuesday 30 June.
This document is part of a collection
---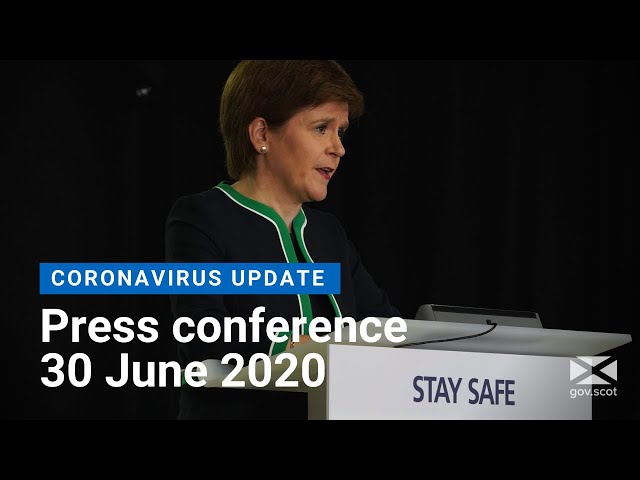 Good afternoon, and welcome to today's briefing.
I want to start by providing my usual update on the most recent Covid-19 statistics for Scotland.
An additional 10 positive cases were confirmed yesterday - that takes the total now in Scotland to 18,251.

A total of 885 patients are currently in hospital with the virus - either confirmed or suspected. That is actually an increase of 145 since yesterday, but the increase is all in suspected cases. The number of confirmed cases fell by 3.
A total of 19 people last night were in intensive care with confirmed or suspected Covid-19. That is 9 more than yesterday - but again the increase is all in suspected cases.
Since 5 March, a total of 4,061 patients who had tested positive for Covid-19 have been able to leave hospital. I wish all of them well.
And in the past 24 hours, I'm sorry to say 3 deaths were registered of a patient confirmed through a test as having Covid-19. That takes the total number of deaths in Scotland, under that measurement, to 2,485.
I know that, after four consecutive days without any deaths being registered, news of any deaths, while not unexpected, is not what we want to hear.
And of course the three people whose deaths were registered yesterday – like everyone who has died from this virus – were individuals whose loss will be causing heartbreak to those who loved them. I want to send my deepest condolences to everyone who has lost a loved one as a result of this virus.
However – and I know that this will not be any comfort to those who are grieving - it is still worth remembering the overall trend in Scotland's figures.
On this day last week, I announced four deaths, which took the total for the previous seven days - under this daily measure - to 23. The three deaths I have announced today, take that seven day total to 9.
That is a sustained and significant ongoing reduction and it is due to everybody – and as I will make clear later in my remarks, maintaining that progress is also a responsibility for all of us as we move forward.
But I want to make clear once again my particular gratitude to our health and care workers – and indeed to all our key workers. We are all grateful for the work you have done during the crisis and indeed continue to do.
The media conferences for the rest of the week will cover a range of issues.
Tomorrow we will report on the latest weekly statistics from National Records of Scotland.
On Thursday, I hope to confirm the changes that we had indicated for the 3rd of July and the 6th of July.
I will also talk about the advice we are due to receive on the 2 metre rule for physical distancing – and whether there are any circumstances in which it can be adapted, with appropriate mitigations in place.
And on Friday, I am likely to look ahead to the weekend – particularly in view of the changes to travel restrictions that are likely to take effect on that day.
Today, however, I want to focus on where we are now. It is maybe an appropriate time to do that: partly because of the data we have seen recently, and also because today is the 100th day of lockdown – although I realise that for most of us, it seems a lot longer than that.
At the time when we imposed lockdown, Covid was starting to run out of control in Scotland.
Because of that, two weeks after the start of lockdown, in early April, hospital admissions for the virus averaged over 200 a day.
And two weeks after that, Covid deaths in Scotland - going by the wider National Records of Scotland data – were averaging more than 90 a day.
To be in our current position - with hospital admissions averaging just 4 a day, with consistently low numbers of new Covid cases, and with such a sharp reduction in death rates – all of that is massive and welcome progress. Once again, I want to thank every single person in Scotland for that. All of us have played a part in getting to this position.
We now have a genuine chance to come as close as is possible to eliminating the virus in Scotland. Of course we will then have to work to ensure we keep it at those levels.
That in turn gives us the best possible chance of seeing more of our friends in less restricted circumstances; of reopening the economy much more fully; and of being able to fully reopen our schools.
So this is a moment of great opportunity.
But it is also a time of very real danger.
And I suppose it's that I want to focus on today.
Not to be negative. But to be realistic and to seek to persuade you all that we still have to work very hard to make sure our progress of recent weeks is not lost or even worse reversed.
We all feel a sense of relief at low levels of the virus today. I know I certainly feel that relief intensely.
But we saw from late March just how quickly low levels of the virus can spread to become much higher. And we saw the consequences of that.
Some of the reports we are seeing from elsewhere in the UK and around the world right now underline that point.
Lockdown restrictions have just been reimposed in Leicester as a result of increased transmission.
And we are seeing increases in infection rates in other countries – for example in some US states, and in Melbourne in Australia. Lockdown restrictions are being reimposed in these places too.
And the World Health Organisation pointed out yesterday that although many countries are making progress in tackling Covid, the pandemic globally is still speeding up and is not close yet to being over.
I don't say any of this to depress anyone - but as a very loud reminder that the virus has not gone away. It is still present – which is why we are still seeing some new cases in Scotland. It is just as infectious and dangerous as it ever was. And it will come back hard if we let it.
The figures in Scotland we are seeing right now, are a result of the decisions and the sacrifices all of us have made over the past 100 days.
The figures we see in the future – in the second half of July; in August, as schools prepare to reopen; and into the autumn – they will be the result of the decisions we all take now, and in the weeks ahead.
That is why - as I said – we are right now in a potentially very dangerous moment.
We are reopening more public services and more businesses; we will soon start travelling a bit more; and we will also start seeing a bit more of our family and friends – including in outdoor pubs and restaurants.
That is absolutely right – it is justified by the progress we have made. And it's important, of course, to get our economy going again.
But by opening up a bit more, at a time when the daily statistics are looking so positive, there is a real risk that people will let down their guard. There is a danger that it will seem as though life is getting back to normal. And I want to stress right now, life can't and shouldn't get completely back to normal yet, because the virus is still there.
I do not want us to be looking back in a month's time, or in three months' time, and thinking that this week's figures – the culmination of 100 days of sacrifice - were as good as it ever got in our efforts to suppress this virus.
Instead, I want us to be looking back in a month's time - and then in the autumn - and thinking that this week's figures provided us with the best possible foundation for our efforts to almost eliminate the virus.
Because if we can continue to suppress the virus – and come as close as possible to elimination - then living a less restricted life without the constant threat of lockdowns being reimposed becomes more possible. And dealing with localised outbreaks when they happen – which they will – will become far easier.
For the Scottish Government, that means that we may still have to take some really tough and unpopular decisions in the weeks ahead – that we have to go against the grain of what many of you would like, in order to secure the progress we have made. If that is necessary we won't shy away from doing it.
And for all of us – it means still thinking hard in our personal lives about what we choose to do and not to do. Just because we can do more now, doesn't necessarily mean we should do these things as often as we used to. And it certainly doesn't mean we should do them without significantly increased care. Following the rules continues to be vital. In fact, it is even more important now as we start to interact more, so we don't squander the progress that we've made.
So as we start to do more – as we go to more shops, as more people return to work, as we maybe travel a bit more from the end of this week - please remember that the virus has not gone away. We have suppressed it to the levels we see today because of the action we have collectively been taking, so we must continue to take action to keep it there and hopefully get it lower still. It is still as a virus highly infectious. It is still very dangerous. And it will start to spread rapidly again, if we give it the opportunity to do so.
That is why our public health campaign - FACTS – is so important. It summarises the five key things all of us must remember in everything we do.
· Face coverings should be worn in enclosed spaces such as shops and public transport.
· Avoid crowded places.
· Clean your hands and hard surfaces regularly.
· Two metre distancing remains the rule.
· and Self isolate, and book a test, if you have symptoms.
By remembering those 5 basic measures, all of us can stay safe, protect others and save lives.
So please, my appeal to you today, and I cannot stress this enough, do not drop your guard.
Do not become complacent. Do not drift back to life exactly as normal.
Do not think the risk of the virus has gone away.
Please make sure you are doing everything you can - every day and every time you go out - to deny it the chance to spread. And if we all behave in that way, then the progress we are seeing now will continue. So my thanks for everything that you've done over these past 100 days and I ask all of you to stick with the advice that's so important.