Publication -

Speech/statement
Coronavirus (COVID-19) update: First Minister's speech, 30 April 2020
Published

30 April 2020

From

Delivered by

First Minister Nicola Sturgeon

Location

St Andrew's House, Edinburgh
Statement given by the First Minister Nicola Sturgeon at a media briefing in St Andrew's House, Edinburgh, on Thursday, 30 April.
This document is part of a collection
---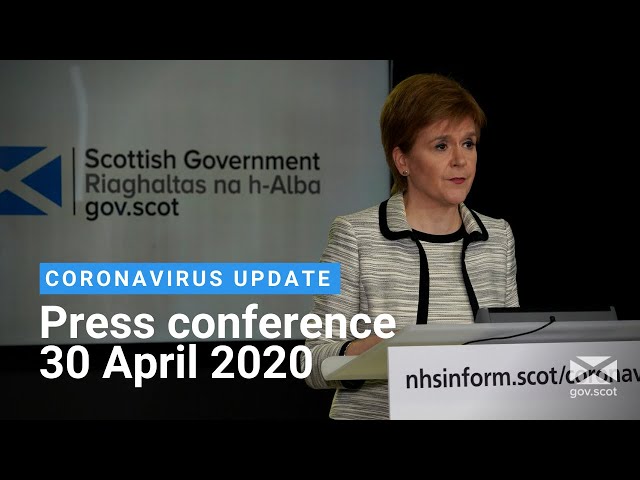 Good afternoon. Thanks for joining us for today's briefing.
I want to start – as I always do – by updating you on some of the key statistics in relation to the spread of the virus in Scotland.
As of 9 o'clock this morning, there have now been 11,353 positive cases confirmed – that is an increase of 319 since yesterday.
A total of 1748 patients are currently in hospital with either confirmed or suspected cases of COVID-19 - that is an increase of 21 from yesterday.
A total of 109 people last night were in intensive care, again with either confirmed or suspected cases. That is a further decrease of 5 since yesterday.
I am also able to confirm today that since 5 March, a total of 2,538 patients who had tested positive for the virus and been admitted to hospital as a result, have now been able to leave hospital.
However, on a sadder note, I also have to report that in the last 24 hours, 60 deaths have been registered of patients who have been confirmed through a test as having the virus – that takes the total number of deaths in Scotland, under that measurement, to 1,475.
These numbers, as I stress every single day, are not just statistics. They represent people who are right now deeply missed by the friends, families and their wider network of loved ones. So once again, I want to send my deepest sympathies and condolences to everyone who has lost a loved one to this virus, we are all thinking of you at this time.
I also want to thank – as I always do – our health and care workers. At 8 o'clock this evening I will join with many others in applauding our health and care workers, in what I think has become a very precious and very special moment in the week.
And to health and care workers, I hope that this shows you, albeit in a symbolic way, just how grateful everybody across the country is for the extraordinary and very courageous work that all of you are doing.
There are two things I want to talk about today.
First of all, I want to take the opportunity to emphasise the vital importance of sticking with the lockdown restrictions at this time.
I set out last week our decision making framework for starting - slowly and gradually - to ease aspects of the lockdown when it is safe to do so, and the factors and uncertainties we will have to take into account as we make these difficult decisions.
I promised to be open with you as our thinking and our decision making develops and I absolutely will be. I intend to update you again next week - ahead of the official review date of 7 May - on our considerations and judgements so far. I am very grateful to all of you have taken the time to send us views on the paper that we published a week ago today.
But part of the grown-up conversation I want to have involves me being willing, when necessary, to deliver tough messages as well as hopefully the more positive messages about how, when it is safe to do so, we can start the journey to what I described last week as a 'new normal', and start to reduce some of the harms to the economy and our well-being that we know the lockdown restrictions are having.
Right now, that means I have to be straight with you that it may very well be too early, even this time next week, in any meaningful way, to safely lift any of the current restrictions.
I want to share with you the reasons for that.
We have worked very hard as a country to bring down the transmission rate of this virus – and we are definitely seeing results from those efforts.
In fact we see that fewer people are now in intensive care than two weeks ago, and that figure appears to be reducing now on an ongoing basis, and hospital admissions, although they are fluctuating as you see today, are also on a slowly reducing curve.
Overall, we think that transmission in the community of the virus has been reduced very significantly as a result of the lockdown - although of course we know that it remains higher in settings such as care homes.
The R number which you hear us talk about – the rate at which the virus reproduces – is, we believe, now below 1. Remember, that at the start of lockdown, we think it was above 3. So that is real and very positive progress.
And that progress matters. With the R number below 1, that means every 100 people with the virus, between them pass it on to fewer than 100 more people and so on - and so the total number of cases will gradually decline.
We do think that is happening now. However we are not confident that the R number is very far below 1. That means any easing up at all in the current restrictions - either formally by government decisions, or informally by people becoming a bit less compliant as we all get more and more weary and frustrated - would quickly send it back above 1. Indeed, there have been reports in the last day or so from Germany that their R number is rising again as a slight easing up there has been taking effect.
And if the R number does go back above 1 – let's say it goes to even 1.5 - then our 100 people from a moment ago would between them transmit the virus to 150 people, they in turn pass it on to 220 people and so on and so on, and suddenly the virus is spreading exponentially again.
That would mean more people in hospital and in intensive care and even more people dying.
So the point I am making today is not an easy one, but it is an essential one. The progress we have made is real and it is significant, but it is still very fragile. The margins we have for ensuring the virus does not take off again are really, really tight. That means we must be very cautious at this stage.
That's why it's so important that everyone sticks with the restrictions. In recent weeks people have been absolutely superb at doing that – and I will never be able to tell you how grateful I am to all of you for that. You are the reason that the NHS has not been overwhelmed, as I really feared a few weeks ago that it might be, and by sticking to the guidance, you have undoubtedly saved lives.
However we are now seeing slight increases in people using our roads. In addition, more people are using concessionary bus travel than a few weeks ago. Both of these trends are from low starting points, but they are still sources of some concern.
For example the number of people who are using concessionary transport increased by almost 1/6 last week.
The car traffic we've observed on major roads is less than 1/3 of its pre-lockdown levels, but it has increased this week by about 5% this week, compared to last week. On some town and city roads, traffic has been 10% higher than in the week before.
So what I am asking all of you to do today, and you know the reasons that I am asking you to do this, is think about whether or not it is the case that right now you are a little bit more active than you might have been at the start of the lockdown, and to ask yourself why that is the case.
Was your journey really essential? You might think it's only you making an extra journey, and that it's only one trip – and you might well feel you deserve it after weeks of restraint. Believe me, I really understand all of that. But all of it adds up – and the fact remains that if everyone eases off, the virus will quickly take off again and it will have devastating consequences for all of us.
I know this is a long haul – I know that people want to travel a bit more, I know that children want to spend more time outside. I absolutely know that every grandparent is desperate to see and to hug their grandchildren. But as things stand, our progress against the virus, albeit very real progress, is too fragile for us to let up.
But the more we do stick to the lockdown, the more we will reduce the R number below 1, and the lower it goes, the more scope we will have to ease the lockdown measures in future.
So please, I am asking you again, stay at home – except for essential purposes.
If you do leave home, remember to stay more than 2 metres away from other people, and don't meet up with people from other households.
If you have any symptoms of the virus, you and your household should isolate completely. And everybody should still be washing their hands regularly and thoroughly.
By sticking to all of that, we can keep that R number below 1. We will slow the spread of the virus, protect the NHS, and we will save lives. And – while it might not feel like it right now, and I am pretty sure it doesn't – we will actually all help each other to come through the other side of this a bit more quickly.
The other thing that I want to update you on, is our support for business.
Today, three new business support funds, which total £100 million, open for applications.
They are part of a wider package of measures to support business, which are worth around £2.3 billion in total.
One of the funds is the Newly Self-Employed Hardship Fund, which is managed by Local Authorities.
It is open to newly self-employed people who are facing hardship but – because they became self-employed in the last year – are ineligible for other support. They will be able to apply for grants of £2,000.
The lack of support for newly self-employed people is something which has been much commented upon – I am glad we can now do something now to give assistance.
The second fund is the Creative, Tourism & Hospitality Enterprises Hardship Fund. This is managed by our Enterprise Agencies with support from Creative Scotland and VisitScotland.
It will provide grants of up to £25,000 for smaller creative, tourism and hospitality companies who do not benefit from business rates relief – for example if they do not have premises which can benefit.
And finally, we have also established the Pivotal Enterprise Resilience Fund, which is again managed by our Enterprise Agencies.
This will provide grants and support to small and medium sized businesses which we think are potentially vital to Scotland's economic future, or to the economies of certain local areas - but which have been made vulnerable by this crisis.
This is an important way of trying to safeguard our economic future and potential – by ensuring that smaller companies with lots of potential are not driven out of business during this crisis.
Applications for these funds will be open from 2 pm today. We hope that successful applicants will start receiving money in the next couple of weeks.
If you think that you might qualify for one of these grants, you can find more detail at www.FindBusinessSupport.gov.scot
I want to end by re-iterating my earlier message. Please stick to the guidance. I know this is not easy.
And when I say that, I am not just saying what I know you want to hear – I really know this is not easy. But it is making the difference: so please, please, stick with it.