Publication -

Speech/statement
Coronavirus (COVID-19) update: First Minister's speech 29 September 2020
Published

29 September 2020

From

Delivered by

First Minister Nicola Sturgeon

Location

St Andrew's House, Edinburgh
Statement given by the First Minister Nicola Sturgeon at a media briefing in St Andrew's House, Edinburgh on Tuesday 29 September.
This document is part of a collection
---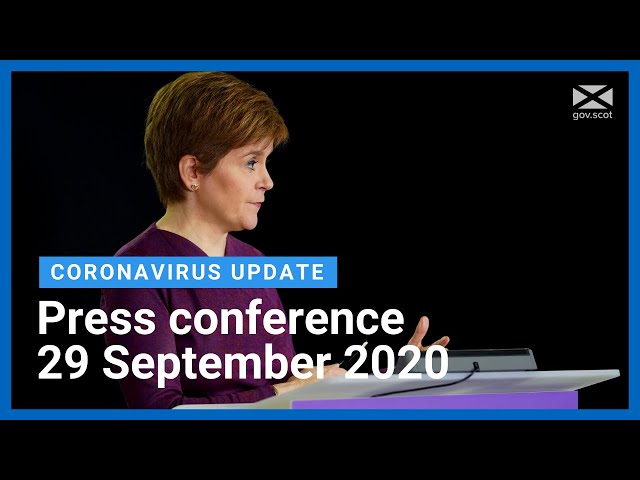 Hello, and thanks for joining us.
I will start with the daily update of COVID statistics.
The total number of positive cases reported yesterday was 806.
I'm going to make some important contextual points on today's figure shortly but I will report the rest of the statistics first.
That 806 represents 11.5% of people newly tested, and takes the total number of cases to 28,604.
I can confirm that 302 of today's reported cases are in Greater Glasgow and Clyde, 180 in Lothian, 91 in Lanarkshire and 54 in Grampian.
The remaining 179 cases are spread across 9 other health board areas.
I can also confirm that 123 people are in hospital – that is an increase of 1 from yesterday.
14 people are in intensive care, which is 2 fewer than yesterday.
No additional deaths have been confirmed of patients who had tested positive within the preceding 28 days.
That means that the total number of deaths, under the daily measurement, remains at 2,512.
That total of course reminds us of the impact this virus has had, and continues to have. I want once again to pass on my condolences to everybody who is grieving a loved one.
Let me now turn to some points of context about today's figures.
First, as I have explained before our daily case numbers reflects test results reported in previous 24 hours. Each day's figure therefore reflects test samples actually carried out over the previous couple of days.
You will recall me saying that yesterday's figure of reported cases seemed lower than expected. So today's total of 806 includes a high number of results from samples actually taken on Friday and Saturday that we would have expected to see reported yesterday. So that perhaps partly explains the particularly high number of cases we're seeing today. We continue to work with the UK government to ensure that turnaround times for test results, which after a bit of a problem a couple of weeks ago have improved, continue to be as speedy as they need to be.
The second point is that, while we are certainly seeing rising transmission - and I am not underplaying that - we are doing much more testing now than in the spring, so comparisons of daily case numbers now versus then are not really particularly valid. And of course Test and Protect is able to follow up every person who tests positive to ensure their contacts are traced and told to self-isolate. So when we know transmission is rising as it is right now, it is actually important to know that significant numbers are being reported every day - that means we know about these positive cases and their contacts are being traced by Test and Protect and all of the work that Test and Protect has to do to break chains of transmission is being done.
The final point to draw attention to about today's numbers is the age range of the cases. The majority are in the under 40 age groups - with the bulk of those in the under 25 age group - and that is of course affected by university clusters we've been seeing in recent days.
But the point I want to make today which is one you've heard me make before is that the fact that many cases are now in the younger age groups and we know that younger people are less likely to die from COVID than older, more vulnerable people, that mustn't give rise to complacency. Firstly, because young people can become very unwell from this virus and, while their risk of dying is lower, they're not non-existent and we hear almost every day of what is described as 'long COVID' – of younger otherwise healthy people having quite long lasting health impacts from having had the virus.
But the other point about this is that, while we're seeing a significant number of cases in the younger age group which is a phenomenon we've seen across Europe in the latest surge of COVID, it is the case that transmission amongst older age groups is also rising. Around a third of today's cases are actually in the over 40 age group and there are a number in the over 60 age group so transmission is rising across the spectrum of age ranges and I'll say more shortly therefore about what we must all do to guard against transmission.
However, I will briefly address a couple of other issues first.
The Scottish Government Chief Economist has published his regular State of the Economy report today.
The report highlights that – year on year – economic output is likely to decline by 10% over the course of 2020. In many ways that is unsurprising, given the disruption caused to so many businesses. Nevertheless, that would still be the biggest reduction in output in modern times.
That is why the Scottish Government welcomed some parts of the UK Government's announcement last week about continued support for employment and businesses. It is vital that some support for employers continues, after the furlough scheme ends at the end of October.
But we believe much more is still required and we want to work with the UK government constructively to that end. We can't get away from the fact that the pandemic will continue to have a significant and, to a large extent, an unavoidable impact on our economy and support provided must reflect that.
The second issue I want to cover relates to funding for health boards and our health and social care integration authorities.
The Health Secretary confirmed earlier today that we are making an additional £1.1 billion available for these bodies.
This will help them to meet additional costs associated with COVID – such as buying personal protective equipment (PPE), safeguarding against infection; and paying for additional staff, and providing cover for staff who are unwell or self-isolating.
The funding will play an important part in ensuring that our health and care services can continue to operate well in the weeks and months to come.
It should help them to prepare for the pressures of the winter, to care safely for patients who have COVID, as well as resume services that were paused during the early months of the pandemic for non-COVID treatments and procedures.
Now let me return to the central issue of the day, which is the current COVID position. As is said earlier, COVID is on the rise again across our population and across Scotland – just as it is across the UK, Europe and the world.
I want to return today to the key actions that we should all take to try and reduce transmission and in particular, the actions we all need to take if we get a positive test result.
This is absolutely vital in helping control the spread of the virus. And it is crucial for all of us, wherever we live – there has been lots of focus on students in halls of residence recently – but self-isolation is essential for all of us if we test positive no matter where we live.
Essentially, if you have any one of the three recognised symptoms of COVID, you should start to self-isolate immediately, and book a test. You can do that through the NHS Inform website. And I want to be very clear, while we're not complacent and monitor this carefully, there is good availability of and access to testing across Scotland so make sure you don't delay booking a test if you have symptoms.
The symptoms are a new cough, a high temperature, or a loss of – or change in – your sense of taste or smell.
From the time you realise you have one of these symptoms, you should not leave your house, except if you need to do that to get tested. You should not use public transport to go to a testing centre – if you can avoid that, you should instead drive or get someone to drive you, request a home test, or use a walk-in centre if there is one nearby or a mobile testing unit.
When you get your test result, if you test negative, and don't have COVID, you can stop self-isolating at that point.
However if you have COVID, you need to self-isolate for a further 10 days, starting from the day on which you took the test.
Other people in your household should self-isolate for 14 days. They need to self-isolate for longer because if they get COVID from you, their infectious period will probably start a few days after yours did.
In addition, if you test positive someone from Test and Protect will speak to you to identify other possible contacts of yours.
And of course if you have downloaded the Protect Scotland app, you should also enter the code you have been given with your test result.
Once that code is entered onto the app, contacts identified by the app will automatically be notified. This is really important. Since we launched the app a couple of weeks ago, hundreds of people – who might not otherwise have been identified – have received notifications in this way and been given advice to self-isolate.
If you find out that you are a contact of someone with COVID – either through a Test and Protect team, or from the app – you need to self-isolate for 14 days. You will be told when that 14 day period starts from.
And the key thing to stress here is that self-isolation really does mean self-isolation. It means not leaving your house at all.
Because we know that's really tough, we are working to put as much support in place as possible. For example, we are working with local authorities to ensure that when someone is asked by Test and Protect to self-isolate, they are contacted and offered essential practical support – for example help with delivery of food and other essentials. You can also dial the national assistance hotline if you need to self-isolate and need some help on 0800 111 4000. That's 0800 111 4000.
As I said last week, we are also introducing financial support of £500 for those on low incomes as a way of supporting people to do the right thing. More details of that will be available later this week.
But although self-isolation is tough, it is also essential.
So please do self-isolate when you need to. It is one of the key ways in which we can help ensure that the virus does not spread to new households. And it is one of the ways in which all of us, at various times, may well be required to play our part in tackling the spread of the virus.
Now I've spent some time on self-isolation because it is so important and we want to make sure people understand why it's so important and also what needs to be done when you're asked to self-isolate and the support that is available. But there are of course other steps we must all take to try to reduce transmission.
So let me end with a quick recap of what those other steps are.
With some limited exceptions, none of us should be visiting each other's homes at the moment.
When we do meet other households – outdoors, or in indoor public places – we must not meet in groups of more than six people from a maximum of two households.
We should all try to limit our visits to, and social interactions in, places like pubs and restaurants.
We should work from home if we can.
We should all download the Protect Scotland app, if we can.
And finally, all of us in all our interactions, should remember FACTS:
face coverings
avoid crowded places
clean hands and hard surfaces
maintain a two metre distance from people from other households
and – as I have already talked about today – immediately self-isolate, and book a test, if you have any of the recognised symptoms
These rules are not easy to comply with and they are a huge inconvenience to all of us in our daily lives. But they are essential right now to ensure that all of us are playing our part in trying to stem the increase in COVID and bring the virus back under control.
So again, my thanks to everybody for all of the many sacrifices that I know are being made the length and breadth of the country.