Publication -

Speech/statement
Coronavirus (COVID-19) update: First Minister's speech 28 August 2020
From

Delivered by

First Minister Nicola Sturgeon

Location

St Andrew's House, Edinburgh
Statement given by the First Minister Nicola Sturgeon at a media briefing at St Andrew's House, Edinburgh on Friday 28 August.
This document is part of a collection
---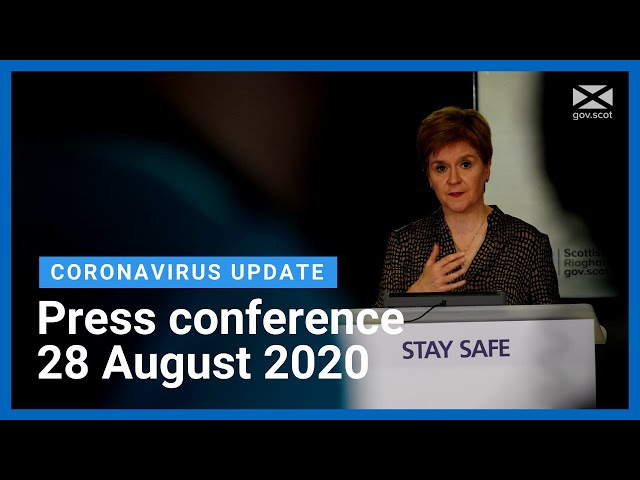 Good afternoon and thanks again for joining us. I will give you first of all the usual updates on the COVID statistics.
An additional 51 positive cases were confirmed yesterday which is 0.6% of people newly tested yesterday and the total number of cases now is 20,107.
There will be a full health board breakdown released as usual later, but I will give you the provisional information right now and that is that ten of these 51 new cases are in Tayside, where of course we are dealing with the Two Sisters food processing plant cluster. Fourteen are in Greater Glasgow & Clyde, three in Lanarkshire and two in Grampian. The remaining 22 cases are spread across six other health boards.
I can also tell you that 255 patients are currently in hospital with COVID, which is two fewer than yesterday, and three people today are in intensive care, which is one more than yesterday.
In the past 24 hours, thankfully, no deaths were registered of patients who had tested positive over the previous 28 days and the number of deaths under that measurement is still 2,494.
My condolences again go to everybody who has suffered a loss because these figures every day are a reminder of the impact that the virus has had.
I am joined today by our National Clinical Director Jason Leitch and also by the Chief Constable who is going to say a few words after me, amongst other things about the new regulations on indoor gatherings that come into force today.
Before then though there's just are a couple of issues I want to cover briefly.
Firstly, let me just highlight and underline an announcement that was made by the Scottish Government last night.
We have taken the decision to add two additional countries to the list of countries that are subject to quarantine restrictions and these countries are the Czech Republic and Jamaica.
So from tomorrow, if you are travelling to Scotland from these places, and that includes people returning to Scotland from these places, you must self-isolate for 14 days on your return.
Cuba though was removed from the international quarantine list so anyone arriving in Scotland from Cuba from tomorrow no longer has to self-isolate. But let me be clear that if you have arrived from Cuba in the past few days, you still must complete your 14 days isolation.
These changes are yet again a reminder of the fact that the list of countries that require quarantine can change quickly, in response to changing levels and prevalence of the virus so please do think carefully before deciding to travel overseas at the moment.
Even if there is no quarantine requirement for a country when you leave Scotland, that could very easily change by the time you are due to come home. So my advice remains to think very carefully about non-essential foreign travel right at this time.
Secondly, I'll give a very quick update on some of the main clusters that we are currently dealing with.
As of yesterday, there were 177 positive cases in the Coupar Angus cluster associated with the Two Sisters plant – 157 of those were workers at the factory and 20 were contacts of those workers.
That's an increase of 11 in the past 24 hours. All of the additional 11 cases were members of the workforce and at this stage it remains the assessment that there has been no wider community transmission, which remains obviously very encouraging. All workers at the factory and their households should continue to self-isolate until Monday.
Next, the situation at Kingspark School in Dundee. There are now 36 cases identified as part of that cluster which is an increase of two since yesterday.
Of these 36 cases, 22 are staff members, 11 are contacts and three are pupils at the school. But yet again here there is no evidence at this stage of wider community transmission.
In relation to the outbreak in Aberdeen, there are still 263 cases associated with the pub cluster and the total number of cases in Grampian over the past month is now 447 which is an increase of 10 since yesterday, but it remains the view that the outbreak in Grampian is under control.
Finally, I mentioned yesterday a small cluster in Hawick. A further four confirmed cases were notified to Test & Protect yesterday which brings the total number of cases in that cluster to 11.
All contacts have been followed up and self-isolation and testing has been recommended where that is appropriate.
There will be a Mobile Testing Unit at the Teviotdale Leisure Centre car park in Hawick between 3pm and 5pm today through until Wednesday.
The routes to that mobile testing centre firstly if the local incident management team is contacting you and advising you to get tested, but secondly if you are booking a test because you have symptoms in that area then that facility is available.
These mobile testing units are really important to us in helping to ensure that tests can be more accessible across Scotland, particularly in areas outside the Central Belt.
As a further element of our plans to expand testing, I confirmed earlier in the week that we would also be establishing walk-through testing centres in different parts of the country.
I can confirm that the first of those centres will open later today in the Victory Memorial Hall in St Andrews. The site there is close to the centre of the town, and it is easy to reach without a car. In addition, additional support is available for vulnerable groups and people with disabilities.
However, you are still advised to book in advance if you are using the walk in centre and of course tests can be booked online through the nhsinform website for that centre from today.
We plan to establish six walk-through centres in total by the end of September – these will mainly be in areas with large student populations, which was of course a consideration for St Andrews.
There will be a further five opened over October, but in total we are planning to have 22 of these walk-through centres in place during the winter so today's opening is a first stage – but an important first stage – in developing walk-through centres and making testing more accessible for people in different parts of the country.
Of course it is already possible, wherever you live, to get tested in other ways if you do not have a car for example you can request delivery of a home testing kit and you can do that in the same way that you book other tests, by going to nhsinform.scot or phoning 0800 028 2816.
And let me just take the opportunity to stress again that if you have any of the COVID symptoms, but only if you have any of the COVID symptoms, you should book a test immediately. Don't wait to see if you start to feel better.
And those symptoms are a new persistent cough, a fever or a loss of or change in your sense of taste or smell.
Other symptoms, particularly for children, like a runny nose - if they are not accompanied by one of the COVID symptoms - should not lead to a test being booked.
The final issue I want to update on today relates to culture funding. I can confirm today a further £59 million package of support for the culture and heritage sectors.
This support is part of the £97 million we received earlier in the summer as consequential funding from UK Government announcements.
Today's package includes funding for Historic Environment Scotland, additional help for freelancers, support for the development of new creative work and support for independent cinemas and youth arts.
One significant element is a £15 million Culture Organisations and Venues Recovery Fund to safeguard key parts of our cultural infrastructure.
The fund will offer support to commercial theatres, galleries, comedy venues, orchestras, theatre and dance companies, larger music venues, nightclubs and production facilities and studios.
Its aim is to protect jobs, offer increased opportunities for freelancers, remove the threat of insolvency and support a viable and sustainable future for organisations and venues.
More information - including crucially information on how to apply for this support - will be made available next week by Creative Scotland.
Our culture and heritage sectors of course are hugely important to our economy, but they are also really important to our wellbeing and happiness as a country.
They have been very hard hit by this pandemic and we are determined to do everything we reasonably can to support them.
So we hope that today's package will provide some much-needed assistance to cultural organisations, artists and other freelancers across the country.
I am about to hand over to the chief constable, but let me end as I always do, by stressing the importance of our public health advice.
This advice is important because if all of us deny this virus opportunities to spread, we will succeed in suppressing it and, hopefully, in eliminating it.
As we go into the weekend, please think very carefully about indoor meetings in particular.
When you are indoors, please don't meet up in groups of more than eight people from a maximum of three different households and physically distance yourself from people in other households.
And remember that advice applies if you are in a pub or a restaurant just as it does if you are in somebody's house.
From today police do have new powers to disperse larger gatherings inside homes of more than 15 people.
These powers will allow police to stop events which are significantly in breach of the current guidelines, and which therefore have the potential to transmit the virus between lots of people from different households.
However, they are, as I said yesterday, a last resort and I am sure the vast majority will continue to stick to the rules.
Finally, let me just end with a reminder of the FACTS campaign and the five golden rules that it encapsulates.
Face coverings should be worn in enclosed spaces
Avoid crowded places
Clean your hands and hard surfaces regularly
Two metre distancing remains our advice
and self-isolate and book a test if you have symptoms.
Thank you to everybody who is helping us in these different ways to continue to control the virus.