Publication -

Speech/statement
Coronavirus (COVID-19) update: First Minister's speech 23 June 2020
Published

23 June 2020

Delivered by

First Minister Nicola Sturgeon

Location

St Andrew's House, Edinburgh
Statement given by the First Minister Nicola Sturgeon at the media briefing in St Andrew's House, Edinburgh on Tuesday 23 June.
This document is part of a collection
---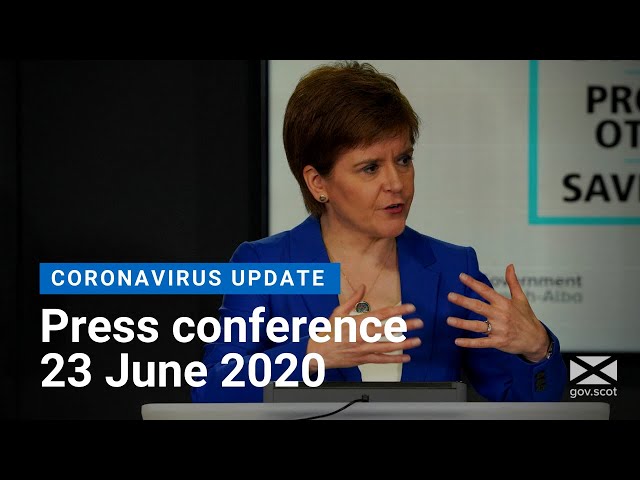 Good afternoon, and welcome to today's briefing.
I'll start with the usual update on the COVID-19 statistics.
An additional 12 positive cases were confirmed yesterday - that takes the total now in Scotland to 18,182.
A total of 865 patients are currently in hospital with the virus either confirmed or suspected. That is 2 fewer than yesterday.
A total of 21 people last night were in intensive care with confirmed or suspected Covid 19. That is an increase of 6 since yesterday - but the increase is all in suspected cases. And while our thoughts are with anyone in ICU, to put today's number of 21 in context - on 12 April, there were 221 patients in ICU confirmed or suspected as having the virus.
Since 5 March, a total of 3,995 patients who had tested positive and been in hospital have now been discharged.
And in the last 24 hours, 4 deaths were sadly registered of patients confirmed through a test as having Covid-19. It takes the total number of deaths in Scotland - under that measurement of people confirmed by a test as having Covid - to 2,476.
Tomorrow of course we'll see the weekly publications from National Records of Scotland which gives us the total number of deaths of those confirmed through a test and of those who are suspected of having had COVID-19.
Today's statistics again show – very starkly – the human cost of this virus, and my condolences go again to all those who have suffered bereavement.
However, the statistics also underline the very significant progress that we've made in suppressing it. And that is really the point I want to focus on today.
It's now three months – to the very day – since Scotland went into lockdown. Although I'm sure – for all of us – it seems an awful lot longer than that, it is worth remembering that back then we did predict that many of these measures would last a minimum of 12 weeks.
This has been one most challenging periods that our country has ever faced in the lifetimes of the vast majority of us.
And of course, as we have seen in other parts of the world, it is not over yet. The virus continues to pose a major threat and it is likely that it will do so for some time to come - and so we still have a lot more work to do.
However, I think it's important to remind ourselves of the progress we have made and to do that to remember the situation we were in three months ago. Back then, COVID-19 was out of control. It was spreading exponentially. There was a very real prospect that our health service would be overwhelmed, even with the extra capacity we had created. And back then that was a daily worry for me. And back then none of us knew – for certain – how the country would cope.
Today, we are in a very different position, as the numbers I've just reported demonstrate. Hospital admissions – which at one point totalled 200 a day – are currently in single figures each day.
The number of people in intensive care has fallen by more than 90%. And while one person dying is too many – we've also seen a very significant and sustained decline in the number of deaths.
And though demand was high at points and the pressure on NHS and social care staff was extreme and remains extreme, at no point did the NHS come close to being overwhelmed.
All of that progress is – of course – a direct consequence of your efforts and your sacrifices.
Over these last three months we have all contended with this virus in different ways – both individually and collectively.
Our health and social care workers have had to respond to an unprecedented threat. And they've done so absolutely magnificently.
Our businesses have answered the call – we now have whisky producers making hand sanitizer and clothing firms producing PPE.
And all across the country, people have adapted to new circumstances – whether that's working from home, or becoming a key worker.
We have in the most trying of circumstances seen the very best of Scotland – as our communities have rallied together – in support of those in need, to check in on neighbours, to help people with shopping, or simply to offer a friendly face.
For shielded people, the last three months have been especially difficult – not being able to go out, and in some cases, not being able to see anyone at all.
The images we've seen over the weekend of some grandparents being reunited with grandchildren and shielded people finally meeting others outside, show us just how hard things have been.
And of course, perhaps most importantly of all for us to remember, more than 4,000 families across our country have lost a loved one to this virus, with around half of those losing someone who lived in a care home. That is something which I never lose sight of. I know the sorrow of that will live with me forever, but I also know that is as nothing compared to the pain of bereaved families.
So as we go through the recovery process, it's really important to remember those for whom this experience will never be completely left behind.
Nor should we forget the enormous sacrifices made to get us here. So, while we still have a long way to go, I want to take this opportunity at this three moth milestone to thank everyone who has played their part and stuck by the rules. In doing so, you've helped to protect our NHS, and you've undoubtedly saved a considerable number of lives.
Of course, you've also made it possible for us to gradually ease our way out of some of the restrictions.
That's why last week I was able to announce Scotland's move to the next phase in our exit from lockdown.
And it's why tomorrow I'll be able to provide some further detail on the timing of some of the specific steps in that journey - and to do so ahead of when I thought might be possible.
Later today, the Health Secretary will also update the Scottish Parliament on the remobilisation of our NHS – and how staff and patients will be protected, as we resume services that had been paused.
And the Deputy First Minister John Swinney will deliver a significant statement this afternoon, on the reopening of schools and support to help young people catch up on missed learning. Four weeks on from the report of the Education Recovery Group - when things looked bleaker than they do today - he will set out where we are now. And crucially, he will outline where we aim to be by August, when the new term begins.
And on that issue, I want to say a few brief words today to pupils who are about to leave school, as the summer holidays begin.
I know that some of you will now be finishing up. And I'm so sorry you aren't able to celebrate this milestone in your lives with your classmates and your teachers in the normal way.
I know that's a bitter disappointment. This special moment in your lives is not one we would have wanted to be marred in this way. And I understand that – given these circumstances – you might be feeling even more apprehensive or unsure about what comes next.
That's why we are providing a range of different support options to help you through this transition.
For example, through Developing the Young Workforce – our employability programme – we're offering school leavers the chance to take part in an online Skills Academy.
If you are interested in that you can find out more about that – and all of the support available – at the website www.dyw.scot. So please take a look – there's some really valuable help there if you need it.
But also, and this is the personal message I want to convey to you, however difficult this experience undoubtedly has been – the way you have coped has shown a resilience that should make you very proud of yourselves as you embark on the next phase of your lives. I want to thank all of you and wish you every success.
Now, as I indicated earlier, as well as today's statements on schools and the NHS, I will provide a general update tomorrow on Scotland's route map out of lockdown. And as part of that, I will set out indicative dates for when some measures – and some phases – will come into effect.
I said from the very start that if we saw maintained good progress, we could move through phases perhaps more quickly – or even bring certain measures forward. And in some instances, that is what we hope now be able to do.
However, we are still taking a cautious approach. Our aim remains maximum suppression of the virus because that is what will give us the firmest foundation for whatever lies ahead to deal with outbreaks such as those we are seeing in other countries right now. And also to equip ourselves as best we can to deal with any possible resurgence of the virus as we enter the winter months. That's why on all these decisions, we are proceeding very carefully.
That's why – for example – I have commissioned additional work from our Scientific Advisory Group. One key issue we have asked about is physical distancing. The Scottish Government is clear that the advice and evidence we have right now supports physical distancing at 2 metres in order to reduce the risk of virus transmission.
But we have asked in what settings, what circumstances and with what additional mitigations it might be possible to accept the risk of people not keeping to a 2 metre distance. That advice will be available by 2 July - ahead of our decisions on moving from phase 2 to phase 3. Until then, the position here in Scotland remains the same. We are advising people to maintain 2 metres physical distancing. So any changes announced today for other parts of the UK, while we will look at the evidence underpinning those very carefully, will not apply here at this particular stage.
Of course, the more we can continue to suppress the virus, the more likely it is that we will be able to consider some changes to that rule. So to close today, I want to reiterate the critical public health guidance, which everyone needs to follow.
You are now able to meet with up to two other households – however those meetings must be outdoors. And you should only go indoors to use the toilet, or to get through to a garden, and you should clean any surfaces you touch as you do that.
I know that as we start to see this virus receding – and as we ease some restrictions – it's easy for all of us to become complacent.
But we need to guard against that. COVID-19 has not gone away. And as we gradually remove the restrictions that have kept it under control, there's a real risk is it could start to circulate again.
So we need to proceed with purpose - but also with caution. And we all need to continue to play our part, in suppressing this virus.
The public health campaign we launched on Friday – the Facts – summarises the key points all of us need to remember every single day.
Face coverings should be worn in enclosed spaces;
Avoid crowded places;
Clean your hands and hard surfaces regularly;
Two metre distancing is important; and
Self isolate and book a test - if you have symptoms.
By remembering those 5 basic but crucial measures, all of us can stay safe, protect others and save lives.
My thanks go to all of you for all of your sacrifices over these last three months and for continuing to show the patience
So please continue to do the right thing, and to stick with these rules. Thank you once again, to everyone who is doing that.