Publication -

Speech/statement
Coronavirus (COVID-19) update: First Minister's speech 22 May 2020
Published

22 May 2020

From

Delivered by

First Minister Nicola Sturgeon

Location

St Andrew's House, Edinburgh
Statement given by the First Minister Nicola Sturgeon at a media briefing in St Andrew's House, Edinburgh on Friday 22 May.
This document is part of a collection
---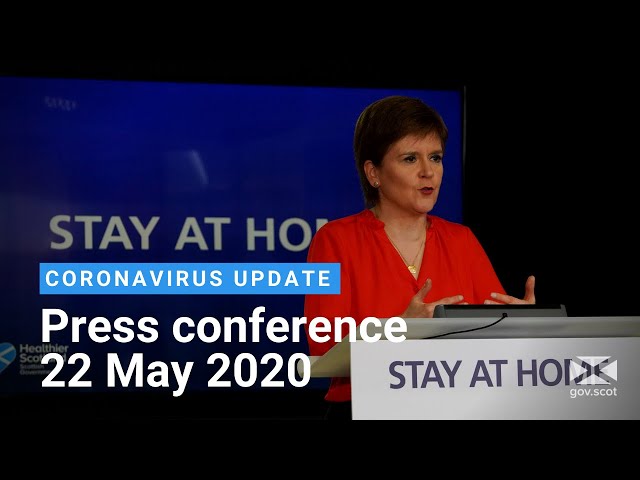 Good afternoon. I'm joined today by Iain Livingstone, Chief Constable of Police Scotland and Professor Jason Leitch, our National Clinical Director.
I want to start – as I always do – by updating you on some of the key statistics in relation to COVID-19 in Scotland.
As at 9 o'clock this morning, there have been 14,969 positive cases confirmed – which is an increase of 113 from yesterday.
A total of 1,257 patients are in hospital with COVID-19 – 874 of them have been confirmed as having Covid, and 383 who are suspected of having it. That represents a total decrease of 61 from yesterday and that includes a decrease of 35 in the number of confirmed cases.
A total of 50 people last night were in intensive care with either confirmed or suspected COVID-19. That is a decrease of one since yesterday.
I am also able to confirm today that since 5 March, a total of 3,508 patients who had tested positive and been hospitalised with the virus have been able to leave hospital. Which is, of course, very good news.
And unfortunately though I also have to report that in the last 24 hours, 24 deaths have been registered of patients who have been confirmed through a test as having COVID-19 – that takes the total number of deaths in Scotland, under that measurement, to 2,245.
Let me emphasise once again that these numbers are not simply statistics. They represent individuals who are being mourned by friends, family and loved ones. I want to send my deepest and heartfelt condolences to everyone who has suffered a loss to this virus.
I also want to thank – as I always do - our health and care workers for the extraordinary, incredible work that you continue to do each and every day.
There are two items I want to briefly cover today.
The first is about the routemap we published yesterday, on how and when we might ease the current lockdown restrictions, while continuing to suppress the virus which is so, so vital.
As of 10 o'clock this morning, I can tell you, more than 100,000 of you have viewed that document on our website. My apologies to those who tried to do so yesterday and found that the demand had made the website struggle. I'm glad that so many people have managed to do so and my thanks to you for doing that.
And I would encourage those of you who haven't yet had the opportunity, to go online and read it - and if you have any views about it you want us to know please feel free to send them to us.
The document set out the different phases in which we will aim to ease lockdown.
The steps it sets out are by necessity gradual and incremental. And we will monitor them carefully as they do take effect.
And our plans will change if the data, evidence or our knowledge of the virus changes.
Let me stress though that that could include lifting restrictions more quickly than we otherwise think we can do.
I want to stress - and this is a really important point - that none of the changes are yet in place. During this Bank Holiday weekend – and into next week – the current lockdown restrictions are still in place.
That's important for me to stress. The one thing that will slow down the lifting of lockdown is us taking our foot off the brake too quickly and allowing the virus to spread rapidly again.
However, on a more optimistic note, as things stand, we intend to enter the first phase of easing restrictions, from next Thursday 28 May – now less than one week away.
By then, I hope we will still be seeing progress against the virus, but also by then we will also be ready to start with our Test, Trace and Isolate programme - Test and Protect we're calling it – as you've heard me say before, that is a key tool for us in continuing to keep the virus suppressed as we start gradually easing these restrictions.
As I said yesterday, not all of the Phase 1 measures will necessarily be introduced immediately next Thursday - though I hope most will be. But we'll have to make a judgement at the time.
But I want to reiterate some of the changes that I hope we will see from next week so that you know what you're able to look forward to.
As the document sets out, more outdoor activity will be permitted. There is a strong emphasis in the first phase on outdoor activity because one of the things we are learning about this virus is that the risks of transmission outdoors, although not zero, absolutely not zero, are nevertheless lower than the risks of transmission indoors.
So You will be able in this first phase to sit or sunbathe in parks and open areas. And as long as you stay two metres apart, you will be able to meet outside, with people from another household, including in private gardens.
Let me be clear because I know it is a question that has been asked, that
doesn't limit you to seeing just one specific household during this phase – you can see different households, but we are asking you only to meet one at a time.
We're also not intending to put a five mile limit on the distance you can travel to, for example, sit with your parents in their garden.
But we are asking you to use judgement.
And increasingly as we come out of lockdown, I'm going to be relying more and more on you to exercise the good judgement that I know you will.
If, for example you travel a long distance to see a relative outside, you'll be more likely to go inside the house to use the bathroom, for example.
And we don't want you to go inside others' houses in this phase because if you are infectious, maybe without knowing it, you risk leaving the virus on surfaces inside the house and that would pose a risk to other people, particularly if you're visiting elderly relatives – that is a risk we don't want you to take.
So please use your judgement and have uppermost in your mind the need to protect those you care about - even if that might mean staying apart from them for just a little a bit longer.
As well as those changes, some non-contact outdoor leisure activities will be allowed to restart from the end of next week - such as golf, tennis, bowls and fishing – croquet as well, as I was asked about in Parliament - subject to appropriate hygiene and physical distancing.
People will be able to travel – preferably by walking or cycling - to a location near their local community for recreation. But here we are asking you to stay fairly local. Five miles will not be a strict limit but it is a guide. We don't want, in this phase, people congregating at tourist hot spots - because crowds of people – even if they're trying to socially distance - brings more risk than we judge is safe to take at this time.
Waste and recycling services will resume, as will many outdoor businesses.
The construction industry will be able to carefully implement the first steps in its restart plan.
Other industries, that might not resume straight away but in the next phase, will be permitted in phase 1 to start to prepare workplaces.
Outdoor retail outlets such as garden centres will be allowed to reopen.
And, very importantly, we will also start, albeit gradually and carefully, to resume NHS services which were paused as a result of the pandemic.
Schools will not reopen until 11 August. But, during June, teachers will return to prepare for the new term and for a different model of learning.
Over the summer, an increased number of children will have access to critical childcare.
And we intend to provide, where possible, transition support for children going into primary 1 or moving from primary 7 to secondary school.
Childminders can re-open during phase 1. And over the summer all early years childcare providers will open again subject to necessary health measures.
The routemap provides more detail on these steps – and on each subsequent phase. It also outlines how they will work alongside our 'Test and Protect' approach – which as I said a moment ago, will be vital, in helping to control the virus.
In the days ahead we will publish more detailed advice and information for you the public, as well as guidance covering key sectors of our economy, travel and transport. That's a really important part of preparing for the move to phase 1. So that there is as much clarity as possible about what we are saying and what we are asking you not to do at this stage.
However, I want to emphasise a key point. None of the changes I've talked about today, are yet in place. We can only begin to implement them, if we continue to suppress this virus. And that's why – for the moment – the current lockdown restrictions remain in place.
That brings me to the final item I want to cover. It's about our support for people, in dealing with the lockdown. And it has particular relevance, as we mark the end of mental health awareness week.
We know this crisis is causing increased anxiety and stress for probably everybody in the population. We also know that – because of the lockdown – many people are cut off from their usual support networks – be that family, friends, or the wider community. That problem is – of course – particularly acute for those of you who are isolating or shielding.
The Scottish Government has been trying to take action throughout this, to address this issue. Today, I can tell you that – since the lockdown began – we have provided more than £8 million to projects aimed at tackling social isolation.
That money comes from our Wellbeing Fund. And it is now supporting around 350 projects, in every part of the country.
The services they are providing include phone calls for older people who are self-isolating; food parcels and special packs for families; help with digital technology for those who need it; and respite care for parents of children with additional support needs.
So I want to take the opportunity today to say a heartfelt thank you to everyone working across the third sector organisations and volunteers who are involved in providing these services. Your willingness to help others – at what will also be a difficult time for you, as well as for others – is hugely appreciated.
And I want to stress one of the key messages of mental health awareness week is that it's okay not to feel okay – and that help is available if you need it.
I would encourage any of you to look for help if you do feel you need it
The Clear Your Head website – clearyourhead.scot – brings together all of the different information about support that is available.
I want to close today by just emphasising the point I've made a couple of times already, that for the time being, the current lockdown restrictions remain in place.
The Chief Constable will say a few words in a moment, for now I just want to reiterate – once again - what those restrictions are.
Except for essential purposes - exercise, going to essential work that can't be done at home, or getting food or medicine you should stay at home.
You can now exercise more than once a day – but please stay more than 2 metres from other people. And don't yet meet up with people from other households.
Please wear a face covering if you are in an enclosed space like a shop or on public transport. And you should wash your hands thoroughly and regularly.
Finally, if you have symptoms, or someone else in your household has symptoms of COVID-19, isolate completely.
I know how hard these restrictions are. And I know that hearing me talk about easing them as we head into a bank holiday weekend, will make all of this seem even tougher.
But we need to stick with it for a few more days. And if we do, I really hope that this time next week when I'm standing here telling you all to have I nice weekend, I'll also be telling you to enjoy, for the first time in a long while, seeing some family or friends over the weekend - as long as you do it outdoors and remember to stay physically distanced.
Everybody's been magnificent so far, please stick with it for a few more days and we can take that first step on the road back to some kind of normality.
Thank you all very much for your co-operation and I'll now hand over to the chief constable to say a few words before handing over to Professor Leitch.