Publication -

Speech/statement
Coronavirus (COVID-19) update: First Minister's speech 18 August 2020
Published

18 August 2020

From

Delivered by

First Minister Nicola Sturgeon

Location

St Andrew's House
Statement given by the First Minister Nicola Sturgeon at a media briefing in St Andrew's House, Edinburgh on Tuesday 18 August.
This document is part of a collection
---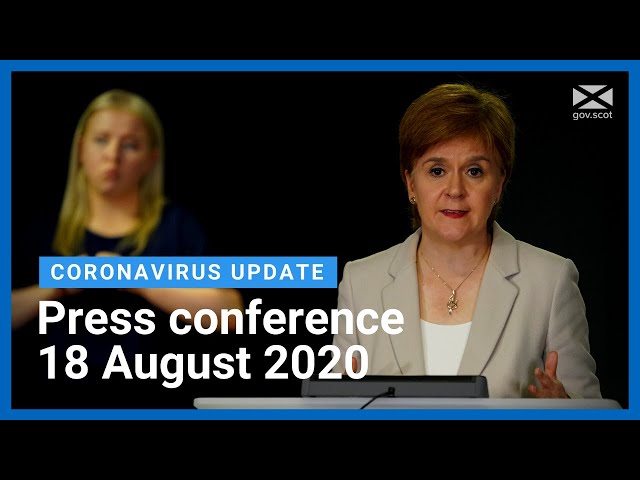 Good afternoon, and thanks for joining us again today.
As usual I will start with giving you the national COVID-19 statistics for Scotland.
I can confirm that an additional 49 positive cases were confirmed yesterday.
Which represents 1% of the people who were newly tested yesterday, and takes the total number of cases in Scotland to 19,407.
A full health board breakdown will be available later, but my provisional information I have is that 7 of the 49 new cases are in the Grampian health board area.
Twelve are in Greater Glasgow & Clyde, six in Lanarkshire and sixteen in Tayside.
We are dealing with known clusters in each of these health board areas and I'll come back to those shortly.
I can also confirm that a total of 254 patients are currently in hospital with confirmed COVID. That is six more than yesterday.
And three people are in intensive care, which is the same as yesterday.
I'm also pleased to report that yet again in the past 24 hours, no deaths were registered of patients who first tested positive over the previous 28 days. The number of deaths under that measurement therefore remains 2,491.
We should remember that the weekly National Records of Scotland figures - which include confirmed and presumed COVID deaths - showed last week that five people had died in the preceding seven days who were presumed to have had COVID or whose test was more than 28 days prior to death occurring.
This week's more comprehensive figure will be published by NRS tomorrow.
That of course a stark reminder of the impact of this virus, it is still potentially very dangerous and of course my condolences again go to everyone who has suffered loss.
And as always, I want to thank everyone who is working hard still to help our country through this pandemic in whatever capacity you are doing so, you have our appreciation.
Now, I'm hoping that - circumstances permitting - we may shortly move to having these updates slightly less frequently, perhaps three days a week rather than five.
However, I think it is important this week, that I give regular updates on the variety of different clusters and outbreaks that are currently being tackled across the country.
I will start with Aberdeen, and given that and indeed the Grampian area more generally, have been responsible for a very significant proportion of all new cases we have seen in recent weeks.
I mentioned earlier that seven of today's 49 new cases were in the Grampian area.
And I can report today that according to the latest figures we have a total of 386 cases have been now been identified in Grampian since the 26th of July.
220 of these are associated with the cluster linked to Aberdeen pubs, and 1125 contacts have now been identified from those 220 cases.
I can confirm today that 13 cases which had previously been identified but not allocated to the cluster have now following further investigation been added because they are considered to be associated with that cluster.
Now, the slightly more positive news is that in recent days we have seen a decline in new cases across the Grampian area.
Ten days ago, for example, we reported 39 new cases in one day. Today, we have reported seven.
The seven day average for cases has also fallen.
That suggests that the restrictions we put in place two weeks ago are having an impact – as are the efforts of our health protection teams.
However it is worth highlighting that over the past week new cases in Grampian are still higher than in other parts of the country.
We will have to take that fact into account, when we announce tomorrow whether or not there will be any change to the restrictions currently in place in Aberdeen.
The situation there does appear to be improving – but it is important to stress we can't yet say that that outbreak is completely over.
I also mentioned yesterday about the cluster in Coupar Angus which is linked to a 2 Sisters food processing plant.
So far, I can report that this outbreak has nine confirmed cases associated with it - but I will be surprised, albeit pleasantly, if we don't see that number rise in the days ahead.
Seven of the cases identified so far are employees of the factory, and two are people in the wider community. Contact tracing is ongoing for all of these cases.
The factory - which employs approximately 900 people in total – so it is a big workplace – closed down yesterday. A mobile testing unit is due on site today, so that the whole workforce can be tested.
This is a complex and potentially significant cluster.
In addition to the overriding public health concern relating to the outbreak, the closure of the plant potentially of course has an economic impact.
We also need to consider possible animal welfare issues – the animals which would have been sent to the factory in the next few days cannot currently be sent there.
For all of those reasons, we are monitoring all aspects of this situation very carefully and closely, and will provide further information in due course as and when it becomes available.
There are also some cases and clusters that have been identified in the last couple of days involving school pupils
For example, there are individual cases involving school students who go to primary schools in Blairgowrie, Perth and Paisley.
The health protection teams are dealing with these cases and have written to the parents and careers of the infected children's classmates, to advise them where necessary that their own children should be isolating.
I also mentioned yesterday community clusters in Lanarkshire and North East Glasgow, which include secondary school students - and which appear to be linked to each other.
Now, it is important to stress that these are considered at this stage to be community clusters with an impact on schools, rather than school based clusters. That is an important distinction, it is not thought that the virus has transmitted within the schools
In Lanarkshire, the number of confirmed cases is eight, which includes five people from three different schools. The risk of infection at all three schools is considered low.
The cluster in Baillieston, North East Glasgow currently has 14 identified cases, some of which are students at one school.
Contact tracing is taking place for this cluster.
In addition – and this is of course relevant for both of those outbreaks I have just mentioned – there are mobile testing units at the Time Capsule car park in Coatbridge and at Ravenscraig, in addition to the testing centre at Glasgow airport.
Let me repeat a point I made earlier because I think it is really important for people to understand this. These are community based clusters.
And there does appears to be a link with indoor social events.
And the evidence we have at this stage seems to suggest, not surprisingly given how infectious we know COVID is, that if the virus is present at say, a house party, everyone attending the party is at considerable risk of infection - and then of course, the risk is that they spread the infection more widely.
All of that underlines the vital importance right now of abiding by the restrictions on household gatherings.
If I can remind you of what those are, no more than eight people, from a maximum of three different households should be gathering indoors. And two metre distance should be maintained between people from different households.
These rules are not easy - I really do understand that. But not sticking to them is presenting perhaps one of our biggest risks of outbreaks occurring at this time.
So I can't stress enough how important it is that we all do abide by and comply with these rules.
For all of the outbreaks I have mentioned, Test and Protect teams are working hard to identify individuals who need to self-isolate and get tested.
But as always, anybody who has symptoms - in these areas or indeed anywhere across Scotland – should book a test immediately.
The symptoms are a new cough, a high temperature, or a loss of or change in your sense of taste and smell. Tests can be booked through the NHS inform website.
And I would appeal to you again, don't hesitate, don't delay, don't wait, even a few hours to see if you feel better. If you experience any of these symptoms, time is of the essence, book a test as quickly as you possibly can.
Before I conclude and move on to questions and the Chief Medical Officer is with me today who will assist me in answering the questions. I just want to come to the issue of schools and say a final few words. Firstly to stress again that all of the cases we have seen so far which have involved school students, suggest that transmission has taken place outside of the school not in the schools.
That emphasises again the importance of keeping transmission rates as low as possible in the community, continuing to do everything we can to drive these transmission rates down as close to elimination levels as we can. That's good for our overall health and wellbeing and the overall fight against this virus but it is also the action that will allow us to keep schools safely open. And let's not forget the importance of that objective.
It is overwhelmingly in the best interests of young people, particularly after 4 or 5 months where they have been out of school, to be in full time education. The harm to them of losing out on that are considerable.
But we will, I think inevitably see more cases which involve school students in the weeks and months ahead.
In those cases - as has happened in the ones I've mentioned today - contact tracers will identify if any other students or staff at the school need to isolate, and will let them and their parents know.
More generally, the Test and Protect system so far has worked well for each outbreak we have faced to date.
And for every cluster, incident management teams in the local area are considering the latest evidence, and assessing what further follow up actions need to take place. I once again want to thank everyone involved in those efforts.
So when I give updates like today's – providing details of cases and clusters in different parts of the country, and particular when some cases involving schools – I don't do that to alarm you. Partly, I do it to try to reassure that the appropriate steps are being taken and appropriate interventions are in place. But although I don't want to alarm anybody, I do want people to take notice, in fact I need people to take notice.
These clusters show us that this virus continues to pose a serious risk. It is present in our communities, and that's why I keep saying where ever you are, assume it is right next to you and capable, if you don't do the right things, of being transmitted to you, and perhaps from you to somebody else. We know, and the evidence coming from recent clusters is underlining this point, this is a highly infectious virus, and once it takes hold, it can spread rapidly. And the effort that is needed then through our Test and Protect teams to stop it spreading is considerable and remember, Test and Protect is our second line of defence, we are all the first line of defence.
So for all of these reasons, the Scottish Government may well again take a fairly cautious approach on Thursday, when I will announce in the Scottish Parliament the outcome of our review of the Phase 3 lockdown restrictions.
But for all of us, these clusters should remind us of the need to be ultra-careful right now.
They demonstrate in particular how quickly and easily COVID spreads in indoor environments – which is why I am asking you to be particularly careful about socialising indoors.

And remember that the limits I mentioned earlier - a maximum of eight people from no more than three different households - apply to groups in pubs and restaurants together, just as they do in people's homes.
And finally before we move to questions, all of us must continue not to just remember FACTS but in everything we do, abide by the rules that are encapsulated in that FACTS campaign. These are the five basic rules that will help all of us to contribute to stopping this virus spreading and getting out of control. So those five rules are;
· Face coverings in enclosed spaces
· Avoid crowded places indoors or outdoors
· Clean your hands regularly and remember to clean hard surfaces that you might be touching.
· Two metre distancing remains the overall rule. Even perhaps especially if you are mixing with other households indoors, in your own home or elsewhere and lastly
· Self-isolate, and book a test, if you have any of the symptoms of COVID that I mentioned earlier. A cough, a temperature, or a loss of, or change in your sense of taste or smell.
If we all do these things, we undoubtedly will continue to see clusters and outbreaks, but all of that will help us keep these contained and stop this virus taking a greater grip of us in terms of wider community transmission.
So, my thanks again to everybody for listening today and for continuing to do the right thing. And please, my usual plea at the end is, please spread this message to as many people as you can, so as many people as possible are following all of this vital health advice.