Publication -

Speech/statement
Coronavirus (COVID-19) update: First Minister's speech 17 August 2020
Published

17 August 2020

From

Delivered by

First Minister Nicola Sturgeon

Location

St Andrew's House
Statement given by the First Minister Nicola Sturgeon at a media briefing in St Andrew's House, Edinburgh on Monday 17 August.
This document is part of a collection
---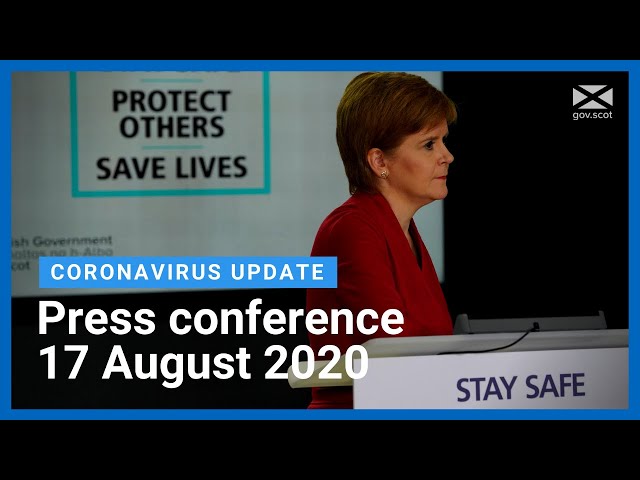 Hello and thanks for joining us again today.
Let me start with the usual update on the COVID-19 statistics.
I can confirm that an additional 26 positive cases were confirmed yesterday.
That represents 0.7% of the people who were newly tested yesterday, and it takes the total number of cases in Scotland to 19,358.
A full health board breakdown will be published later, but the provisional information I have is that 13 of the 26 new cases are in the Grampian Health Board area.
A total of 248 patients are currently in hospital with confirmed Covid which is five more than yesterday.
Three people are in intensive care which is the same number as yesterday.
I'm also very pleased to say that yet again in the past 24 hours, no deaths were registered of patients who first tested positive over the previous 28 days, and therefore the number of deaths under that measurement remains 2,491.
However that total of course is still a reminder of the dreadful impact this virus has had. My condolences again go to everyone who has suffered loss.
And as always, let me thank everyone who is still working hard in a variety of different capacities across the country to help us through this pandemic.
I have three issues I want to briefly update on today.
First let me provide some further details about ongoing clusters and outbreaks across the country.
I mentioned a moment ago that 13 of the 26 new cases reported earlier were in the Grampian area. On the latest figures available, a total of 380 cases have been identified in the Grampian Health Board area since the 26th of July.
207 of these we think are associated with the same cluster linked to Aberdeen pubs, and 1050 contacts have now been identified from those 207 cases.
In addition, teams are still investigating community clusters in Coatbridge, Lanarkshire and in North East Glasgow. Those clusters of course include some young people who go to local schools and more detail and information about those clusters will be provided as it becomes available.
I can also advise today of a cluster in Coupar Angus which is linked to a 2 Sisters food processing plant. So far, this outbreak has 4 confirmed cases – however contact tracing and testing is still ongoing. The plant's owners have closed the facility, as part of their work with us to control any outbreak.
These clusters obviously show that the virus is still out there and continues to pose a real and serious risk. It is highly infectious, and once it takes hold, it can spread very rapidly. All of us have a responsibility – in everything we do – to try to stop that from happening which is why we continue to stress the importance of the FACTS advice which I will come back to again at the end of my remarks.
These clusters also show the importance of the work being done by our public health and protect teams in different parts of the country as they work to identify contacts, and trace those contact and help to contain the outbreaks that have been identified. I want to take the opportunity again today thank them for the work they're doing.
The second thing I want to highlight today is the publication of our updated testing strategy for this phase in the pandemic.
That sets out our current priorities for testing, based on the work we have already done to increase capacity and improve availability.
As you would expect, our top priority is to test anyone who has symptoms of Covid – a temperature, a new cough, or a loss of or change in your sense of taste or smell. Anyone who develops these symptoms should book a test immediately through the NHS Inform website.
Our second priority now is testing contacts of people with Covid, and using testing in that way to prevent or minimise new outbreaks of the virus.
Our third priority is the routine testing of people who work in high risk environments such as care homes.
We're also using testing to ensure the safe resumption or continuation of NHS services, and to assess prevalence of the virus in Scotland.
Finally, the strategy sets out our intention to further increase testing capacity in Scotland. That will be increasingly important as we move into the autumn and winter, because in those months, more people will have symptoms, such as a new cold, which may be similar to Covid symptoms.
Current weekday capacity in Scotland is just over 40,000 tests a day. We want to and we're working to increase that to 65,000 tests a day. We are also working to improve the accessibility of tests.
Overall, the strategy seeks to give a concise and clear explanation of who we are seeking to test, why we test them, and what our plans for the near future are. The Health Secretary will say a bit more about it in a moment.
It will be available to read on the Scottish Government website this afternoon for anyone who is interested.
The final point I want to cover relates to media coverage about care home discharges – and particularly the suggestion that in some cases people who were thought to have Covid were discharged from hospitals into care homes.
Let me be very clear - as I have been many times before - that proper scrutiny of all and every aspects of our response to Covid, including of course in care homes, is really essential.
And that scrutiny will and must include consideration of whether - based on what we knew at each stage - the guidance in place was both appropriate and properly implemented.
And that of course is why we have committed to a public inquiry in due course.
However, I want to again be clear also that, while there will undoubtedly be lessons to learn when a new virus is encountered - and we take that very seriously - care was taken to put guidance in place that was considered to be appropriate at every stage.
For example, from mid-March that included guidance requiring clinical screening of patients being transferred from hospitals to care homes, to guard against inappropriate transfer. It also advised social isolation within care homes.
However, it is right that all of this, is properly scrutinised in the inquiry that will be instructed in due course.
I'm about to hand over to the Health Secretary, and then to the National Clinical Director - but before I do that, I would like to end, as always, by stressing the importance of FACTS.
The clusters I mentioned earlier that we are seeing in different parts of the country really do show how quickly and easily the virus can be transmitted from one person to another.
And they demonstrate that all of us need to do everything we can, to ensure that we don't give it a chance to spread.
We all have a responsibility to each other, to continue to suppress it.
And all of us can do that, by sticking to FACTS - the five golden rules that we should remember as we go out and about our everyday business.
· Face coverings in enclosed spaces
· Avoid crowded places, indoors or outdoors
· Clean your hands regularly and remember to clean hard surfaces after you have touched them.
· Two metre distancing remains the overall rule and it is important everyone remembers that and abides by it
· and Self isolate, and book a test, if you have any of the symptoms of Covid.
If we stick to these 5 rules as rigidly as we possibly can, we will help to deny the virus bridges to travel across from one person to another and from one household to another and in that way, we will all do our bit to suppress the virus and help to protect ourselves and each other.
So, I want to thank everybody who is taking care to do all this once again for that, and encourage all of you to pass that message to everybody else that you know and encourage everybody to stick to FACTS, so we can continue to keep this virus under control.