Publication -

Speech/statement
Coronavirus (COVID-19) update: First Minister's speech 15 June 2020
From

Delivered by

First Minister Nicola Sturgeon

Location

St Andrew's House
Statement given by the First Minister Nicola Sturgeon at a media briefing in St Andrew's House, Edinburgh on Monday 15 June.
This document is part of a collection
---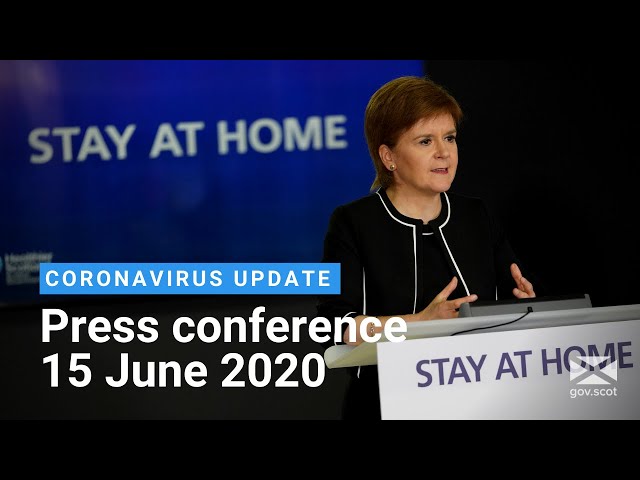 Good afternoon, and thank you very much for joining us again today.
I'll start – as always – with an update on the key statistics in relation to COVID-19.
29 new positive cases were confirmed in Scotland yesterday. Now I'm going to say more about the total number of positive cases in a moment, because from today we are incorporating new data into that total.

A total of 870 patients are in hospital with confirmed or suspected COVID-19. That represents a total decrease of 94 from yesterday, but an increase of 3 in the number of confirmed cases in hospital.
A total of 18 people last night were in intensive care with confirmed or suspected COVID-19. That is also an increase of 3 since yesterday.
And I can confirm today that since 5 March, a total of 3,909 patients who had tested positive and needed to go to hospital with the virus have been able to leave hospital.
In the last 24 hours, zero deaths were registered of a patient confirmed through a test as having COVID-19 – so the total number of deaths in Scotland, under that measurement, therefore remains at 2,448.
I would however stress – as I did last Monday – that although this is clearly hugely welcome and very encouraging, it is nevertheless common for fewer deaths to be reported at weekends and unfortunately I do expect that we will almost certainly report further COVID-19 deaths in the days ahead.
And as always, I want to emphasis that when we do report these figures, they are not simply statistics - they represent individuals whose loss is a source of grief to many. So once again, I want to send my condolences to everyone who has lost a loved one to this illness.
I also want to express my thanks – as I always – to our health and care workers, and indeed to all key workers across the country. The Scottish Government and indeed I think people the length and breadth of the country are grateful to you for the work you are doing.
I'm going to focus on education in my remarks today, but before I do that, I want to highlight some new data which we are publishing for the first time today.
Up until now, we have only been able to publish testing results that come from NHS Scotland laboratories.
We have been able to report the total number of tests carried out by facilities run by the UK Government – for example drive-through centres and mobile testing units - but we have not yet been able to publish the breakdown of positive and negative results. Though I should say for the avoidance of doubt, the individuals tested have of course been notified directly of their results.
Public Health Scotland has been working with the UK Government to rectify this issue, and from today, we are able to provide daily figures for all tests in Scotland. For example, we can see that of those people tested in the 24 hours up to 8 o'clock this morning, 29 positive cases were confirmed. Of those positive cases, 9 were from tests conducted at UK Government facilities, and 20 were from NHS Scotland facilities.
So In total, there have been 18,030 confirmed positive cases in Scotland since the beginning of this outbreak.
15,687 of these confirmed cases were tested in NHS Scotland laboratories and a further 2,343 were test through UK facilities.
Now I know that some people compare each days figures with the previous day's very carefully. If you have been doing that, you will have expected the NHS lab number I've just given to be 88 cases higher than it is.
The reason it's not is that where a person has been tested more than once - first at a UK facility and then in an NHS Scotland facility - we have removed them from the NHS figure to avoid double counting of testing.
It is also important to stress that including this data from UK facilities does not change the total number of lab confirmed COVID-19 deaths that we have been reporting throughout.
From Thursday onwards, we will be able to provide a more detailed breakdown of test results - by date and by region - on the Scottish Government's website and I hope that this information will be helpful in giving a full picture of the progress that has been made on testing over the last three months.
Now as I indicated the main issue I want to talk about today is school education.
And I want to address parents and young people very directly today.
I know you are deeply anxious - as I am - about the impact of this crisis on schooling.
So I want to be very clear today about the some of the principles that we are working on and the Scottish Government's expectations – and as we look forward to the new school year. I hope to leave you in no doubt about the priority I and the whole government attaches to making sure our young people do not lose out on education or have their life chances damaged as a result of this crisis that we are all living through right now.
So, firstly, I want to be clear that it is our expectation that, by the time schools return on 11 August - and obviously within necessary safety guidelines - councils will have put in place arrangements that maximise the time that young people spend in a school environment having face to face learning.
In this immediate period that we are in right now, the Scottish Government will be scrutinising council plans closely - and where we conclude that all possible steps have not been taken to maximise face to face teaching and learning, we will ask councils to reconsider and revise their plans.
Innovation and creativity will be required here - but let me also be clear that where there are genuine issues of resources, the Scottish Government will work with councils to address those and the quality of your children's education will be the absolute priority in those discussions.
And then from the 11 August starting point, our aim will be to return to normal schooling as quickly as we possibly can - recognising that of course that along the way we need to build the confidence of parents, young people and teachers that schools are safe.
And I want to be particularly clear on this point.
While we of course have a duty to be open with parents that none of us right now have a crystal ball, and that the path the pandemic will take in the months ahead remains uncertain, it is absolutely not the case that we are 'planning' for blended learning, with children learning at home for part of the school week, to last a year - or anything like it.
On the contrary, we do not want blended learning to last a single moment longer than is absolutely necessary and so we will be working with councils to return schools to normal as quickly as we can.
We want young people to be back having face to face teaching for 100% of the school week as soon as it is feasible.
To that end, our regular three-weekly reviews of the Coronavirus regulations will now include specific consideration of the evidence and data relating to transmission of the virus within schools and amongst young people - and where that suggests that safety restrictions can be lifted or eased without putting pupils and teachers at undue risk, we will do so.
As part of these reviews, we will ask our International Council of Education Advisers to consider experiences in other countries.
We will also be working with councils to ensure ongoing and enhanced support for any time that young people do spend learning at home.
And let me be clear it is our firm intention, as things stand right now, that next year's exam diet will go ahead.
We will also be considering carefully how we work to address and mitigate and make up over time any impact of this crisis period on young people's learning.
Ensuring that our children and young people have the highest quality education - and that life chances are not negatively impacted by what we are all living through right now - is of absolutely critical importance.
I want to give you my personal assurance that it is central to my and to the whole Government's thinking as we plan and steer the country through our emergence from lockdown.
Before I hand over to the Chief Medical Officer, I want to end by emphasising again our key public health guidance because sticking to this guidance right now remains the most important way of enabling us to make further progress out of lockdown - which I very much hope we will do later this week.
You should still be staying home most of the time, and you should still be meeting fewer people than normal.
When you do meet people from another household, please stay outdoors, and stay 2 metres apart from them.
Don't meet with more than one other household at a time, don't meet more than one a day - and keep to a maximum of eight people in a group.
Wash your hands often. Take hand sanitiser with you if you are away from home.
Wear a face covering when you are in shops or on public transport.
Avoid touching hard surfaces if you can and clean any that you do touch.
All of these measure - hand washing, surface cleaning and wearing face coverings - will all help us to reduce the risk as we start to return to more normal life.
Indeed - if anything – these measures become more important, not less important, as we move through this pandemic.
I'd ask all of you to bear that in mind.
And, just as importantly, if you have the symptoms of COVID-19 – a fever; a new cough; or a loss of, or change, in your sense of taste or smell - ask for a test immediately, and please follow the advice on self-isolation.
You can book a test at nhsinform.scot or by phoning NHS 24 on 0800 028 2816.
Sticking to these rules- as you can see from the numbers we are reporting each day – has had and is having an impact. By doing the right thing, we are suppressing the virus.
We are saving lives.
And we are creating the firm foundations on which we can take further steps out of lockdown.
So my sincere thanks, to all of you once again, for continuing to abide by these rules and by this guidance.