Publication -

Speech/statement
Coronavirus (COVID-19) update: First Minister's speech 13 July 2020
Delivered by

First Minister Nicola Sturgeon

Location

St Andrew's House
Statement given by the First Minister Nicola Sturgeon at the media briefing in St Andrew's House, Edinburgh on Monday 13 July.
This document is part of a collection
---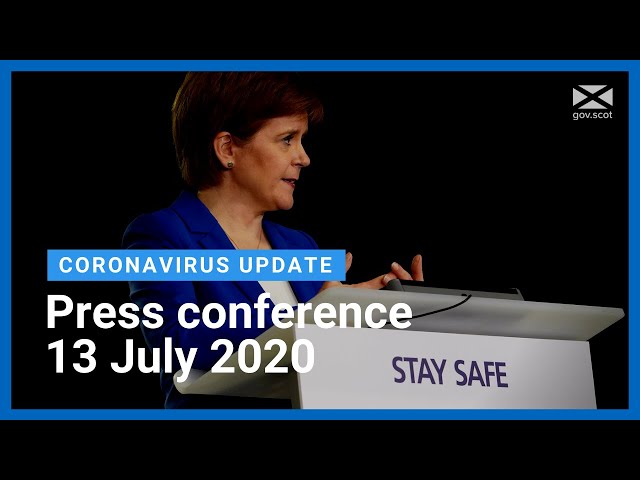 Good afternoon, and welcome to today's briefing.
I want to start by providing my usual update on the most recent Covid-19 statistics for Scotland.
An additional 6 positive cases were confirmed yesterday which takes the total now in Scotland to 18,365.
It's maybe worth noting that on Friday and Sunday we saw higher numbers of new cases than has been the norm in recent weeks. Yesterday, 19 new cases were reported.
On any occasion when there is an increase like that, we look very thoroughly to see if there are any patterns or particular causes for concern.
With respect to the cases reported yesterday, 12 of the 19 cases were in Glasgow, and 7 cases – all of which were asymptomatic – related to one care home. That is being looked at in much more detail, and all necessary follow up tests, checks and precautions are being undertaken.
I can also report that a total of 550 patients are currently in hospital with the virus - either confirmed or suspected. That is 13 fewer than yesterday, but it includes an increase of 6 in the number of confirmed cases.
A total of 6 people last night were in intensive care with confirmed or suspected Covid-19. That is the same number as yesterday.
And since 5 March, a total of 4,125 patients who had tested positive for Covid-19 have been able to leave hospital.
I am pleased to say that during the last 24 hours, 0 deaths were registered of a patient confirmed through a test as having Covid-19. The total number of deaths under that measurement therefore remains 2,490.
This is the fifth day in a row on which no deaths have been reported, but it is worth providing just a little bit of context for the last two days.
At the start of the Covid outbreak, registration offices took special steps to allow for 7 day operations. I am very grateful to them and their staff for doing so.
But some offices are now going back to their usual pattern of being open only on weekdays – although for emergency situations, they continue to provide weekend arrangements.
Yesterday's figure of 0 deaths is therefore welcome – but it has to be seen in that context.
And of course, regardless of the figures for any specific day, it is still important to remember the enormous impact the virus has had. I want to pass on my condolences once again to everyone who has lost a loved one in this process.
And again, I want to thank our health and care workers for the incredible work that you are doing.
In a few minutes the Cabinet Secretary for Health will talk about the resumption of breast cancer screening programmes. The National Clinical Director is going to say a little bit about the resumption of outdoor contact sports
I've got three issues I want to talk about briefly before then.
The first is to tell you briefly about a new contract that NHS Scotland has signed with a Scottish biotechnology firm – E&O Laboratories.
E&O have succeeded in developing a new solution which can be placed within test tubes – the solution helps to make samples of Covid safe, so that each sample can be tested as soon as it arrives at a lab. It therefore improves the efficiency of the testing process.
E&O – who have come up with this product in just a matter of months - are now producing their first batch of the solution for NHS Scotland, and are also looking to supply to other parts of the UK.
Their success has already created 11 jobs, and they are looking to recruit for 10 more. That's small in the context of the overall impact that Covid is having on employment in Scotland – but it is still welcome, and it is still significant.
This is a good example – and we have seen a lot of them in recent months – of a Scottish company innovating in a way which directly helps our response to Covid, while also supporting jobs.
The second issue I want to highlight is travel. In the coming weeks, we will inevitably start to travel a bit more – as more people return to work, and as some take the opportunity to make shopping trips, to visit friends, or to visit different bits of the country.
That is good news – but please do think about how and when you travel.
First of all – and this perhaps applies especially in relation to leisure travel at the weekend - if you go somewhere and it looks busy, our advice is to go somewhere else.
Yesterday, for example, at least one road had to be closed in the Trossachs, because it was being blocked by parked cars. We have also heard concerns in other areas – for example about large numbers of people wild camping in particular spots.
So we are asking you to, please, use your common sense - if car parks are full, move on, and if places look busy, then also move on.
Camp sites will start to open up from Wednesday onwards, so please if you intend to use them, book ahead of time.
And while public transport services are now returning more to normal, and physical distancing – with safety measures in place - is being relaxed to 1 metre for some services, in spite of all of that we know capacity is still likely to be restricted compared to pre-covid levels.
That is one reason why we are still asking you to work from home if you can. And if you can't, employers and employees might want to think about other measures – such as staggered or flexible working times – which can help to reduce the pressure on our public transport network.
But I'd also ask people who are in a position to, to think about active travel.
I completely understand why for many journeys, people immediately think about using the car. But if your journey is a local one, think about whether it can be made by walking, cycling or wheeling. That won't always be possible – but in quite a few cases, it will be a healthy and enjoyable alternative.
So as we all travel a bit more – think about how and why you are travelling.
If you are able to shop locally or work from home, continue do that.
And also, as I said, consider active travel.
And if you're using public transport, plan ahead. If you're able to travel at less busy times of day, that will help you and others. And at all times follow safety guidance – including of course by wearing a face covering.
That brings me on to the final point I want to cover today. Saturday and yesterday was the first full weekend when face coverings were mandatory in shops. Everything I have seen or heard – through social media, through other reports, and through my own brief visit to a couple of shops yesterday – everything suggests that compliance with the new law has been very high indeed and I want to thank everyone for that.
It is exactly what I would have expected – but it is still very welcome.
Face coverings are mandatory in shops and on public transport – but it's also worth remembering that they can also be useful in other indoor enclosed spaces. So if you are inside somewhere and it's not easy to maintain physical distancing, it's always a good idea to put your face covering on.
Indoor shopping malls open today, and you should wear the face covering not just in the shops, but also inside the shared spaces in the mall.
So my thanks to everyone who is now wearing a face covering. It is an important way in which all of us can help to protect each other.
That basic message – of solidarity, of protecting each other – is the note I want to end on.
Today sees some more steps in our emergence from lockdown and later this week we will see some of the most significant steps yet.
As I've mentioned, indoor shopping malls open up; organised outdoor sport and play resumes for children; and some routine dental treatment restarts.
As these services reopen - and as we all leave the house a bit more it becomes more and more important for us to ensure that we are not creating possible bridges by which the virus can spread.
So I would ask you to remember the Facts. It summarises the five key things all of us should remember in everything we do.
Face coverings should be worn in enclosed spaces such as shops and public transport.
Avoid crowded places, whether indoors or outdoors.
Clean your hands and hard surfaces regularly.
Two metres distancing remains the general rule we're asking you to abide by.
and Self isolate, and book a test, if you have symptoms.
If all of us remember and abide by these 5 steps then as we get out and about a bit more we can still help to keep the virus under control.
My thanks for your co-operation so far and I appeal to you to continue to co-operate with that basic public advice.