Publication -

Speech/statement
Coronavirus (COVID-19) update: First Minister's speech 11 August 2020
Published

11 August 2020

From

Delivered by

First Minister Nicola Sturgeon

Location

St Andrew's House
Statement given by the First Minister Nicola Sturgeon at the media briefing in St Andrew's House, Edinburgh on Tuesday 11 August.
This document is part of a collection
---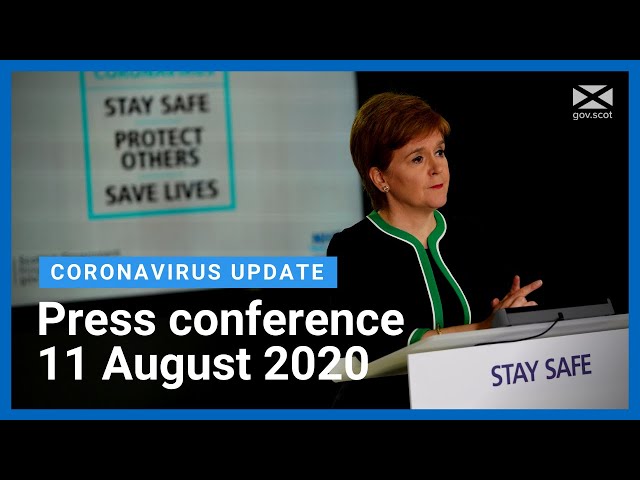 Good afternoon, and thanks for joining us.
I'll start with the usual update on the most recent Covid-19 statistics for Scotland.
I can confirm that an additional 52 positive cases were confirmed yesterday.
That represents 1.2% of the people who were newly tested yesterday, and it takes the total number of cases in Scotland to 19,079
A full health board breakdown, as you know, will be available later on, but I'll give you my provisional information and that is that 27 of the 52 new cases are in the Grampian health board area. It is not yet clear how many are connected to the ongoing outbreak in Aberdeen, and I'll come back to that shortly.
A further 13 of the cases being reported today are in the Greater Glasgow and Clyde health board area, and of course we will be paying very close attention to them as well.
A total of 269 patients are currently in hospital with confirmed Covid, which is 2 more than yesterday.
3 people are in intensive care, which is the same number as yesterday.
I'm also very pleased to say that yet again in the past 24 hours, no deaths were registered of patients who tested positive over the previous 28 days and so the number of deaths under that measurement remains 2,491.
Obviously though that total continues to bring home to all of us the impact that this virus has caused on families across the country and the grief it has resulted in too. My condolences again go to everyone who has suffered loss.
And as always, let me again thank everyone who is working hard in a variety of different ways to continue to help our country get through this difficult period.
John Swinney, the Education Secretary as you know, will give a statement to parliament later this afternoon about this year's SQA exam results, so I am not going to cover that subject in my remarks today.
However, I will cover a couple of issues. Firstly a brief update on the situation in Aberdeen, and then I'll have a word to say about today's employment figures.
I've just mentioned that in the last 24 hours, 27 new cases were confirmed in the Grampian Health Board area.
As of now, I can confirm that a total of 253 cases have been identified in Aberdeen since 26th of July. 165 of these, we think, are associated with the same cluster linked to Aberdeen pubs – and in terms of the cluster that is an increase of 8 since yesterday. So the rate of increase appears at this stage to be slowing down, but of course we remain very vigilant.
A total of 875 contacts have now been identified from those 165 cases.
Once again, it's important to stress that those 875 contacts might not equate exactly to 875 people – there is likely to be some overlap between different cases.
The majority of the contacts have already been traced, and tracing procedures are in place for the others. That reflects enormous credit on our Test and Protect teams, and I want again today to thank them for the huge amount of work, it is very intensive work, but very important work, that they are doing to stem the outbreak.
However it is clear that – despite all of their efforts - we are likely to identify new cases and new contacts for at least the next few days.
Of course the restrictions which were put in place in Aberdeen last week will be reviewed tomorrow, so I will say more tomorrow about whether they will remain in place for longer, once we have been able to properly review the data and the other evidence and come to a conclusion.
The other main issue that I want to cover is that the latest labour market statistics for Scotland which were published this morning. They cover the period from April to June this year.
They show that – when compared to the three months from January to March - unemployment in Scotland increased by 11,000, to 124,000. The unemployment rate during this period increased from 4.1% to 4.5%, and the employment rate fell from to 74.7% to 74.3%.
Experimental figures for July also show that the number of people claiming unemployment-related benefits last month may have doubled since a year ago.
These figures cover people who are receiving support because they are working reduced hours, as well as those who have been made unemployed.
And all of these figures demonstrate again that – despite the UK Government's Job Retention Scheme, and the support the Scottish Government is providing to business, all of which is very important - the public health crisis of Covid is creating a very significant economic crisis.
The Scottish Government is determined to do everything we can to address that – we have already provided more than £2.3 billion of support for businesses.
A major focus of our efforts has been and will continue to be for the foreseeable future, to do everything we can to prevent youth unemployment.
We know that youth unemployment can have a negative impact on people's lives for years to come, but we also know – and today's figures have confirmed this – that this pandemic is likely to lead to an increase in youth unemployment.
That is why we have already committed to establishing a Youth Guarantee of opportunities for people aged 16 to 24. Fiona Hyslop will say more about that in parliament tomorrow.
We are also seeing a significant fall in the number of people who are taken on as modern apprentices.
Figures from Skills Development Scotland today, show a drop of almost 4/5 in the number of people who started modern apprenticeships between April and June of this year, compared to the equivalent period last year.
Today, we are allocating an additional £10 million to help companies specifically recruit and retain apprentices.
That includes extra support for the "adopt an apprentice" programme.
That scheme provides a financial incentive to businesses to employ an apprentice who has recently been made redundant and it is therefore an important way of helping those apprentices back into employment.
Today's additional investment on its own is of course relatively minor given the scale of the economic challenge we face – but it has to be seen alongside wider Scottish Government and UK Government measures taken over the past few months.
And, of course, ultimately, and this is a point we shouldn't lose sight of, ultimately the best way of reducing the long-term economic impact of Covid and to provide a sustainable foundation for recovery, is to continue to suppress the virus and then eliminate it so that we can all move to living in a less restricted way.
However today's measure provides a further demonstration, I hope, of our determination to support businesses and protect jobs, and particularly to protect young people from that scarring effect of youth unemployment. I hope it does provide some valuable help for employers to encourage them to take on an apprentice and get them back into work.
The only other point I want to mention quickly before I close and hand over to Jason, is that of course schools start to return from today – which is a very important milestone in our journey through this Covid crisis. Of course most students will have their first day at school later on in the week but I know today's milestone - while it will undoubtedly cause some anxiety for children, young people, parents and teachers - is nevertheless, a really welcome moment because we know the harm that has been and will continue to be done to young people's education and wellbeing the longer they are out of school.
And today's return really has been made possible by the progress all of us have made in suppressing the virus.
But we know from all sorts of evidence here at home, and elsewhere across the UK and across Europe, that progress remains fragile. And we all really need to continue to be vigilant and cautious.
In particular, as the school term restarts, more parents and carers might be considering whether to go to the office rather than working from home.
But I would encourage everybody to remember that if you can, and I know it's not always easy, if you can work from home you should still continue to work from home. That remains the safest and best option for many employees. We are similarly asking employers to keep non-essential offices and call centres closed for the time being.
And more generally, as the Aberdeen outbreak has shown us, the virus is still out there, it is still very infectious, and will spread if we give it the opportunity.
So all of us – as we get out and about a bit more – need to continually check whether we are letting our guard down a bit more than we might have been a few weeks ago.
All of us need to think about our own actions – particularly, perhaps, about physical distancing from other households. And we need to ensure in everything we do, because we should continue to assume in everything we do the virus is right there next to us, that we are not creating bridges for it to cross over and spread from one person to another or one household to another.
The truth is we can only take further steps out of lockdown and make sure our schools stay open, if we continue to suppress the virus. So let me end in my usual way with a reminder of the FACTS rules all of us must follow, and a plea to everybody, every single day, to remind yourself to follow all of these rules.
Face coverings in enclosed spaces
Avoid crowded places.
Clean your hands and hard surfaces regularly.
Two metre distancing is the overall rule.
and remember to Self isolate, and book a test, if you have any symptoms.
I say it every day, and I will keep saying it every day, because complying with these five rules remains the best possible way for all of us individually and collectively to keep this virus under control and to keep that progress moving forward to getting our economy, our society and our lives generally back to as much normality as possible.
My thanks to everyone for listening.