Publication -

Speech/statement
Coronavirus (COVID-19) update: First Minister's speech 10 July 2020
Published

10 July 2020

From

Delivered by

First Minister Nicola Sturgeon

Location

St Andrew's House, Edinburgh
Statement given by the First Minister Nicola Sturgeon at the media briefing in St Andrew's House, Edinburgh.
This document is part of a collection
---
Good afternoon, thank you for joining us.
I'll start with the usual update on the most recent COVID-19 statistics. An additional 18 positive cases were confirmed yesterday - which takes the total now in Scotland to 18,333.
Now today's figure for new cases is very low and we're always going to see day to day variations in the data but I think it is probably worth noting that this is the highest figure we have seen in almost three weeks.
So we will, as you would expect, be looking into this very closely today. And while we shouldn't jump to any conclusions – there's no reason for us to do that yet - I think it is a sharp reminder to all of us that this virus as I keep saying hasn't gone away - it is still present out there.
So I'd ask you to remember that in everything you do.
A total of 668 patients are currently in hospital with the virus - either confirmed or suspected. Which is 22 more than yesterday, but it includes a reduction of five in the number of confirmed cases.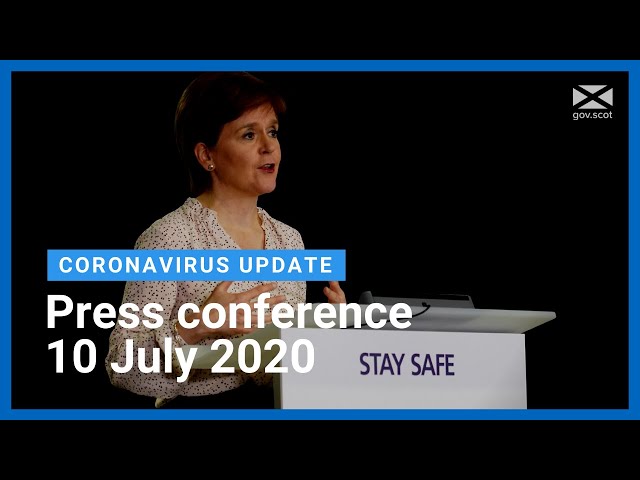 A total of 12 people last night were in intensive care with confirmed or suspected COVID. That is three more than yesterday. One of those is confirmed, the other two suspected.
And since 5 March, a total of 4,115 patients who had tested positive and been admitted to hospital have now been discharged from hospital.
And I am very pleased to report that during the past 24 hours, no deaths were registered of a patient confirmed through a test as having the virus and the total number of deaths therefore remains at 2,490. Of course that's the number under that measurement of patients who test positive through a test.
Once again, I want to convey my condolences to everyone who has lost a loved one to this virus.
And I also want to thank our health and care workers for the incredible work they continue to do.
I am joined today by the Economy Secretary - who is going to talk in a few minutes about £38 million of support that the Scottish Government is providing for new companies, in crucial sectors of the economy, which have been affected by the pandemic.
Before that, though, I want to go over some of the key changes that the Scottish Government has announced, which will take effect over this weekend and into next week.
Before I do that though I want to remind you of what I said literally just a few seconds ago. This virus hasn't gone away so life should still not feel totally normal. The lifting of restrictions, important and welcome though it undoubtedly is, mustn't mean the dropping of our guard. And that's really important.
We have been in lockdown for more than three months now. But being in lockdown ourselves has meant that the virus has also been in lockdown.
As we come out of lockdown unfortunately we let it out again too. So we have to work, in a sense, even harder to make sure that it doesn't get those opportunities to spread.
So as you think about the changes – as you think about doing things that none of us have had the opportunity to do for three months – I appeal to all of you to think even more carefully about the basic things all of us can do and – I would argue – have a duty to do – to try to make sure this virus doesn't spread again.
But let me start with two of the things which will happen from next Wednesday – 15 July.
As many of you know, and as many of you, myself included, have been eagerly anticipating, hairdressers will reopen on the 15th. And I want to say that detailed guidance for hairdressers has now been published and therefore if you are a hairdresser or if you are planning to visit a hairdresser and want to know what that guidance says, you can find it now on the Scottish Government website.
In addition, I announced yesterday that more people would be allowed to attend services for weddings, civil partnerships and funerals, but these would be subject to a cap on numbers.
I can therefore confirm that from Wednesday onwards, a maximum – at this stage - of 20 people will be able to attend a funeral, marriage or civil partnership ceremonies or service, wherever it is taking place. We are also removing the restrictions on the categories of people who can attend funerals – in many cases previously attendance was limited to immediate family only.
And I want to stress two points about these changes.
Firstly, and I think this is an important one for me to stress and for everybody watching to understand, that these changes apply only to services and ceremonies – other gatherings associated with them, such as wedding receptions and funeral wakes, are still subject to the rules that apply for all other indoor and outdoor gatherings.
And secondly, the limit of 20 people is still subject to strict rules on physical distancing - so if the venue that you are having a ceremony or service in can't accommodate 20 people when physical distancing rules are in place, the number of guests will have to be smaller.
So I hope this provides some clarity for anyone who has a wedding or civil partnership in the second half of July – or for anyone who, unfortunately, is having to arrange a funeral.
We know that the restrictions on funeral services in particular have been incredibly tough – in many cases utterly heart-breaking. I therefore hope that this change is a helpful one although of course it still doesn't permit full scale gatherings for weddings, civil partnerships, or funerals.
It is, with a limit of 20, still quite restrictive. But at present, we consider that to be a necessary precaution – but that limit will be reviewed again at the end of July.
Let me now briefly summarise the key changes which take effect from today.
First of all, it is now compulsory to wear a face covering in shops, as well as on public transport, and Jason Leitch is going to talk a bit more about that later.
There are exemptions to this – for children under 5, people with certain health conditions and in some circumstances for staff - but we encourage staff in those circumstances offer to wear face coverings.
For the vast majority of us, as customers, it is now the law that we wear face coverings in shops.
Now some people ask - and I've been asked this question in recent days - why we are doing this now - when the virus has been suppressed to low levels.
And the reason is quite simple - we are now starting to go out and about a lot more, and that, as I have said a moment ago, brings much greater risks of the virus spreading. So we have to put in place mitigations now that weren't as necessary when we were all staying at home all of the time to reduce the risk of that happening.
The law coming into force today should not need to be enforced - but the police can issue fines if necessary.
But I am asking everybody to stick to the law - not from fear of enforcement, but because it is the right thing to do – it helps keep us and other people safe. I encourage people to see wearing a face covering when you go to the shops, to become as automatic as putting a seatbelt on is in a car already.
If you wear a face covering in a shop, or on a bus or a train, it reduces your chances of passing the virus on to other people. And other people – when they wear a face covering – reduce their chances of passing the virus on to you.
It is one of the ways in which we can show care for and solidarity with each other – and allow each other to live less restricted lives, without seeing a resurgence in the virus. So please, everybody, comply with this, because it is for the good of all of us – it will help keep us safe and protect everybody.
And the last point I want to address about this – and it's again a point that's been put to me – that it's not very comfortable to wear a face covering. And the first thing I would say is yeah, I recognise that, but also you do get used to it, and I say that from personal experience.
You get used to it, and it becomes less uncomfortable the more you do it.
But the second, and perhaps most important thing to reflect on is this – our health and care workers in the course of their jobs to keep us safe wear masks for 12 hour shifts. Surgeons will wear them for lengthy, hours-long operations.
This is a small thing that we can do for them and for each other. So, please, comply with this. Not because the law tells you to, even although it does. Comply with it because it is about that solidarity and looking out for each other, and through this whole experience looking out for the protection of our health.
Now there are other rules which come into force from today, which affect how we can meet up with each other.
If you are in a shielding category, from today, we are not asking you any longer to physically distance from the people you live with.
You will also be able to form an extended household if you live on your own or with children under the age of 18. And I know how tough the last few months have been for all of you who have been shielding – and I hope that these latest changes are helpful and welcome for many of you.
The other changes that come into effect today don't apply to people who are shielding, unfortunately. But they do apply to everyone else.
From today, if you are part of a non-cohabiting couple, regardless of your living arrangements, you don't need to stay physically distant from each other, indoors or outdoors.
For everyone else there are some important changes to the rules for meeting up.
For outdoor meetings, a maximum of 15 people from up to five different households can now meet together, and limited indoor gatherings – subject to the strict guidance – are also now permitted.
These should involve a maximum of eight adults, from up to three households in total.
So if you are thinking of having people attend, you can invite people from two other households, because your household as the house holder is part of the three that is permitted.
As long as physical distancing between different households is maintained, this can include overnight stays.
But we'd recommend that in total, you should not meet with people from more than four different households in any single day – that applies to adults.
So if, for example, you have an outdoor meeting with four other households in the afternoon, don't then invite a couple of friends over in the evening.
The ability to meet indoors – even in small numbers - is a simple pleasure that has been hard-earned by all of us. So enjoy it, but please, please be very careful. Remember why we have only now started to allow any indoor meetings – it's because the risk of transmitting this virus indoors, is higher – and it is significantly higher than it is outdoors.
So if you are able to meet outdoors – if the weather allows – don't rule that out. That is still the safest way of meeting up with friends and family.
But if you do meet indoors - take care, and follow all of the public health advice.
Keep 2 metres distant from people in other households; clean surfaces after people are touching them; wash your hands regularly – and especially wash your hands the first time you go into somebody's house.
If we do all of that, then this is not risk free, but we will minimise the number of opportunities the virus has to spread.
And that is the point I want to end on.
Covid cases right now in Scotland are very low. But – as today's figures remind us - we are still seeing new cases every day. The virus hasn't gone away. It's just as infectious as it ever was, and it's just as dangerous as it ever was.
And if we let it run out of control again, not only will that be very damaging to life and to health, but it will also set back the economic recovery that is so important now to our wider lives.
So that's why I keep stressing and will end with a reminder of the Facts that we're asking people to remember and comply with.
Face coverings in shops and public transport – that's the law, but in any enclosed space where physical distancing is difficult
Avoid crowded places – indoors but also outdoors
Clean your hands and hard surfaces regularly
Two metre distancing remains the rule
and self isolate, and book a test, if you have symptoms.
If all of us remember and abide by these five measures, then we have the best possible chance as we interact with each other much more of nevertheless keeping this virus under control.
So my thanks as always for your cooperation.
I'm now going to ask the Economy Secretary to set out the economic intervention that we want to announce today, and then I want to hand over to the National Clinical Director.