Publication -

Speech/statement
Coronavirus (COVID-19) update: First Minister's speech 1 May 2020
From

Delivered by

First Minister Nicola Sturgeon

Location

St Andrew's House, Edinburgh
Statement given by the First Minister Nicola Sturgeon at a media briefing in St Andrew's House, Edinburgh, on Friday 1 May.
This document is part of a collection
---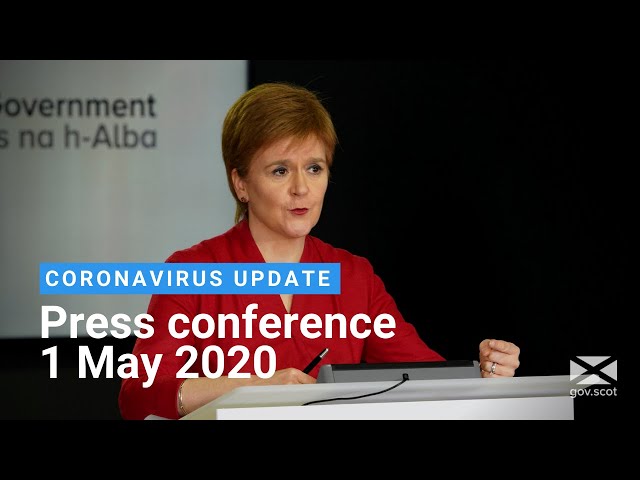 Good afternoon. Thanks for joining us for today's briefing.
I'll start with an update on some of the key statistics in relation to Covid-19 in Scotland.
As at 9 o'clock this morning, there have been 11,654 positive cases confirmed - an increase of 301 from yesterday.
A total of 1809 patients are in hospital with Covid-19 - that is an increase of 61 from yesterday.
A total of 110 people last night were in intensive care with confirmed or suspected Covid 19. That is an increase of one since yesterday.
I am also able to confirm today that since 5 March, a total of 2,659 patients who had tested positive for the virus have been able to leave hospital. I wish all of them well.
However I also have to report that in the last 24 hours, 40 deaths have been registered of patients who had been confirmed through a test as having Covid-19 – that takes the total number of deaths in Scotland, under that measurement, to 1,515.
I stress this every day, but it is important – I never think of these numbers as statistics. They represent individuals whose loss is a source of sorrow to many. So once again, I send my deepest condolences to everyone who is grieving.
I also want to thank – as I always do – our health and care workers. The entire country deeply appreciates everything you are doing for us.
As I indicated yesterday, I want to use today's briefing to give a progress report on Coronavirus testing.
I'll say more next week about the longer-term strategy for testing. I'll set out then how what's called a 'Test, Trace and Isolate' approach will play a part in helping us emerge gradually from lockdown, and I'll set out what we are doing to prepare for such an approach.
Today, though, I will look at where we are now, and report progress on two separate but obviously related matters.
Firstly, the laboratory capacity we now have in Scotland to process tests and secondly, the number of tests per day that were carried out as of yesterday.
Please, in advance, forgive me for the number of statistics that I am about to cite.
Finally, I will set out the next steps we will take to expand testing in this phase, to help our efforts to suppress the virus, especially in care homes.
So let me start with the daily capacity to process tests.
At the beginning of April, I said that by the end of the month I wanted us to have testing capacity within our NHS labs of 3,500 tests a day.
For context, at the start of the Coronavirus outbreak, we had two NHS labs, one in Glasgow and one in Edinburgh, that between them could do 350 tests a day.
I can confirm that we now have NHS labs operating in all 14 health board areas.
And yesterday, we met our target of having the capacity to process 3,500 tests per day, In fact, we exceeded it. As of now, we have active lab capacity for 4350 tests a day to be carried out within the NHS.
And by the end of next week, the capacity within the NHS will increase further to around 6,500 tests per day, and we are aiming to reach 8,000 by the middle of this month.
I also promised that we would work to ensure that Scotland benefited from UK wide efforts to reach capacity of 100,000 tests per day.
We are doing that. The Lighthouse Laboratory based at Glasgow University – which became operational last week – is one of three Lighthouse Centres across the UK.
The majority of the samples tested there are taken from the regional drive through testing centres in Scotland – in Edinburgh, Glasgow, Aberdeen, Inverness and Perth – and the new mobile testing sites that are being established, all as part of the UK government network.
The Glasgow University lab has a current testing capacity of 4,000 tests a day, though that will reduce to 2,000 a day for the next four days as they move to a new shift system, before increasing to 4,000 again from Tuesday.
So in summary on capacity - between the 4350 tests that can now be processed in our NHS labs and the 4,000 in the Lighthouse Lab, the total normal daily capacity for Coronovirus testing in Scotland is now 8,350.
And with the further projected increases in NHS capacity that I mentioned a moment ago, I expect that to be at least 10,500 by this time next week and 12,000 by the middle of the month.
That is a significant increase in capacity and I pay tribute to all those who have worked so hard to achieve it - both in our NHS Scotland labs and in the UK government testing network.
But of course laboratory capacity is one thing. What matters is the volume of testing we do and the clinical objectives we set for that. So we are also working to increase the number of tests that are carried out and extend categories for testing to better equip us to suppress the virus.
It is really important to stress that fluctuations in demand mean that we will never perfectly match number of tests to capacity. It is also the case that for good clinical reasons, many people need more than one test, so the number of tests carried out will never equal the number of people tested. But our aim is to use as much of our capacity each day as possible.
Given that our capacity has now expanded significantly, that means we can further extend eligibility for testing - which I will come on to shortly.
But, firstly, let me report on the numbers we reached yesterday for tests carried out.
Between tests in hospitals, care homes and the community, I can confirm that there were 2,537 NHS tests carried out yesterday.
In total since the start of this outbreak, 74,984 NHS tests have been carried out.
In addition, 2,124 tests were carried out yesterday at the regional drive through testing centres. These figures have not previously been included in our daily figures - they will be from now on, though because this is data coming to us from the UK wide system, it will be a few more days until we can break it down into positive and negative tests.
In total, therefore, I can confirm that 4,661 tests were carried out across Scotland yesterday, with 4,187 people tested.
The final statistic I want to give you relates to key workers. 22,400 keyworkers or their family members have now been tested within the NHS system, over 4000 of those in the last week alone.
Given the increases in capacity we have seen in the last week - and to ensure that we are fully utilising that capacity - it is clear that we can now extend eligibility for testing further, so I want now to turn to those next steps.
It is important to stress, though, that this should not simply be an exercise in driving up numbers. Tests, particularly for frail, older people, can be invasive and unpleasant, so our decisions must always be clinically driven.
As we know, tackling the spread of the virus is an urgent priority everywhere, but particularly in our care homes.
Currently around 40% of our care homes have cases of coronavirus within them. We already test care home residents with symptoms, those being admitted to care homes and symptomatic care home staff. I can confirm that we will now expand that approach.
We now intend to undertake enhanced outbreak investigation in all care homes where there are any cases of COVID - this will involve testing, subject to individuals' consent, all residents and staff, whether or not they have symptoms.
In addition, where a care home with an outbreak is part of a group or chain and staff might still be moving between homes, we will also carry out urgent testing in any linked homes.
We will also begin sampling testing in care homes where there are no cases. By definition this will also include testing residents and staff who are not symptomatic.
This is a significant expansion and we do not underestimate the logistical and workforce requirements.
Now we have the increasing testing capacity, we will make it happen as swiftly as practicable.
I am delighted to say that Jill Young, Chief Executive of the Louisa Jordan Hospital, has agreed to lead the team tasked with delivery of this and NHS Boards and their partners will put this into effect from next week.
I am also able to confirm today an extension of eligibility for testing through the UK wide booking system and drive through and mobile testing centres.
As of now, we are expanding eligibility to include all those over the age of 65 with symptoms and their households, and in addition to keyworkers, anyone – although there should not be many people in this group – who is not a keyworker, but who has to leave home to go to work.
We will take steps over the coming days to increase public awareness of the ability of eligible groups to book tests through this system.
If there is high demand there may be a need for an online queuing system, and if capacity is insufficient we will work with the UK government on further expansion. We will also work flexibly between the two testing systems to ensure we make the most of the total capacity we have.
So in summary, over the past month we have made significant strides in our testing capacity in Scotland.
We have not just met the target of having the capacity for 3,500 tests a day within the NHS but exceeded it. That, coupled with our participation in the UK wide system means there is current capacity for more than 8,000 tests per day in Scotland. And through further NHS work, that will expand further in the next week.
Over 4,000 tests were carried out yesterday, and now that we have that increased and increasing capacity we have been able to announce a further expansion of testing within care homes and also extend those within the general public who can access a test.
As I said at the outset, the expansion of testing that I set out today is separate and distinct from our move to establish a Test, Trace, Isolate system as part of our approach to changing, and hopefully alleviating, the lockdown measures while continuing to suppress the virus. We will set out more detail on that next week but I should stress that will require us to increase our capacity even further than the levels I have been able to report today.
In a moment, the Health Secretary will set out one final piece of information about testing - our use of antibody testing.
Before that, though, I want to stress this.
Testing is a really important of our efforts to tackle this virus. It is important now and will be important in the next phase.
But it remains the case that, right now, the most important thing we are all doing is staying at home and following the lockdown rules.
As I said yesterday, that is making a difference and allowing us to see some light at the end of the tunnel. But that progress is fragile and if we ease up now, that light could be extinguished.
So please, especially as we head into another weekend, please stick with it. Thank you again for your compliance and for doing the right thing in the interests of the whole country.