Publication -

Speech/statement
Coronavirus (COVID-19) update: First Minister's speech 13 August 2020
Published

13 August 2020

Delivered by

First Minister Nicola Sturgeon

Location

St Andrew's House
Statement given by the First Minister Nicola Sturgeon at a media briefing in St Andrew's House, Edinburgh on Thursday 13 August.
This document is part of a collection
---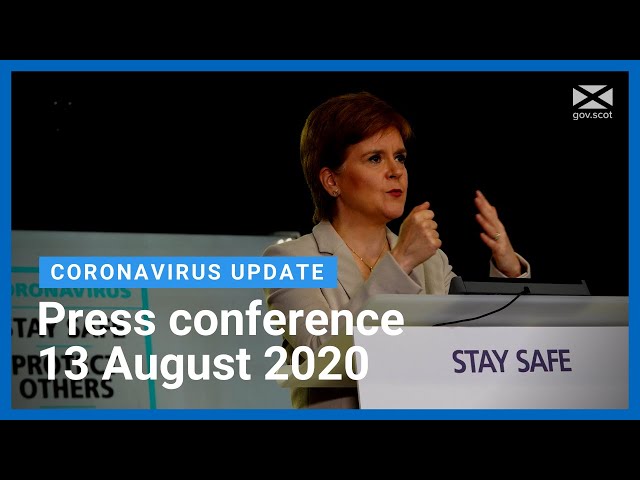 Good afternoon, and thanks for joining us.
When I gave the Covid update in Parliament yesterday, news was still coming through about the train derailment near Stonehaven.
Since then, of course, we have learned the devastating news that 3 people died – a passenger, the driver and the conductor – and a further 6 people were taken to hospital.
An inquiry into the accident has already begun, and we must ensure that any necessary lessons are learned.
However, for the moment, my thoughts are with the injured, with all those affected directly by this tragedy and indeed with everyone who works on our railway. I know they will all be grieving today.
But of course, I am thinking particularly of the bereaved families, who face an experience that all of us dread - coming to terms with the sudden and tragic loss of a loved one.
No words can ease their pain, nor the awful reality they are now forced to confront.
But the hearts of a nation are with them today.
All we can do right now is send them love - and in doing so, I'm sure I speak on behalf of everyone across Scotland.
I also want to thank our emergency services. The scene they encountered yesterday was horrific in itself, but the location and circumstances also presented major practical challenges for a rescue and recovery operation.
Our emergency services yet again showed their immense professionalism and dedication to duty, and I am so very grateful to them for it.
Daily update
I'll now give the daily update on COVID.
An additional 47 positive cases were confirmed yesterday.
That represents 1% of the people who were newly tested yesterday, and it takes the total number of cases in Scotland to 19,173.
A full health board breakdown will be available later, but the provisional information I have is that 26 of the 47 new cases are in the Grampian health board area. It is not yet clear how many are connected to the ongoing outbreak in Aberdeen.
A further 10 of today's cases are in Greater Glasgow & Clyde and 3 are in Orkney. I'll come back to the significance of this later.
A total of 258 patients are currently in hospital with confirmed Covid. That is 7 fewer than yesterday.
3 people are in intensive care and that is the same as yesterday.
I'm also very pleased to say that yet again in the past 24 hours, no deaths were registered of patients who first tested positive over the previous 28 days, and therefore the number of deaths under that measurement remains 2,491.
That total still reminds us of the overall impact of the virus. My condolences again go to everyone who has suffered loss.
And as always, I want to thank everyone who is working hard to help our country through this pandemic.
I have three things today I want to update on:
R number
The first is that we will publish today our weekly report on the R number – the average number of people who will be infected by one other infectious person.
I have said before that the R number becomes less reliable as an indicator, as the number of cases across the country decreases. That fact is reflected in the latest figures, which widens the possible range of the R number in Scotland.
This week's range therefore includes the possibility that the R number last week was above 1. This is in part due to the inclusion of the Aberdeen outbreak in some of the models we consider.
The report also estimates the prevalence of the virus in Scotland. It suggests that on 7 August, there were around 250 people in Scotland who could be infectious with Covid-19.
That modelling reflects the low levels of community transmission we are seeing across Scotland as a whole.
However it will be an underestimate, since it does not include all of the cases from the significant outbreak we have seen in Aberdeen.
While it is important to keep all of this - especially the R number - in context, it is nevertheless a further reminder of the fragility of our position.
Aberdeen and other outbreaks
The Aberdeen outbreak and other clusters currently being investigated, is the second issue I want to cover.
I mentioned earlier that 28 of the 47 new cases reported earlier were in the Grampian area.
On the latest figures available, a total of 300 cases have been identified in the Grampian Health Board area since the 26th of July.
182 of these are associated with the same cluster linked to Aberdeen pubs, and 961 contacts have now been identified from those 182 cases.
In the last 24 hours, Aberdeenshire Council has decided to delay reopening a primary school in Peterhead, while a household cluster is being investigated and contact traced.
A cluster of 8 positive cases is also under investigation in Greater Glasgow and Clyde. It includes some students who go to Bannerman High school.
However, it is important to stress that none of those students have actually attended the school, since they were self-isolating at home.
And there is also an Orkney-based cluster, which includes residents of other NHS boards. All the work is being done that should be done, to contact everyone involved and ensure they are self-isolating. While Orkney had a number of cases at the beginning of the pandemic in Scotland, it has had very few since. I would urge everyone on the islands to guard against complacency and if you have what might be symptoms of coronavirus please isolate immediately and make arrangements for a test. We are also investigating if this cluster potentially includes a link to the Aberdeen outbreak.
These reports should not cause undue alarm. Clusters of this kind are inevitable. And in both of these new clusters, our Test and Protect teams are tracing contacts so that they can self-isolate and be tested.
However we cannot be complacent.
We are looking at details of all of these clusters very carefully. And all of them should remind us that Covid is still present – and it will spread rapidly if it gets an opportunity.
I've spoken in recent days about the particular risks in pubs and restaurants and the need for hospitality to abide strictly by the rules.
I want today to express a concern - coming through our case data - about house parties.
These present a considerable risk.
So please, stick to the rules. No more than 8 people from a maximum of 3 households should gather indoors.
And - apart from children under 12 - people from different households should stay 2 metres apart from each other.
And you must wash hands and hard surfaces regularly.
These rules are vital. If they are aren't complied with strictly, the virus will spread. And we have evidence of that already.
PPE
Finally, I have spoken before about some of the steps we are taking to ensure secure and sustainable supplies of personal protective equipment (PPE).
The need for large volumes of this equipment within the NHS will continue for the foreseeable future, and so one priority has been to develop a supply chain - within Scotland, where possible - which can help us to meet this demand.
I am delighted to confirm today that Alpha Solway, who are based in Dumfriesshire, will supply a £53 million contract for NHS Scotland to supply 232 million surgical masks, 6 million respirator masks, and 2 million visors.
This order – which will support 200 new jobs in Dumfries – is expected to meet the needs of our health and social care sector, in relation to surgical masks and visors, between now and next summer. It will also meet most of the sector's requirements for respirator masks.
This contract is an important step in ensuring that Scotland has secure supplies of PPE for the foreseeable future. It will deliver significant savings to NHS Scotland, and shows that Scottish businesses can be competitive against international suppliers.
And it is a good example of the way in which many manufacturing businesses in Scotland have adapted their businesses to help the fight against Covid, while also supporting employment. It is therefore a welcome piece of positive news in what is I know still an incredibly challenging time for businesses.
Conclusion
Those are the three main points I wanted to cover today. Before I finish, however, I want to close as usual by reminding you of the FACTS.
The clusters I mentioned earlier are a reminder that right across the country, the virus still poses a real risk. It is still present, it is still highly infectious, and it is still capable of causing serious harm to your health.
We can only make further progress out of lockdown – rather than going backwards, and having restrictions re-imposed – if all of us think every day about the choices we are making.
All of us need to ensure that we are not creating bridges which allow the virus to jump between different households. That is more important than ever.
And, of course, the key way in which we can do that is by sticking to the FACTS - the five rules that we all must follow to stay as safe as possible.
Face coverings in enclosed spaces
Avoid crowded places.
Clean your hands and hard surfaces regularly.
2 metre distancing remains the overall rule.
and Self isolate, and book a test, if you have symptoms.
If all of us do the right thing, and stick to these five golden rules, then we will collectively reduce the risk of this virus spreading.
And we will protect ourselves, our loved ones, and the wider community.
So thank you, once again, to everyone who is doing that. It really does make a difference.
Ends.