Publication -

Speech/statement
Coronavirus (COVID-19) update: First Minister's speech, 8 May 2020
Published

8 May 2020

From

Delivered by

First Minister Nicola Sturgeon

Location

St Andrew's House, Edinburgh
Statement given by First Minister Nicola Sturgeon at a media briefing in St Andrew's House, Edinburgh on Friday 8 May.
This document is part of a collection
---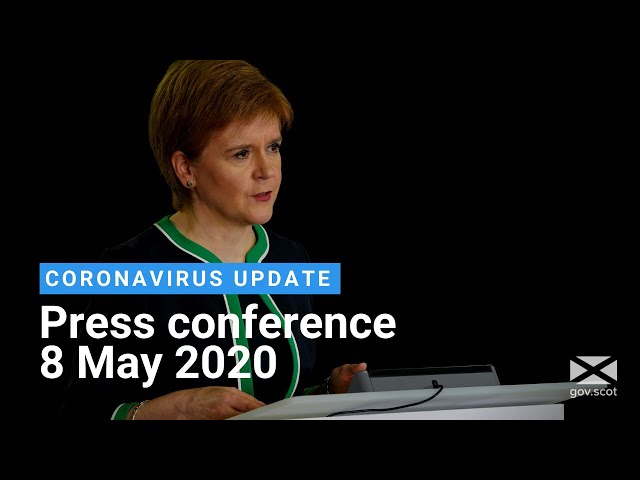 Good afternoon. I'm joined today by Iain Livingstone, Chief Constable of Police Scotland and Professor Jason Leitch, National Clinical Director.
We're starting a bit later today, because of the commemorations for VE Day. At 11 o'clock, with members of our armed forces here at St Andrew's House, I observed the two minutes' silence. I'm sure many of you, watching at home, did the same.
On the 75th anniversary of VE Day, Scotland remembers all those who lost their lives, during the conflict. We think of all the men and women who served– at home and abroad. And in doing so, we consider the incredible legacy of our World War 2 generation.
Their sacrifices ensured the freedoms that we enjoy today.
The challenge they faced then is, of course, very very different to the one we face today - we are not fighting a war - but we should nevertheless draw strength and inspiration from their example.
They showed the necessity and value of personal sacrifice for the common good.
They demonstrated the resilience of the human spirit and our ability to overcome adversity.
So as we pay tribute to them for the bravery, dedication and idealism they showed 75 years ago, let us also thank them for the inspiration they give us today.
Our challenge may be different but, just as they did, we will overcome it.
Now, there are a few items I want to cover today.
First, as I always do, I will update you on some of the key statistics in relation to COVID-19 in Scotland.
As at 9 o'clock this morning, there have been 13,149 positive cases confirmed - an increase of 225 since yesterday.
A total of 1,584 patients are in hospital with the virus either confirmed or suspected - that is a decrease of three from yesterday.
A total of 84 people last night were in intensive care with confirmed or suspected COVID-19. That is a decrease of two since yesterday.
I am also able to confirm today that since 5 March, a total of 3,016 patients who had tested positive and been hospitalised have been able to leave hospital. I wish all of them and their families well.
And unfortunately I also have to report that in the last 24 hours, 49 deaths have been registered of patients who had been confirmed through a test as having COVID-19 – that takes the total number of deaths in Scotland, under that measurement, to 1,811.
As always, I will stress that these numbers are not simply statistics. They represent individuals whose loss is a source of grief to many people. And I want as always to send my deepest condolences to everyone who is grieving a loved one lost to this virus.
I also want to thank – as I always do – Scotland's health and care workers. Once again, last night, I – like so many others – joined in the applause at 8 o'clock. It has become a very important moment of the week. And it's just one small way in which we can as a country show our gratitude, for your extraordinary efforts.
Before I move on to the main item for today, I want to provide a quick update on testing capacity which is important now but becomes even more important as we look ahead to the next phase of tackling this virus.
Since I updated you – this time last week – testing capacity within our NHS has risen by more than 2,000. Together, with the capacity from the Lighthouse Lab at Glasgow University, that brings Scotland's total testing capacity to over 10,000 tests per day. And we expect that number to exceed 12,000 per day by this time next week.
We should remember we started at the outset with a testing capacity of 350 so this is a significant step forward and I want to thank everyone who is playing their part in making that progress possible.
The main issue I want to talk about today is about the decision to extend lockdown - while of course keeping the situation under ongoing, indeed daily review.
Yesterday, I spoke to the Prime Minister – and reiterated that Scotland's lockdown restrictions would stay in place for now.
There was, I think, a helpful recognition in that call that the 4 UK nations may well move at different speeds if our data about the spread of the virus says that it is necessary to suppress it- but we would of course continue to co-ordinate our planning and messaging as far as possible.
In line with that, I confirmed that the only change we're considering in the immediate term is to the guidance on outdoor exercise, I mentioned that yesterday and I will give a further update on that over the weekend.
I also emphasised the importance – in my view – of maintaining a clear 'Stay at Home' message and the Scottish Government's intention to do so for the immediate future.
That position is based on our assessment of the evidence – and on what we think is right for the protection of the people in Scotland.
As I said yesterday, we are not yet confident that the all-important R number is far enough below one. In fact, we think the R number here in Scotland may still be a bit higher here than in other parts of the UK.
That's why sticking with the lockdown measures at this stage is so important. It's key to driving down infection rates and driving down the R number. And that – in turn – is a prerequisite for any easing of the restrictions.
So for now, the message remains the same. You must stay at home, please stay at home.
Except for essential purposes such as exercise, or buying food or medicines – you should not be going out.
If you do go out, you should be staying more than two meters from other people, and you should not be meeting up with people from other households.
You should wear a face covering if you are in a shop or on public transport.
And you should isolate completely if you or someone else in your household has symptoms.
I know how difficult these restrictions are. And I know that they will feel especially tough over this long weekend, when the sun is out.
However, I'm also very confident that the vast majority of you will continue to comply with these rules. After all, you have been magnificent over these past few weeks. By doing the right thing, you have helped us to make really significant progress. And I know that you won't want - any more than I do - to throw that progress away at this stage.
As I said at the start, I'm joined today by the Chief Constable – who will say a little bit more about compliance, and how these restrictions are being enforced. And I want to take this opportunity again to thank all the police officers and staff who are helping Scotland through this crisis. You are doing a difficult job, exceptionally well – and I'm hugely grateful to all of you.
None of us, including me, want these restrictions to be in place for a minute longer than they need to be. But we cannot allow ourselves to become complacent against this virus.
By easing the restrictions prematurely, we would risk undoing all the progress we've made. We would risk allowing the virus to spread out of control. And that would cost lives.
So for now, all of us need to continue to comply with the restrictions. It remains our best chance of continuing to slow the spread of this disease, of protecting our NHS – and saving lives.
The final issue I want to cover concerns the economic impact of COVID-19.
This morning, as I do every Friday, I chaired the Cabinet sub-committee on the economy.
As usual, one of the key items we discussed was support for our businesses. We are determined to do everything we can to help Scotland's businesses through this crisis. A crisis not of their making.
Yesterday we launched a new £100 million loan fund for housebuilders. The fund is aimed at small and medium sized firms that are facing short-term liquidity problems.
We know that housebuilding companies, especially smaller ones, have been hit by the temporary halt in construction activities. This fund will help to ease any cashflow or liquidity problems that they have. And it will help to safeguard jobs for the future as we work with the construction industry to look at a safe restart of their activities.
Today, I can announce further support for businesses.
Just over a week ago, we launched a £45 million new Pivotal Enterprise Resilience Fund. That fund will provide grants to small and medium sized businesses – businesses that are potentially vital to Scotland's economic future, or to the economy of local areas - but which have been made vulnerable by this crisis.
We have already received a very significant number of applications. So today, I am announcing that we will double the size of that fund – to £90 million.
That is a direct response to feedback from business. It's part of our commitment to ensure that every penny of consequential funding from UK Government decisions is passed on here in Scotland. And it demonstrates our determination to support businesses which are suffering, through this unprecedented crisis.
I want to close by reiterating my main message for today – about the importance of staying at home.
I know it's tempting to think that this weekend – after so many weeks of lockdown – we can allow ourselves one little slip. You might even think - given recent unhelpful news headlines – that things have eased up, and that there's somehow less at stake.
But I want to emphasise as strong as I possibly can - that is absolutely not the case. The risk remains too high. And if we do we risk delaying the moment of easing.
The one time you ignore the guidance could be the time when you get infected with the virus – or it could be the time you pass it on to a loved one, without knowing it.
So please, do not throw away all of your good work. Do not put yourself or loved ones at risk.
The fact is these restrictions are working. They are helping us to slow the spread of this virus. So we need to stick with them for a bit longer.
By doing that we save lives. And we hasten the day when we can - and we will - return to some semblance of normality.
As I said earlier, personal sacrifice for the common good is a lesson we can learn from those whose courage 75 years ago we remember today.
So I want to thank all of you for making the sacrifices you are making and doing the right thing. I hope you all stay safe.
And I hope – in these trying circumstances – you all have the best possible weekend.