Publication -

Speech/statement
Coronavirus (COVID-19) update: First Minister's speech 14 May 2020
From

Delivered by

First Minister Nicola Sturgeon

Location

St Andrew's House, Edinburgh
Statement given by the First Minister Nicola Sturgeon at a media briefing in St Andrew's House, Edinburgh on Thursday 14 May.
This document is part of a collection
---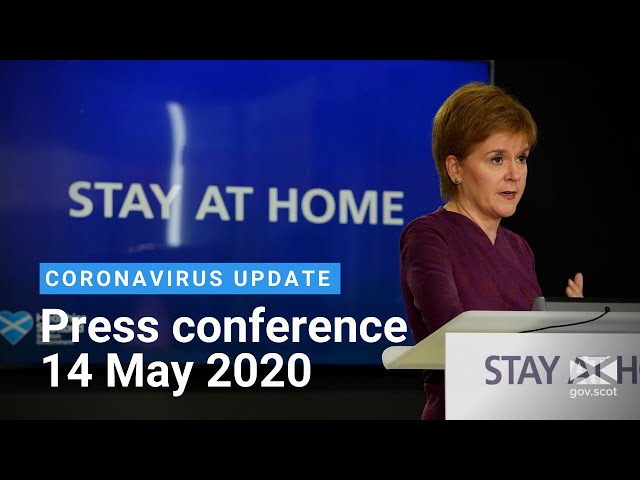 Good afternoon. Thanks for joining us for today's briefing.
I want to start – as I always do – by updating you on some of the key statistics in relation to Covid-19 in Scotland.
As at 9 o'clock this morning, there have been 14,117 positive cases confirmed - an increase of 188 from yesterday.
A total of 1480 patients are in hospital with confirmed or suspected COVID-19. That is a decrease of 54 since yesterday.
A total of 71 people last night were in intensive care with confirmed or suspected Covid 19. That is an increase of 1 since yesterday.
I am also able to confirm today that since 5 March, a total of 3,253 patients who had tested positive for the virus have been able to leave hospital. I wish all of them well.
And unfortunately I also have to report that in the last 24 hours, 34 deaths have been registered of patients who have been confirmed through a test as having Covid-19 – that takes the total number of deaths in Scotland, under that measurement, to 2007.
And let's always remind ourselves that behind these statistics are individuals whose loss is a source of grief to their friends, family and loved ones. I want to send my deepest condolences to everyone who has lost a loved one to this virus.
I also want to thank – as I always do - our health and care workers. Later this evening people across the Scotland will once again applaud you from our doorsteps and windows. I hope that that gesture gives a small but important indication of how grateful we all are for the incredible work that you are doing.
I have three things I want to update you on today.
The first is on tests and I want to set out again, so it is clear, who is eligible – right now – to access testing. Let me stress we keep this under constant review and take clinical advice on an ongoing basis,, and as it changes we will let you know, but I want to set out very clearly the position as it is now – so no one who is entitled to a test is in any doubt.
NHS Scotland testing capacity is currently used within hospitals for all ICU patients, all patients in hospital who have symptoms, and all those admitted to hospital who are over the age of 70, whether they have symptoms of COVID-19 or not. People who are over 70 will be tested every four days during their stay. The reason for that is we see in the statistics every day that older people are particularly hard hit by this virus.
NHS tests are also given to all patients due to enter or re-enter a care home from hospital – if they have previously tested positive for the virus, they must have 2 negative tests before entering the care home from a hospital.
In addition, we implement what is called enhanced outbreak investigation in all care homes where there are cases of COVID. This involves testing, subject to individuals' consent, of all residents and staff - whether or not they have symptoms.
NHS testing is also available for all NHS and social care key workers, or symptomatic household members of those workers. This testing should be accessible to care and health service staff within their local area, and should not require them to drive or travel long distances.
Care home managers can put symptomatic staff forward for testing and there should be no barriers to that.
Tests are also now available to a wider group of people through the UK wide Testing Programme at drive-in centres and mobile testing units. There are 5 drive-in centres in Scotland – at Glasgow, Edinburgh and Aberdeen airports, and in Inverness and Perth. There are also now 12 mobile testing units across the country in locations such as Annan and Fort William, and they will move to other towns every 5 days or so.
These provide testing, for any key worker with symptoms – not just health and care workers - so, for example if you are working in critical infrastructure services. They are also available for anyone needs to work, and cannot work from home; and for anyone with symptoms who is over 65. Testing is also available to symptomatic household members for all of these groups.
If you book a test through these drive-in or mobile centres, you will be allocated to the centre closest to your own postcode. I know that for some people that can still involve travelling quite a long distance. We are therefore working with the military, to try to make mobile testing units as widely available as possible.
Finally, we are also now using NHS testing capacity for monitoring purposes – to test the prevalence of the virus in communities in Scotland.
As we further increase capacity - and as the incidence of the virus continues to reduce - we will also start implementing our policy of test, trace, isolate and support. That will be crucial to controlling further outbreaks of the epidemic, as we start to emerge from lockdown and we will update on progress on that shortly.
However at this stage, our testing policy continues to be based on three key priorities- saving lives and protecting the vulnerable; ensuring that critical staff can return to work as soon as possible; and monitoring and reporting on the spread and prevalence of the virus.
The continuing expansion of testing is enabling us to do that more effectively, while also building our capacity to test, trace and isolate.
The second item I want to update you on, relates to support for people who are shielding.
That term refers to approximately 175,000 people in Scotland who are at the highest clinical risk from Covid-19, and who are therefore being asked to stay at home at all times.
People who are shielding can ask for support and receive information through a text message service. If you have not yet registered for the service but are in that shielding group, I would encourage you to do so.
One of the services which you can request by text is free weekly delivery of food, and other vital provisions such as toiletries.
These deliveries are also available to people without a mobile phone – I will read out a freephone number in a few moments which will be useful if you are in that position.
More than 50,000 people who are shielding have signed up for the free delivery service and more than 250,000 food packages have now been delivered to people across the country.
In addition, many supermarkets are making priority delivery slots available for people who are shielding.
I know for some of you, as you enter your seventh or eighth week of shielding, you will be feeling incredible levels of frustration.
This crisis is in so many ways much harder for you than for you even than it is for those living with the standard restrictions which are in place for everyone else. And so it is important to me that you know that support is available to you and that support will be available for as long as it is needed. Please ask for that support if you need it – whether that is food and medication, or indeed anything else. Just because you have not needed it up to now does not mean you cannot ask for it at any time.
I also want you to know that you are not being forgotten as we think about our next steps, and about how we live in a new world where this virus is present. Your needs and your quality of life remain really important to our decision making process. We will set out steps over the days and weeks to come about how we emerge from the lockdown but I don't want anybody in the shielding group to think they are being left behind. You have particular needs and it is really important we protect you, but it's also important we understand how difficult this is for you.
I mentioned earlier that we have a national helpline for people who are shielding. This will direct you to your local authority and is a good way of finding information about the support which is available to you – including food and medicine deliveries.
The number is 0800 111 4000 – that's 0800 111 4000 - and the line is open between 9am and 5pm every weekday. So please, do make use of it.
The final issue I want to cover is the work of Skills Development Scotland. I know that the economic uncertainty caused by this crisis has caused very many people to worry about their future prospects.
Although it cannot currently offer face to face support, Skills Development Scotland has still been providing help to people throughout this crisis. For example its website, myworldofwork, provides information on online learning courses; on immediately available jobs; and on practical skills such as developing your CV.
Yesterday SDS expanded its support further by launching a phoneline and online service. Again, I will read out the phoneline number in a few moments.
The phoneline and web resources will provide people with access to range of services available from SDS and local councils.
They will therefore help individuals who are thinking about future job and career options – for example if you are currently on furlough; if you have been made redundant and are seeking employment; or if you are a school pupil, or their parent or carer, who is thinking about what to do after school.
An advertising campaign was launched yesterday to support the enhanced service. So if you think you might benefit from the advice being offered, either go onto the Skills Development Scotland website – myworldofwork.co.uk – or phone the helpline on 0800 917 8000.
I want to conclude my statement simply by emphasising once again our key public health guidance.
Please stay at home except for essential purposes- such as essential work that can't be done at home, exercise, or to pick up food or medicines.
You can now exercise more than once a day – but when you do leave the house, stay more than two metres from other people. And do not meet up with people from households other than yours.
Please wear a face covering if you are in a shop or on public transport. And wash your hands thoroughly and regularly.
Finally, if you or someone else in your household has symptoms of Covid-19, then you should stay at home completely.
I know that this is really difficult and it gets more difficult with every passing day. But right now it is still necessary, and it is making a difference.
By staying at home, we are slowing the spread of the virus, we are protecting the NHS, and we are saving lives.
And we are bringing the day closer, when we can relax some more of these restrictions.
So thank you once again to all of you for sticking with this for your own sake but for the sake of everyone else as well. This truly is a national collective endeavour that all of us are contributing to.