Publication -

Speech/statement
Coronavirus (COVID-19) update: First Minister's speech 21 August 2020
From

Delivered by

First Minister Nicola Sturgeon

Location

St Andrew's House
Statement given by the First Minister Nicola Sturgeon at a media briefing in St Andrew's House, Edinburgh on Friday 21 August.
This document is part of a collection
---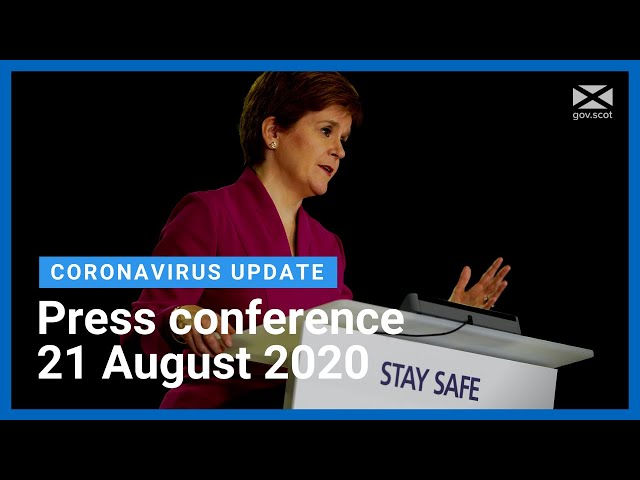 Hello and thank you for joining us again today.
Let me start as usual with the update on the statistics around Covid for Scotland.
I can confirm that an additional 71 positive cases were confirmed yesterday.
That represents 1% of the people who were newly tested yesterday, and takes the total number of cases now to 19,605.
We will have a full health board breakdown as usual later, my provisional information though is that 10 of these 71 new cases are in Grampian health board area, 16 are in Greater Glasgow & Clyde, 4 in Lanarkshire and 31 are in Tayside.
We are dealing with known clusters in each of these areas and I will say a bit more about a couple of them later.
I can also confirm that a total of 254 patients are in hospital with confirmed Covid, which is 5 more than yesterday.
And 2 people are in intensive care, which is the same as yesterday.
No deaths were registered of patients who first tested positive over the previous 28 days. And so the number of deaths under that measurement therefore remains 2,492.
That total though still and always should remind us of the overall impact of the virus. And again my condolences are again with everyone who has lost a loved one.
And let me also again thank everyone who is working – in various different ways across the country – to help us through this challenging time.
In a few minutes the Economy Secretary will talk about new investment in low carbon heat for social housing - important for its own sake but also important as a way of trying to boost the economy in these difficult times too.
The main topics I want to cover today are outbreaks in Coupar Angus and Aberdeen.
Before that, though, I want to draw attention to an important announcement that was confirmed last night.
The Scottish Government has taken the decision to add four additional countries to the list of those that are subject to quarantine restrictions. And those countries are Austria, Switzerland, Croatia, and Trinidad and Tobago.
Each of these countries has seen a significant rise in Covid cases in recent days. So from 4am tomorrow, people travelling to Scotland from these places must self-isolate for 14 days, upon their return.
In addition, Portugal was removed from the international quarantine list. So anyone arriving from there, from tomorrow, no longer has to self-isolate. However if you have arrived from Portugal in the last few days, you still need to complete your 14 days isolation.
These changes are a further reminder of how quickly the international situation can, and is changing, at the moment.
And so I want again to take the opportunity to remind everybody and encourage everybody to think very carefully about booking non-essential trips overseas right now because you cannot be sure and there can be no guarantee that the rules in place when you leave on your trip will be the same rules that are in place when you come back – either here or indeed in the country where you are visiting.
Let me turn now to the outbreak in Coupar Angus, which is linked to a 2 Sisters food processing plant there.
I want to provide a bit of the background.
That 2 Sisters plant, when agency staff are included, has more than 1,200 workers.
Obviously, not all of the workforce live in Coupar Angus. So this is a situation involving people from at least three local authority areas – Perth and Kinross, Angus, and Dundee.
The plant is now closed down for a two week period. And all of the workers there have been advised to self-isolate and get tested.
There is currently a mobile testing unit on site. And already more than 600 workers have been tested and efforts are underway to ensure that the remainder will be tested as quickly as possible.
I can confirm that as of now a total of 68 cases have now been identified as part of this outbreak – 59 people who work in the plant, and 9 of their contacts.
Two of these contacts have links to other food processing factories in Tayside. The Incident Management Team is now carrying out risk assessments at both of those sites.
There is no evidence that this outbreak has spread to either factory at this stage. But as you can imagine, that is something that is being looked at very closely.
Yesterday, I chaired a second meeting of SGORR – the Scottish Government's resilience committee – to look specifically at this outbreak, because I wanted to consider the latest developments, and what further steps might be required.
NHS Tayside, Police Scotland, and the Chief Executives of the three local authorities, were involved in that discussion. And – based on the advice of the Incident Management Team – we agreed last night a very significant change to guidance.
As well as advising workers at the plant to self-isolate, we are now asking all members of their households to do the same, and that includes any children in these households.
Local authorities are contacting workers to advise them of this advice but also to advise of welfare support that will be available. That could include – for example – help with food or other essential provisions, or even help with accommodation if that is necessary.
We are of course continuing to advise all workers to get tested and making arrangements to facilitate that. Household members of workers should seek a test if they have symptoms.
We have now deployed a second mobile testing unit to Tayside - so that workers can get tested without having to travel to the factory. And we will be considering whether further testing facilities over and above that are required.
It's important to note that if you are being asked to isolate, you must continue to do so, even if you get a negative test result. And that doesn't just apply in Coupar Angus, that applies to anybody across the country. If you are asked to isolate, then if you are a contact, you should continue to do so for the requisite period.
So to be very clear, if you work at the 2 Sisters plant – you and your entire household should be self-isolating until Monday 31 August.
One final point I want to stress is that – at the moment – although this is being kept under close review, there are only a small number of cases in Tayside which are not in some way linked to the 2 Sisters site. And of course, we have taken prompt action which we hope will reduce the chances of further spread within the wider community.
Now these restrictions that I've just talked about are obviously more stringent than those that have been imposed in other clusters. In those instances, we have asked contacts to isolate – but we haven't extended that advice to their families.
On the other hand, in Dumfries when we had the Gretna outbreak, and more recently in Aberdeen, geographical restrictions were introduced. In Coupar Angus we are able to target specific households with increased restrictions.
And the key point I'm making here – because some people may be looking at Aberdeen and Coupar Angus and wondering why exactly the same approach is not being taken, and the key point I'm making here is that the nature of the steps we take in different outbreaks has to depend on and be guided by the nature of the outbreak.
The assessment of the Incident Management Team in Coupar Angus – right now – is that there is minimal evidence of community transmission in Tayside.
That's not something we were able to say – with any confidence – about the outbreak in Aberdeen.
So as things stand, there is a clear focal point for the Coupar Angus outbreak, which was not the case in Aberdeen – where the outbreak was associated with a large number of venues across the city.
So that's why the action we are currently taking for this outbreak is different to that we took in Aberdeen.
In each of these cases, and this will continue to be the case in future, we make decisions based on individual circumstances that we're dealing with. And in doing so, we take account of the specific risks that need to be addressed. And that is the approach we continue to take, as we deal with different outbreaks in different parts of the country.
We will however of course be keeping the situation in Coupar Angus under very close review and I will chair another resilience meeting this evening to look at the up to date situation and any developments over the course of the day.
I now want to provide a quick update on the situation in Aberdeen, which is an improving situation I am pleased to say.
There were 10 new cases in Grampian yesterday. On the latest figures available, a total of 414 cases have been identified in the Grampian Health Board area since the 26 July.
237 of these are thought to be associated with the pub-linked cluster, and 1,185 contacts have been identified from those 237 cases. Those figures are unchanged from yesterday.
However, the Incident Management Team is reporting an additional 7 cases that are not associated with that original cluster.
On Sunday, as I indicated earlier in the week, we will review the lockdown restrictions in Aberdeen again. And at that time we hope that we will be able to set out a firm timetable for the lifting of these restrictions.
And at that point we will also set out whether some of the changes that were announced more generally for the country yesterday – for example the reopening of venues like bingo halls – will also apply in Aberdeen.
But for now, I want to take the opportunity again to thank everybody in the city of Aberdeen for complying so well with these restrictions. I know how difficult it will have been but everybody, individuals but also there will have been a real and difficult impact on businesses that have been required to close and businesses in the wider supply chain.
But this action was necessary to get the situation under control and the evidence we have right now is that it has had that effect. So I think we all hope and are optimistic that Aberdeen will be on the road back - if not to complete normality – then at least as much normality as the rest of the country very soon.
To close today, I want to reflect briefly on one of the key lessons we've learned – so far – from some of the clusters we've been dealing with. And this is something you've heard me talk about in the past few days already.
From all the evidence we've got, it's very clear that indoor social gatherings are presenting a very significant risk. In fact, Test and Protect shows that these right now are one of the main drivers of transmission.
And that tells us that we need to be incredibly cautious about these kinds of gatherings.
So I want to ask everybody again today to remember the advice that is in place and to comply with it.
Whether you're in your own home or in a friend's house, no more than eight people from a maximum of three different households should be meeting up. And these same rules apply if you are gathering as a group in a pub, a bar or a restaurant. And you should at all times make sure you are physically distancing from people in other households.
Life – at the moment – shouldn't feel absolutely normal. I wish it could, but it can't and it shouldn't. So if you are going to lots of different places – if you're socialising just like you did before COVID struck – you are probably taking risks that you shouldn't be taking.
So please think about the decisions you are making right now. All of us now – probably more than ever at any previous point in this pandemic – are dependent on each other, as we're out and about more to stick to the rules and avoid the risks of transmission. Every single one of us has a part to play in this.
And the best way for all of us to do that is by remembering and sticking to FACTS. So I'll bring my comments, before handing to the Economy Secretary and then to the Chief Nursing Officer, to a close by reminding you of those five golden rules.
Face coverings in enclosed spaces
Avoid crowded places
Clean your hands and hard surfaces regularly
Two metres distancing remains the overall rule for people from different households
and self-isolate, and book a test, if you have symptoms.
If we all comply with these rules we don't take away completely the risk of this virus spreading but we do massively reduce that risk and we reduce the risk of one case becoming two, and then two cases becoming a cluster and a cluster becoming an outbreak, and then an outbreak becoming widespread community transmission.
So every single one of us is part of that first line of defence.
So my thanks to everybody for listening as usual, and please help us spread that word to all of the people in their families and wider networks of friends and colleagues.